Uni-Pixel (NASDAQ:UNXL) reported earnings on Thursday, March 3rd, which was filled with positive and negatives, which included disappointing revenue numbers but better than expected cash position. Uni-Pixel's CEO Jeff Hawthorne and CFO Christine Russell presented at the 28th annual ROTH conference on March 15th and provided considerable color behind the company's existing customer base, design wins and prospects.
On the negative side Uni-Pixel's Q4 revenue slid to $0.9m for the quarter, which was significantly below analyst estimates of $2.3m and down from $1.5m reported in Q3. The decline in revenue also indicates that one of Uni-Pixel's previous programs has likely come to an end. A typical program could has a life cycle of 12 to 18 month depending on the product.
On the positive side the company paid several million dollars of the secured convertible debt in stock versus cash. I modeled for the majority of Uni-Pixel's $6.1 senior secured convertible debt to be paid in cash in Q4 and Q1 2016. The net result is Uni-Pixel finished Q4 with $11.7m of cash versus my expectation of $10.4m. In addition to cash coming in higher to end the year Uni-Pixel only paid $2.25m of the convertible debt with cash in Q1. As a result Uni-Pixel will end Q1 with between $5.5m and $6.5m of cash versus my expectation of $4m or less.
I'm estimating that Uni-Pixel's cash balance is sufficient enough to fund operations through July or August 2016, but investors should expect a cash raise over the coming weeks. I questioned Uni-Pixel's CFO during the Q3 conference call regarding Uni-Pixel's cash balance as well as the options on the table. Below was the Christine Russell's response:
Sure. Your math is correct. Well, as we begin to ramp the revenues and fulfill orders, we do expect we will need to raise additional capital and now that the convertible note is fully paid, we have a lot more financing options at our disposal, including traditional commercial bank financing, including revolving lines of credit, accounts receivable base, financing, leasing, also with the debt retired, we're more attractive for strategic investment and equity financing. (Q4 Conference Call)
During the Roth conference Christine Russell addressed the cash position again and indicated there was some interest for strategic financing, but these efforts usually take some time. Russell echoed similar sentiment discussed in the Q4 conference call and stressed the company has more flexible financing options available.
Management discussed during the Q4 conference call that they believe Uni-Pixel can breakeven at $8m of quarterly revenue assuming gross margins in the high 30s or low 40s. This is an improvement from my model of $12 to $15m with gross margins in the 25 to 30 percent range.
Additionally, at the Roth conference management presented Q2 and Q4 targeted results for the company, which show positive EBITDA of 7% of revenue in Q4 2016. Based on the target model provided during the Roth conference I'm backing into 2016 revenue of $28.5 million, down from my previous estimate of $38.5 million. My revised estimates are for $2.5m in Q1, $5.5m in Q2, $8m in Q3 and $12.5m in Q4.
Image Source (click to enlarge)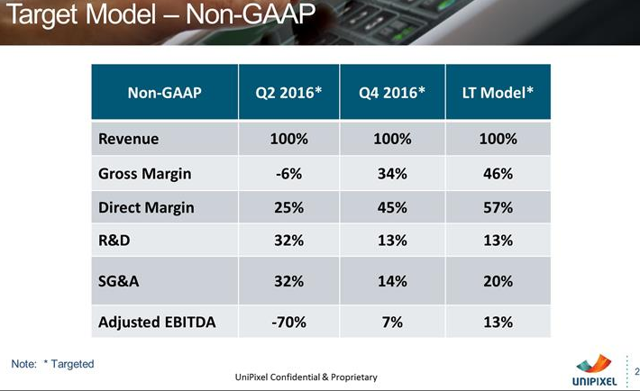 Click to enlarge
Uni-Pixel also named names and left very little off the table during the company's Roth presentation. Current customers include HP (NYSE:HPQ) and Toshiba (OTCPK:TOSBF) and recent design wins occurred with Verizon (NYSE:VZ), ELO, HP and Dell.
image source (click to enlarge)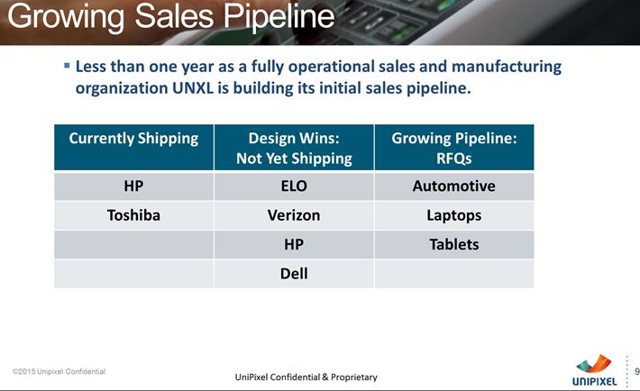 Click to enlarge
In terms of customer targets Uni-Pixel provided a list (see image below) of companies that operate within three targeted market verticals. Notebook, PC and all-in-one (vertical 1) along with automotive (vertical 2) and handsets (vertical 3).
image source (click to enlarge)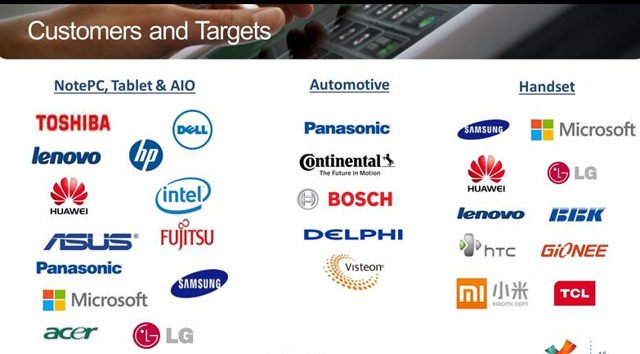 Click to enlarge
Uni-Pixel's revenue will ramp up over the course of 2016 and should approach profitability and positive cash flow in Q4 assuming current programs under contract remain on track. However, in the interim Uni-Pixel needs $5m to as much as $10m of financing to fund operations through the end of 2016.
Uni-Pixel's management team left a positive impression with investors that spoke to the team at the Roth conference. The darkest days could be behind shareholders if the company can effectively raise cash without further diluting investors, while continuing to achieve new design wins and continue to expand programs with existing and targeted customers.
Uni-Pixel will try to stay away from another equity offering and will likely leverage accounts receivable and/or a line of credit or possibly strategic financing if time permits. I expect financing news to emerge over the coming weeks and I suggest that investors brace for the worst (equity raise) and hope for the best (strategic investment) in the interim.
As a reminder to any potential investors in Uni-Pixel, the company is a micro-cap and unforeseen fluctuations in price can occur on a daily basis with or without news.
Disclosure: I am/we are long UNXL.
I wrote this article myself, and it expresses my own opinions. I am not receiving compensation for it (other than from Seeking Alpha). I have no business relationship with any company whose stock is mentioned in this article.
Additional disclosure: I am not being compensated by UniPixel for this coverage and I have been following this potential turnaround story for well over a year.
Editor's Note: This article covers one or more stocks trading at less than $1 per share and/or with less than a $100 million market cap. Please be aware of the risks associated with these stocks.