FedEx Corporation's (NYSE:FDX) stock price as of March 25, 2016 closed at $162.65/share. During 2016 and looking back, there were great opportunities to own the stock prior to the company's third-quarter earnings report. At around $144/share on the day of the earnings, investors still could have ended up making nearly 12 percent the next trading day.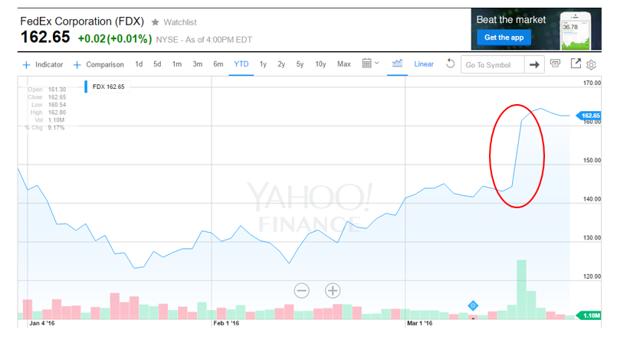 Click to enlarge
Source: Yahoo! Finance
But this is now history and the important thing for investors to consider is FedEx's potential moving forward. Analysts are expecting the company to earn around $10.80/share on an adjusted basis. Additionally, analysts' forward stock price average targets are around $175/share. This means that based on today's price, investors could expect to earn around 7.5 percent over the next year; including the 1 percent dividend, this is an 8.5 percent return possibility, which is solid.
FedEx has traditionally traded in the high teens to low 20s from a P/E ratio perspective over the past decade or so. But moving forward, I feel much more comfortable assuming a P/E in the 16-18 times earnings range. This matches current valuation expectations from analysts in the near term and gives some leeway in the event global economic conditions improve. But long term, I would not be expecting valuations much higher; if they do occur, these are signals to hold or trim positions due to competitive risks.
Today's price does, however, provide an opportunity for solid gains, and investors could expect to see even greater gains during 2017 if the company continues on its path towards adjusted diluted earnings of $13/share. To this point, it is important for investors to consider the company's recent performance on a GAAP versus non-GAAP basis.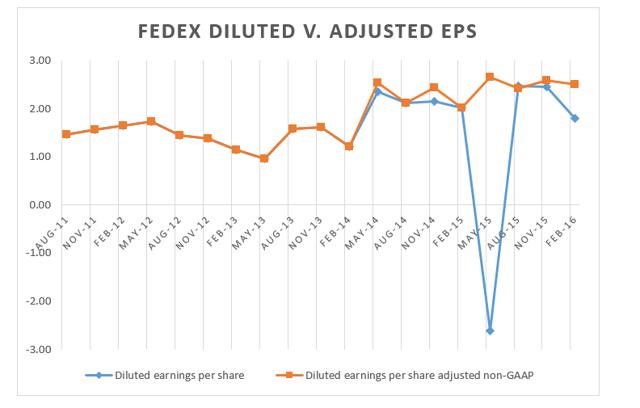 Click to enlarge
Source: Company financials and personal database
Over the past 19 quarters, FedEx has typically witnessed both GAAP and non-GAAP EPS performance to be fairly consistent. However, the previous five quarters have displayed the most substantial deviation between these two measures. This was most extreme during the 2015 fourth quarter; primarily a result from pension and aircraft impairment adjustments. The recent third quarter of 2016's deviation was primarily a result of legal matters and to a lesser extent, TNT Express (OTCPK:TNTEF) expenses.
Regardless, analysts are basing their expectations on non-GAAP diluted EPS, so investors need to consider this measure as their primary focus. The other primary measure investors should consider is the company's EV/EBITDA. This measure has increased of late and trades significantly higher than the company's traditional levels. This is a result of slower growing EBITDA over the past 5-7 years.
Once the TNT Express deal is finalized, investors should expect a continued deviation between GAAP and non-GAAP measures to occur more frequently in the near term. Investors need to have a comfort level with this type of situation. Additionally, TNT Express' margins for the most part have performed lower than FedEx recently. This will weigh on FedEx's margins post integration, which may lead the company to miss analyst targets.
The third-quarter earnings report was highly positive due to FedEx's strong volume performance. The company's third quarter period includes December, January and February so FedEx is unique in that the company has two quarters back-to-back with exposure to holiday-shopping seasonality. But the majority of the third quarter includes most of the winter season so the volume growth is a good indication moving forward for the year.
All package-based parts of the business witnessed volume growth led by the ground services segment. Growth in this segment continues to be driven strongly by both volume and yield. Domestic package delivery similarly witnessed moderate volume and yield growth, while international package delivery witnessed moderate volume growth, but declining yields due to continued foreign currency headwinds.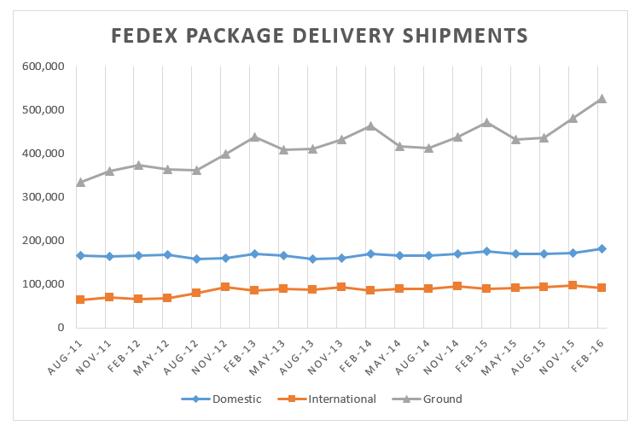 Click to enlarge
Source: Company filings and personal database (shipments in thousands)
For FedEx's freight segments, express tonnage declined nearly 3 percent while less-than-truckload, or LTL tonnage improved by over 4 percent. Express freight declines are indicative of air and truckload, or TL shipments and volumes have been much more flat over the past few years. The LTL segment's growth is good for FedEx as the company is the market leader by tonnage. It also bodes well for the industry as a whole which witnessed declining volume rates through the back-half of 2015.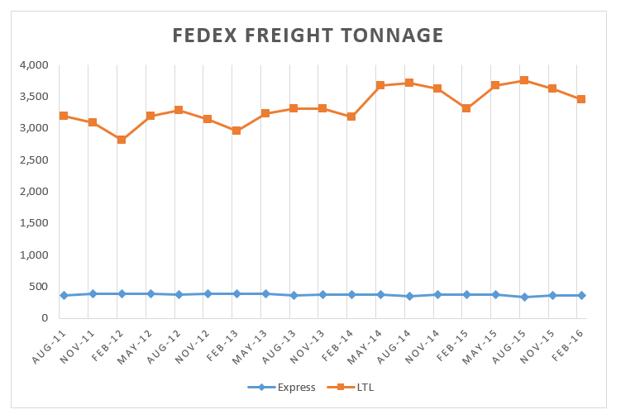 Click to enlarge
Source: Company financials and personal database (tonnage in thousands)
The biggest discussion surrounding FedEx has been e-commerce and Amazon.com's (NASDAQ:AMZN) foray into air freight through its new contract with Air Transport Services (NASDAQ:ATSG). While this is an interesting new business venture, it does not change anything at the moment. Amazon also relies upon Progistics and many other smaller last-mile delivery transportation companies in addition to FedEx and United Parcel Service (NYSE:UPS).
Amazon may end up buying out Air Transport and/or Progistics over time if these models meet Amazon's delivery and service expectations. This, of course, would possibly eliminate cost, while at the same time add new revenue and earnings based on these companies' business models. Air Transport is profitable with major customers including Deutsche Post AG (OTCPK:DPSGY) and the U.S. military. Progistics has large customers including Ryder System (NYSE:R), Alphabet, Inc. (NASDAQ:GOOG) (NASDAQ:GOOGL), The Walt Disney Company (NYSE:DIS), W.W. Grainger Inc. (NYSE:GWW), and YRC Worldwide (NASDAQ:YRCW), just to name a few.
Other speculative suggestions are that companies, including Uship, Uber (Private:UBER), etc., may be able to use marketplace platforms to match shippers with customers. This is the most unclear possible threat over the long term and least impactful threat over the near term.
For these reasons, it is good for investors to consider FedEx's valuation in the 16-18 times earnings range. FedEx is in a good position to meet the company's fiscal year 2016 year-end estimate of $10.80/share. Based on this, investors could expect to see a return of 8.5 percent over the next 12 months (including the dividend payout), and as such is rated as a moderate buy/accumulate.
Disclosure: I am/we are long AMZN, DPSGY, YRCW.
I wrote this article myself, and it expresses my own opinions. I am not receiving compensation for it (other than from Seeking Alpha). I have no business relationship with any company whose stock is mentioned in this article.