Introduction
Eggs can be an interesting business to be in, and Cal-Maine Foods (NASDAQ:CALM) is definitely enjoying a perfect storm as the company remains on track to see its net profit double compared to the previous financial year. The sales number for the company's specialty eggs continues to perform very well and the demand for cage-free eggs seems to continue to increase. This perfect storm has resulted in Cal-Maine reporting an exceptional year in terms of net income and free cash flow.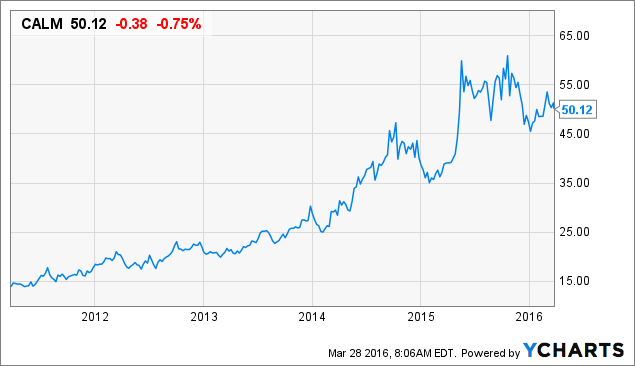 CALM data by YCharts
Free cash flow is king, and Cal-Maine is generating a lot of it!
The revenue in the third quarter of FY 2016 (which ends in May) shows an additional 3% revenue increase compared to the same quarter in the previous financial year. That's good, but keep in mind the 3rd quarter was already an excellent quarter for Cal-Maine, and the 9M results are providing evidence of how good Cal-Maine's FY 2016 is developing, as the revenue in the first nine months of the financial year is now 37% higher, an excellent performance!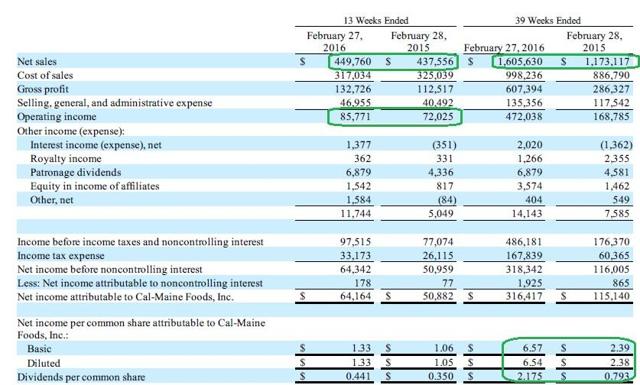 Click to enlarge
Source: SEC filings
Despite the higher revenue in Q3 FY 2016, the cost of sales actually decreased and even the higher SG&A expenses didn't fully wipe out those cost savings. This resulted in a Q3 operating income of almost $86M, or roughly 20% higher compared to the same quarter last year. As the revenue increased at a (much!) slower rate, the Q3 operating margin increased from 16.44% last year to 19.08% in the most recent quarter, and that's an eggcellent result (yes, I stole this word from fellow contributor Quinn Foley). The net income increased by almost 30% to $64M, resulting in an EPS of $1.33. As Cal-Maine has a flexible dividend policy, paying out 1/3rd of each quarter's net income, the company has declared a quarterly dividend of US$0.441 per share as well. This brings the total of declared dividends for the current financial year to $2.175/share, a very sharp increase compared to the $0.793 over the first nine months of last year.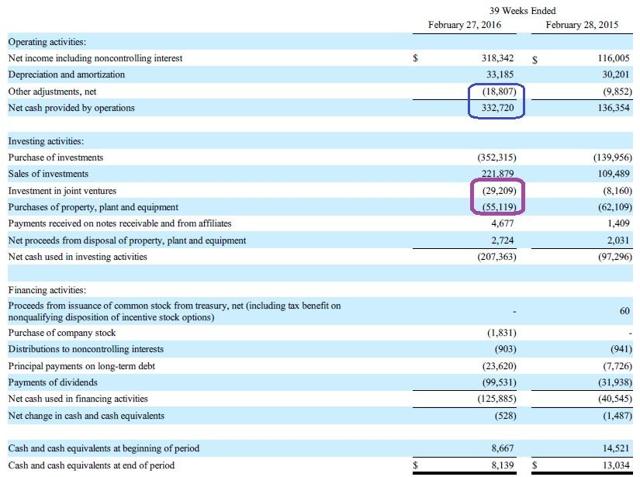 Click to enlarge
Source: SEC filings
That's an excellent achievement, but the main question I'm always asking myself is whether or not the company's cash flows are also confirming the net income. It's definitely more difficult to fool around with cash flow statements (compared to the income statement), and I think the cash flows usually provide a pretty good indication of the underlying strength of a company.
And, well, Cal-Maine didn't disappoint! The operating cash flow adjusted for WC changes was approximately $350M and as the total capital expenditures were just $55M (or $85M if you include (one-time) investments in joint ventures), Cal-Maine reported an adjusted free cash flow of $295M ($265M after deducting the investments in joint ventures), which is approximately $6.08 per share. So, yes, the free cash flow results were in line with the company's net income, and that's really nice to see!
What does the company intend to do with it?
Despite suddenly seeing all the cash flowing into the company's treasury, Cal-Maine isn't doing any stupid things with it. In fact, it seems to be spending the cash like a bonus pater familias. The variable dividend policy ensures the company usually doesn't overspend on shareholder rewards, and according to my calculations the total cost of the dividend over the first nine months of the year is approximately $106M.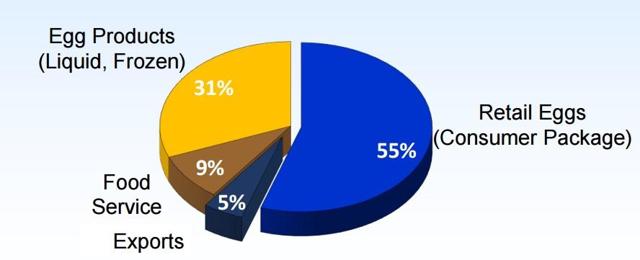 Click to enlarge
Source: company presentation
This means the payout ratio based on the free cash flow is slightly higher than the 1/3rd of the net income, but as Cal-Maine is still paying less than 40% of its adjusted free cash flow in dividends, the dividend is completely safe. This also means the company is adding $160M in cash to its balance sheet (after paying the dividend and investing almost $30M in joint ventures). Forget about substantial buyback programs (only $1.8M was spent on buybacks and this very likely was just meant to cover the potential exposure to dilution as part of the stock options program, Cal-Maine Foods bought 'investments' with the cash flow.
This allowed the balance sheet to become extremely clean now. Yes, the cash position is just $8M, but as the 'investments' are listed as 'for sale' assets, I would expect these to be very liquid. The $386M in liquid assets are more than sufficient to cover the minor amounts of debt on the balance sheet ($27M) as well as the taxes payable within the year ($8M). So, Cal-Maine currently has a net cash position of in excess of $350M, reducing the enterprise value to $2.1B.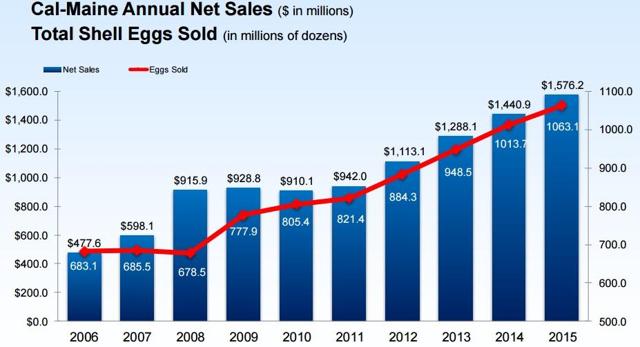 Click to enlarge
Source: company presentation
But what will the company do with the cash? That's the big question (that remains unanswered). It's great to see the company hoarding cash, reducing the investment risk, but I'm also not too keen to see cash being added to the balance sheet without any real purpose. I don't think Cal-Maine should change its dividend policy (unless it would add minor tweaks, such as a payout ratio of 40% instead of 33%) and it could be very interesting to see if Cal-Maine plans a share repurchase program once the share price loses a bit more of its momentum.
Investment thesis
Whatever the Cal-Maine management decides to do with its excess cash position, I'm pretty sure it will be the right decision and I actually really appreciate it the company isn't spending it all at once. Adding the cash to the balance sheet reduces the investment risk and even though the 'peak egg' situation seems to be over (as the revenues and net profits are declining compared to H1 2016), Cal-Maine could still be a very interesting company to invest in.
In fact, the market makers seem to be expecting a substantial fall in the share price as the option premiums for put options are quite high, and this makes it interesting to write put options to try to acquire Cal-Maine stock at a lower price. The November put 40 looks for instance very interesting (at an option premium of $4.5). If assigned, you'd buy Cal-Maine at $35.5/share, which would result in an enterprise value of less than $1.4B.
Disclosure: I/we have no positions in any stocks mentioned, and no plans to initiate any positions within the next 72 hours.
I wrote this article myself, and it expresses my own opinions. I am not receiving compensation for it (other than from Seeking Alpha). I have no business relationship with any company whose stock is mentioned in this article.
Additional disclosure: I currently have no position in Cal-Maine Foods but would be very interested to write some put options.