Lululemon (NASDAQ:LULU) is set to announce 4Q15 results before the market opens on Wednesday, 3/30. We think LULU is set to top what look like beatable estimates, and believe secular growth in the general fitness space implies upside to the stock at its current levels. While we are tempered by Nike's (NYSE:NKE) weak guidance, we think this could actually mean LULU is actually stealing market share.
It is a well-known fact by now that LULU had a monster Christmas. The company hiked guidance following "a very successful holiday season driven by strong execution in stores and online during the key holiday weeks". SimilarWeb analytics show a significant spike in LULU web traffic during December, and this is corroborated by a comScore report which showed strong desktop and mobile traffic growth for LULU during December (and implied LULU stealing online market share from NKE). Perhaps more importantly, the strong e-commerce results hint at operating margin expansion. The DTC business has higher operating margins than the brick-and-mortar business, so the greater the mix of DTC sales, the healthier the net operating margin of the business.
We think digital sales grew 20% in the quarter. Last quarter, DTC revenue grew 16% while lapping 25% DTC growth in 3Q14. This quarter, the company is lapping a less difficult comp in 17% DTC rev growth in 4Q14. Given the metrics which signal significant web traffic spikes, we believe it is a conservative assumption to think DTC revenue grew 20% in Q4.
On the brick-and-mortar front, we think comps rose ~9% in the quarter. Comps rose 9% last quarter, and the updated guide is for HSD comps this quarter. We do not think comps decelerated from Q3 given the updated guide and bullish online trends which indicate strong in-store traffic as well.
Overall, we are looking at revenues of $699.8 million for the quarter versus the consensus estimate for $691.9 million. Our full revenue model for the quarterly projection can be found below. It assumes 9 new stores this quarter.

Click to enlarge
In the greater investment scope, we think shares of LULU still have upside despite the rich valuation. We believe there are secular trends at play here that will keep LULU popular over the next several years, and while growth will be difficult to lap, NKE's continued strong growth figures indicate that the fitness space is growing rapidly.
Goldman Sachs has noted that inventory growth is outpacing sales growth and that this puts margins at risk in the near-term. Jefferies, however, believes LULU can expand margins through higher AURs. Jefferies notes that LULU is currently in the mid-price tier of athletic apparel, and they see upside for LULU to a higher price-tier with women's tops and bras. They note that a 10% ticket increase in tops and bras would translate into a 3.5% increase in overall AUR and 170 basis points of gross margin expansion.
While we understand that inventory build has been a major issue for LULU and something that is drastically weighing on cash flows, increased markdowns to normalize inventory levels is a near-term headwind and something that management has already seemed to account for in their Q4 gross margin guidance of 49-50%.
We also agree with Jefferies, and see LULU as a company with significant pricing power over its consumers. Buyers of LULU merchandise aren't buying it because of its price. Instead, they are buying into a lifestyle trend which the brand name Lululemon is essentially the face of for women. In other words, LULU's customers aren't price-preferred but rather style and comfort-preferred. We think LULU has significant pricing power as a result of being an already established brand for top-tier quality. Moreover, LULU raised select prices in conjunction with a September 2015 pant-wall restage, and consumer push-back has yet to show up in sales performance.
We expect the company to open roughly 40-50 stores per year into 2020. We think the DTC business still has plenty of growth ahead of it, especially considering the Nike brand posted a 56% jump in online sales last quarter. This gives us healthy confidence in LULU's ability to sustain double-digit growth in its DTC business over the next few years. We further model for brick-and-mortar operating margins to grow from 25% to 29% as gross margins expand through higher AURs. Likewise, we model for DTC operating margins to expand from 45% to 49%.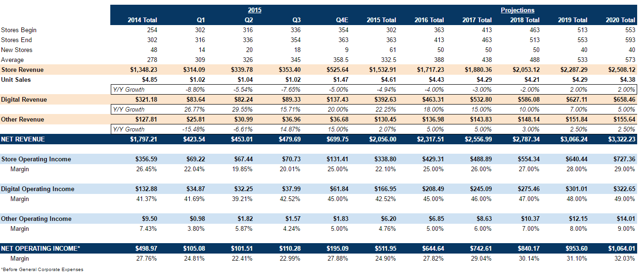 Click to enlarge
In sum, we see operating margins expanding from roughly 25% this year to 32% by 2020. We believe this will flow-through to operating cash flow margins and model for similar expansion there. Capex as a percent of sales should fall drastically as DTC composes a larger and larger portion of the net operating business. Using a 7.5% discount rate, we arrive at a fair value of $71 per share for LULU.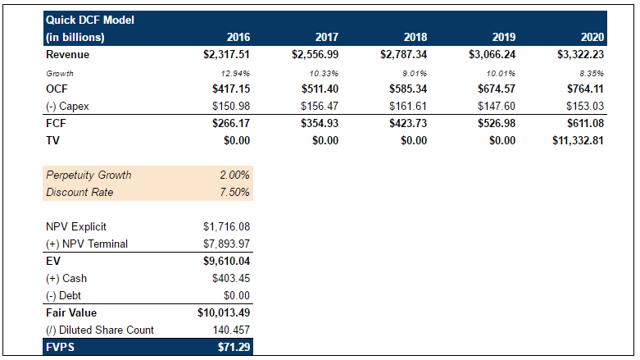 Click to enlarge
We think LULU is attractively positioned here. We think a monster Christmas season means the company is positioned to top estimates, and believe the valuation is actually attractive from a long-term investment standpoint.
Disclosure: I am/we are long LULU.
I wrote this article myself, and it expresses my own opinions. I am not receiving compensation for it (other than from Seeking Alpha). I have no business relationship with any company whose stock is mentioned in this article.