On my last article relating to Antares Pharma (NASDAQ:ATRS), Seeking Alpha user "cjhulin85" asked "Mark, Insider purchases of 545,000 shares for the month of March. Something in the works? Your thoughts. Thanks. CJ." This is a certainly a good question to ask when insiders - which comprised the whole executive management team - purchased an aggregate of 545,000 shares in the open market.
While I am typically quick to dismiss a small amount of insider buying/selling is not directly related to a company's fundamentals, the breadth of this recent development warrants additional consideration. The focus of this article is to provide my due diligence into the possibilities that drove the recent spate of insider buying.
Possibility #1
In my opinion, an investor is always well served by being skeptical of a management team and its intentions. While the BOD/management team may appear to be serving its shareholders' best interest with its decisions, it quite often seems clouded by its desire to keep the compensation and perks coming.
This was essentially the basis of one of my previous articles decrying the secondary offering that was performed last year. And now, here we are almost a year later, and the company is still burning through cash with no stated plan as to how it will turn profitable. But with the stock price firmly entrenched in penny stock status, raising capital through the equity markets again would likely be the final death blow as the remaining bulls finally throw in the towel (myself included).
So what does my skeptical side say about this round of insider buying? Given that primarily all the insider buying occurred in one day at the exact same price of $0.72, it would appear to have been some sort of prearranged deal. Otherwise, I can't imagine how over 500k shares worth of buy orders (almost equal to the stock's average daily volume) wouldn't move the stock price one cent. So this has the scent of an investor/hedge fund (Deerfield specifically comes to mind) needing to liquidate some shares.
If this were the case, at least insiders stepped up to finally help support the stock price and exude confidence in the future. But then again, maybe it's the first steps in preparation to maintain NASDAQ compliance through a reverse split, another dilutive offering, and to keep the perks flowing. Remember, this is the same company that was more than happy to start handing out large cash bonuses last year if Teva's (NYSE:TEVA) generic EpiPen got approved. So color me skeptical right now, but at least there have been a few positive developments to consider as well.
Possibility #2
Antares recently announced the one-year safety results from its pivotal Phase 3 trial for QS-T. The six-month supplemental safety study is still ongoing, but is expected to complete late Q2. The results to date indicate a pretty clean safety profile for the drug, and the company expects to move forward with submitting an NDA by the end of the year.
With a clean safety profile and potential best-in-class efficacy, QS-T appears poised to capture a significant amount of the $2.8 billion TRT market. So maybe the company is preparing to start entering into earnest negotiations with potential marketing partners, and the executive team is buying into the stock in anticipation of profitable partnering opportunity.
Possibility #3
On March 18, the same day as the majority of the insider buying took place, Teva filed applications with the USPTO for the following trademarks:
Bonteo & Calsica, with descriptions for "Pharmaceutical preparations, namely, pharmaceutical preparations for the prevention and treatment of bone and skeletal diseases".
Glyfex, Glyala & Glymaxan, with general descriptions to improve glycemic control (diabetes).
Antares has partnered with Teva for two multi-dose pen products, with one being for a generic version of AstraZeneca's (NYSE:AZN) Byetta (exenatide), and the other being undisclosed. Given that Antares has patent applications which claim exenatide, teriparatide and liraglutide as drugs for its pen products, it's probably safe to assume that the undisclosed product (dubbed as "Pen 1" by Antares) is either teriparatide or liraglutide. So with a trademark filing that fits the description of bone and skeletal disease, I'm assuming that Pen 1 will compete with Eli Lilly's (NYSE:LLY) Forteo (teriparatide) as a 505(b)(2) product to be marketed by Teva.
Additionally, Antares claims that Pen 1 had 2015 retail sales of $1.2B in the US: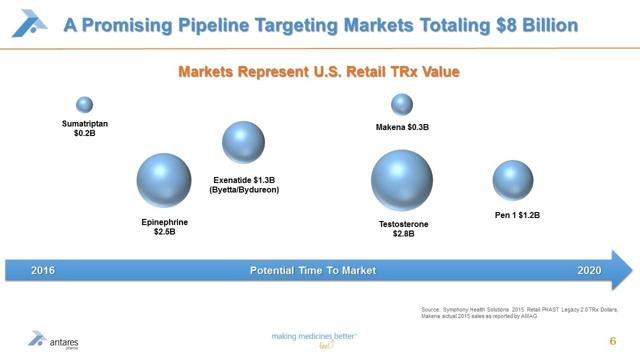 Click to enlarge
Source: March 10 investor presentation
If we assume a typical 50% retail to net sales discount, this would imply US net sales of about $600 million, which match up pretty well with Lilly's reported 2015 net sales of Forteo at $612 million.
The FDA Orange Book lists 10 patents covering Forteo, with the first three patents set to expire on Dec. 8, 2018 (and importantly the composition of matter). Knowing that it will take a couple months for the FDA to review and accept the NDA, it would make sense that Teva would file the NDA now; an automatic 30-month stay will be initiated once Lilly is notified and files a patent infringement suit. Backtracking 30 months from the Dec. 8, 2018, patent expiration date would be June 8, 2016, which is surely the date Teva would be targeting to start the 30-month countdown.
Maybe Antares received notification from Teva that Pen 1 has finally been submitted to the FDA, which was the catalyst for insider buying. Alternatively, maybe Teva approached Antares about a partnership for liraglutide as well. Either way, progress with the Teva partnership would be a relief for both Antares management and investors alike.
Possibility #4
The last possibility I can glean from public information is related to a few patent filings. According to Public PAIR, Antares recently received a Notice of Allowance for its patent application titled "Prefilled Syringes and Kits Thereof". Additionally, the company appears to be making progress on its patent application for "Methods of Achieving Increased Systemic Availability of Methotrexate". The interesting aspect to these patents is that the former contains kits with prefilled syringes of methotrexate (mtx) while the later addresses increasing systemic availability of mtx based on a known oral dose.
Not only could these patents open up a cheaper avenue of delivering the first line standard of care in rheumatoid arthritis (RA), but it could also be easily added to a biologic for concomitant use. This could be a major piece into how innovator biologics mange the lifecycle of their blockbuster drugs. With AbbVie's (NYSE:ABBV) Humira and Amgen's (NASDAQ:AMGN) Enbrel facing potential biosimilar competition in the next few years, adding a new patent protected kit which combines the biologic and a prefilled syringe of mtx would seem like a natural lifecycle extension.
Takeaway
While insider buying does not guarantee future stock gains, it certainly portends a change or two in the underlying fundamentals of a company. I'm a little skeptical about the ability of Antares BOD and management team to do what's best for its shareholders, but there's still a lot of potential value that can be unlocked. For this reason, I still feel the risk/reward warrants a long position in the company, but given the low share price and history of blunders, execution is now more important than ever.
Disclosure: I am/we are long ATRS.
I wrote this article myself, and it expresses my own opinions. I am not receiving compensation for it (other than from Seeking Alpha). I have no business relationship with any company whose stock is mentioned in this article.
Editor's Note: This article covers one or more stocks trading at less than $1 per share and/or with less than a $100 million market cap. Please be aware of the risks associated with these stocks.