Brief Overview
Teva Pharmaceutical Industries Ltd. (NASDAQ:TEVA) is in the midst of controversy following their announced deal to acquire Actavis, the generic drug portion of Allergan (NYSE:AGN). It is important to note, however, that Teva is far from simply a generic drug manufacturer--their business also extends into specialty drugs. In fact, the revenue is divided, in all practicality, evenly between Teva's two segments.
There are certainly risks in choosing to invest in Teva, but this article is intended to show that the risk-adjusted return of Teva is greater than that of the general market. Risks will be acknowledged and thoroughly examined, followed by catalysts and some technical valuation. The intention is to show to the reader that Teva has a sustainable competitive advantage that will extend their role as an industry leader and that this will be reflected in the future stock price.
Investment Thesis
Current Share Price (as of 3/27/16): $54.29
Implied Share Price: $65
Thesis: As a result of Teva's drug development process, ability to go beyond the pill, recent acquisition of Actavis, and sustainable competitive advantage, the future risk-adjusted return will be greater than that of the general market.
Catalysts: Drug Development Process, Beyond the Pill, Actavis Acquisition
Risks: Drug Pipeline, Copaxone Sales Reduction, Merger Mistakes, Exchange Rate Issues, Global Expansion Failure, Legislation, Competition
Sustainable Competitive Advantage: Economies of Scale, Speed-to-Market Capabilities
Industry Outlook
The healthcare industry as a whole is under immense pressure to reduce costs, particularly in the case of drugs. Recent events surrounding that of Valeant and Martin Shkreli have further shed light on this topic, and action is being taken to reel in these massive costs. Teva fills a unique void within this process, as they provide generic drugs.
Generic drugs as a whole are expected to increase their market share, benefitting from these cost pressures. Deloitte notes in their 2016 Global Healthcare Outlook that "in the United States, generic drugs already comprise about 70 percent of the pharma market by volume." It is clear that increased adoption of generic drugs is going to occur.
Another stem of this increased cost-consciousness, The Carlyle Group notes, is that this "should increase the adoption of technology designed to track spending and measure health outcomes." Technology is key within the future of healthcare, particularly in evaluating and increasing effectiveness of drugs.
Teva Overview
While Teva likes to think that they are a worldwide brand, over 80% of their revenue is from the US and Europe. While they are #1 in generics worldwide, less than 20% comes from other nations. With a track record of successful acquisitions, Teva has expanded and developed these markets more.
A note must be made to Teva's falling revenue numbers over the past few years. This is primarily due to the reduction in sales of Copaxone (more about this in the risks section). While overall revenue has fallen, net income has not seen the same decrease due to increases in efficiency of operations. This should be noted, and demonstrates the strength of Teva's management team.
A brief revenue breakdown by drug segment is shown in the graphic below: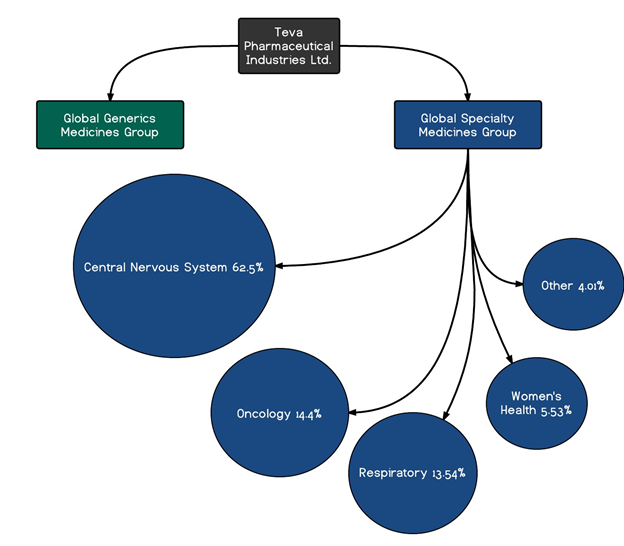 Following are some of Teva's current drug offerings:

Click to enlarge
Porter's Five Forces (and how Teva fits)
An examination of Porter's Five Forces is necessary to better understand Teva's sustainable competitive advantage.
Competitive Rivalry: The generic pharmaceuticals industry concentration is fairly low, as the graph from IBISWorld below shows. The top four competitors account for 26.4% of total revenue, and Allergan takes the largest slice of the cake. Following the acquisition of Actavis (Allergan's generic arm), Teva's share will approximately double. Further consolidation is expected in the future. It tends to be difficult to differentiate products within this industry, and costs are generally the primary factor when purchasing. Steps can be taken toward differentiation, and Teva is going "Beyond the Pill." This concept is further examined in the catalysts section.

Click to enlarge
Buyer Power: Customers come from a wide range of countries and the market is extremely global. Buyers can substitute to a limit, but drugs will have to be purchased in the end.
Threat of Substitution: Buyers have a wide range of substitute products to choose from, as multiple firms produce highly similar drugs (hence, the term generic). Switching costs are minimal, but could entail issues with distribution.
Supplier Power: Teva sources their production materials from a wide range of suppliers. Due to the fact that these drug supplies behave as commodities, Teva is able to substitute suppliers if it is needed. Differentiation among suppliers is difficult to discover.
Threat of New Entrants: Barriers to entry are high for the industry. Sourcing materials, getting drugs approved, and distributing the products are high hurdles. However, regulation aims to reduce these barriers as a result of the aim to decrease drug prices.
Catalysts
Drug Development Process: Currently, Teva has more than 1000 generic drugs in their pipeline. Focusing on API R&D has enabled a reduction in time-to-market and an increase in cost efficiency. With specialty drugs, innovation using existing molecules (IEM) is emphasized. This results in the building of the drug pipeline, using new drugs to fill unmet patient needs. IEM also reduces costs, risks, and time-to-market and regulatory exclusivity can still be achieved. The market is pricing Teva like a typical pharmaceutical behemoth, thinking that risks exist contingent upon drug approval. This risk is mitigated, however, because of API R&D and IEM research, as this provides an increased likelihood of approval. In summary, the market is making a fundamental miscalculation of risk. Below is a visualization to show some of the pipeline drugs.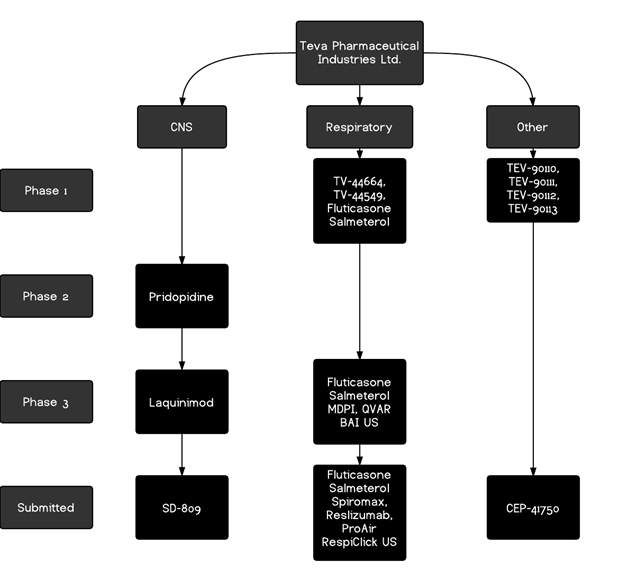 Beyond the Pill: Currently, Teva's Copaxone program provides nurse support and an injection tracker app. This is highly important in value creation and differentiation in the generic drug market. Everybody is selling the same items, but Teva is giving additional benefits due to economies of scale (smaller competitors cannot afford this kind of technology). This provides Teva with a small yet significant marginal benefit that will lead to increased market dominance.

Actavis Acquisition: Actavis is primarily located within the same established markets as Teva. By acquiring Actavis, Teva will be able to combine operations, sales, and R&D of both companies--the synergies are massive. While many analysts think that Teva paid too much for Actavis, the benefits to Teva enable them to pay the premium for acquisition. As a result of the announcement of the acquisition, Teva's stock plummeted due to analyst projections and amount paid. However, being able to recognize that this increases long-run profitability capabilities and adds to economies of scale provides a higher stock price.

Risks

Due to the amount of risks and for the sake of time, the most relevant will be examined.

Copaxone: Sales of Copaxone, which accounts for the most of Teva's revenue, are projected to decrease due to increased competition brought by other drugs entering the market. While this is most likely already priced into the stock, there exists the possibility that sales could decrease even more than expected.

Drug Pipeline: Although the pipeline is both unique and strong, drugs could still fail and decrease potential profitability. In evaluating this stock, however, it is important to look at what fundamentally reduces the chance of drug failure rather than betting on drug tests.

Expansion Failure: If Teva fails to achieve successful expansion into emerging markets, future growth could be mitigated with an adverse impact on stock price. Looking at the past track record of the management team, however, calms this fear to an extent. They have an excellent acquisition track record, and past expansionary measures have been successful as well.

Sustainable Competitive Advantage

Economies of Scale: The fact that Teva is the largest player in the industry does provide an immense advantage in terms of their operations. As seen in the past years, a focus has been placed on increasing operational efficiency and this will only continue in the future with the acquisition of Actavis.

Speed-to-Market Capabilities: This is a result of Teva's drug pipeline process. The unique R&D performed enables them to get their drugs out before their competitors, providing a first-mover advantage of sorts. Having product on the shelves before others means that Teva can establish rapport with customers, increasing the likelihood that they will use Teva's drugs in the future.

Valuation

A comparable companies analysis was performed with an implied share price of $65. While Teva is a unique company in the industry, comparable companies were chosen based off of size, similarity, and growth characteristics.

Click to enlarge

Click to enlarge

Conclusion

As a result of the information presented, it is projected that the future risk-adjusted returns of Teva will be greater than that of the market. Catalysts provide adequate reasoning as to why this will occur, and the market's fundamental miscalculation of risk shows why this thesis is correct.
Disclosure: I/we have no positions in any stocks mentioned, and no plans to initiate any positions within the next 72 hours.
I wrote this article myself, and it expresses my own opinions. I am not receiving compensation for it (other than from Seeking Alpha). I have no business relationship with any company whose stock is mentioned in this article.
Additional disclosure: Most information not sourced in this article comes from Teva's 2015 annual report.