Last week YY Inc. (NASDAQ:YY) announced its financial results for Q4 and FY15. The company, despite high volatility in the market and vast depreciation of Chinese equities, showed consistent growth over the last year and beat analyst expectations. For the fourth quarter, particularly, revenue jumped to $293.3 million, which represents 62.3% Y/Y growth. As for the full year, the company managed to earn $910.4 million in revenues, which is a 60.3% increase year-over-year.

YY is famous in China for its online platforms for music, games, dating and others. It has over 3 million paying users in its ecosystem and is considered to be one of the best web entertainment projects in the Asia-Pacific region.
If we look at the return that YY brought last year to its shareholders, we would see that it beat its major competitors like JD (NASDAQ:JD), Alibaba (NYSE:BABA) and Tencent (OTCPK:TCEHY). It only fell behind Sina (NASDAQ:SINA), which owns the majority stake in the dating platform Weibo (NASDAQ:WB):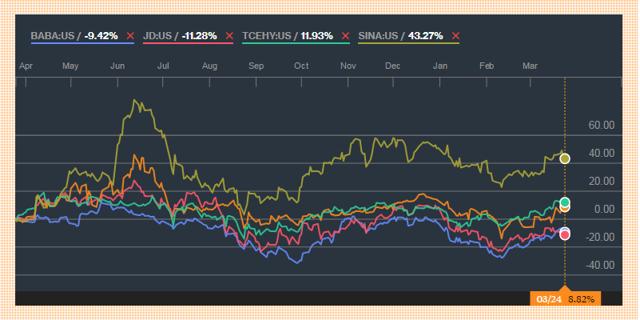 Source: Bloomberg
Considering the resources that other competitors have, I would say that YY performed pretty well last year and is ready to expand its reach in 2016. After the positive earnings results, CEO David Xueling Li reassured investors that the company is on the right path and will continue its growth to new heights:
In our online music and entertainment business, revenues from mobile grew at an impressive rate of 452% year over year and accounted for 45% of total revenues in the fourth quarter of 2015. As we continue to augment and adapt the services across our healthy ecosystem, we are confident in our ability to strengthen our position as the leading real-time internet platform in China.
There are different fields in which YY might have a shot and continue its growth that will benefit shareholders. One area about which the company is very enthusiastic is video entertainment. With the rising number of users that watch videos online, this presents a great opportunity for YY to monetize this audience.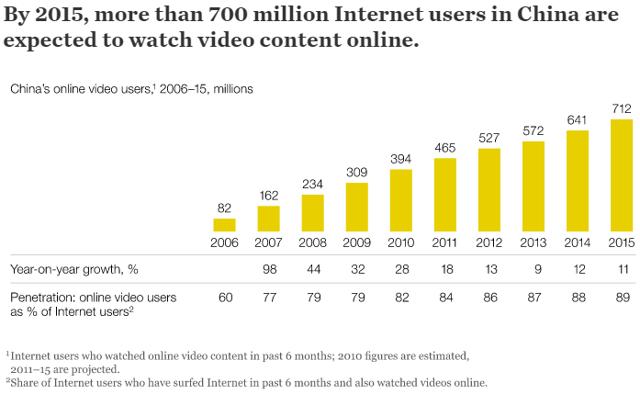 Source: McKinsey
And the company already has a strategy in that field. It wants to tackle the video market by increasing the presence of its live-streaming platforms and targeting the most progressive audience in this area - gamers. According to its corporate filings, in 2016 and 2017 YY expects to see a growing number of live-streaming users that will be divided among two major groups: eSports enthusiasts and other game related audience. And thanks to its friendly ecosystem and broadcast platforms like 100.com, I believe it could succeed in this endeavor.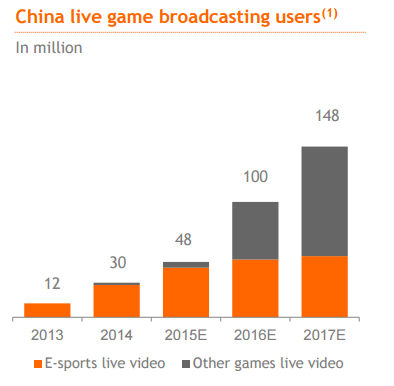 Source: Company's fillings
YY also will benefit from the growth of the Chinese Internet market as more and more consumers will spend their money online on entertainment: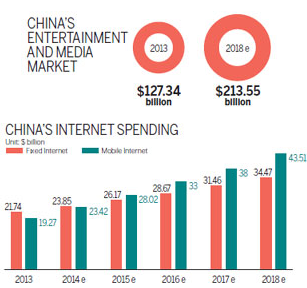 Source: China Daily
And the recent fall of the Chinese market and the depreciation of its equities might be a buying opportunity for a lot of investors, considering the potential growth of the APAC region in the coming years. This might also be the reason why a couple of big funds announced in their recent 13F fillings that they own a number of YY shares in their portfolios. For example, Veritas Asset Management last week disclosed that it owns 50,000 shares of the company that it bought last quarter. Investment advisory form Renaissance Group LLC also announced that it raised its position in YY and currently owns over 200,000 shares of the company.
According to MarketBeat, YY has five Buy and one Hold and has a consensus price of $83.14, which represents an upside of ~38%:

Source: MarketBeat
Its P/E ratio of 21.54 and operating margin of 18.87% are better in comparison with most of its competitors in the Global Internet Content and Information industry. Recent interest from the different funds and the fact that YY suffered the brutal plunge of the Chinese market last year and even brought some return are signaling that the company is hedged against those kinds of situations and has a lot of potential to rise higher in coming quarters.
Considering all the facts that I presented above, I believe YY is a growth stock and suggest that if you're an investor to take a closer look at this company and possibly add it to your portfolio.
Disclosure: I/we have no positions in any stocks mentioned, and no plans to initiate any positions within the next 72 hours.
I wrote this article myself, and it expresses my own opinions. I am not receiving compensation for it (other than from Seeking Alpha). I have no business relationship with any company whose stock is mentioned in this article.
Editor's Note: This article discusses one or more securities that do not trade on a major U.S. exchange. Please be aware of the risks associated with these stocks.