The beta of a stock helps reflect a risk of a stock relative to the rest of the market, or a broad market index. JetBlue (NASDAQ: JBLU) has the second lowest beta of the airline industry at .50 per Finviz, second only to Allegiant Air (NASDAQ: OTCPK:AGLT) This isn't the only way to measure how little risk JBLU possesses.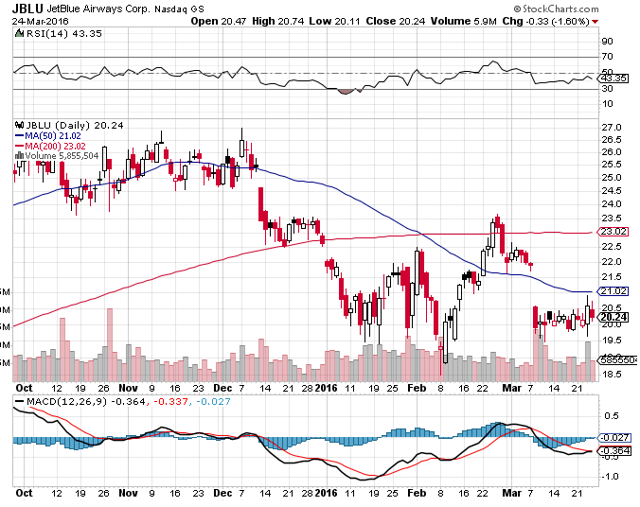 While many industries that were hit hard - solar, 3D printing, and biotechnology have been hit hard and at least marginally bounced back after major pitfalls - JBLU has remained steadily lower, gapping its price down further to about $20 in early March and has since stayed there.
Consequently, JBLU has the third lowest PE and forward PE ratio in an already dimly valued industry. With promising future growth and cash flows, I'm very confident that JBLU will be turning a corner in its price action very soon, and investors would be smart to capitalize now.
Free Cash Flow and Consolidating Debt
Since the company's founding by David Neeleman in 1999 and its IPO in April 2002, JBLU has worked to achieve economies of scale and build up its fleet and number of destinations. Even with a deregulated sector, a lot of consolidation within the industry, and the specter of the great recession, this process took many, many years. For many years, the price of the stock was already low at $5/share, which meant the only way the firm could get by was to purchase exorbitant amounts of debt not seen by most of the airline industry.

Click to enlarge
Back in 2011, JBLU had a debt/equity ratio of over 1.84. Today, even though it is still high compared to its peers, JBLU has a debt to equity of just .574. Over the last five years the stock has performed leaps and bounds and has shown significant improvement on its balance sheet. The firm has not gotten to a point where it can start to issue a dividend or say it has a superior balance sheet to a Southwest Airlines (NYSE:LUV) or some of the other large regional airlines, but as we can see from the chart above, progress is quickly being made.
One financial statement that is a strength of JBLU is its statement of cash flows. Since 2011, operating cash flow has steadily growth about $250M/yr, and the stock has been using that operational excellence and increase in operating income to retire debt and expand its infrastructure, resulting in an impressive 9.89 P/FCF as of March 24 closing, third best in its industry.
My favorite part about investing in JBLU is not its cash flow, however; it's the fact that the firm continues to see so much growth. EPS has grown 44.9% over the last five years, and is expected to grow 33.57% over the next five years. EPS this year alone is expected to grow 69.2%, and Q4/2015 sales grew over 10% over Q4/2014 sales, and the firm did all this in a purely organic fashion. That is, by cutting costs per available seat mile (down 1.1% Q/Q) and growing revenue.
Fuel Hedging and Competitive Advantages
JBLU is a very unique firm. Its primary region of business is along the I95 corridor along the eastern seaboard, ranging primarily from Boston to Orlando, and everywhere else in between. What is more striking, however, is the uniqueness of its aircrafts.
JBLU has two primary aircraft in their fleet, both from Airbus (OTCPK: OTCPK:EADSY): the A320, and the A321. They have about 25 A321s, and 130 A320s, according to the firm's website.
These Airbus models are outfitted with the most complete interactive and digital technology of perhaps all domestic airlines. Each seat is outfitted with a touchscreen TV and in seat power and USB outlets, and there is also Wi-Fi outfitted in every plane. In terms of channels, Direct TV and JBLU have also collaborated on getting service on their planes, and are soon expanding to 100 channels.
As a well-traveled college student that has flown on Delta (NYSE:DAL), Southwest, Allegiant, Frontier, JetBlue, Spirit (NASDAQ:SAVE), and others, I can easily tell you that as a consumer who likes to travel light, that the array of entertainment that JBLU offers is head and shoulders above the rest. The A320s are scheduled to undergo important restyling in 2017, and completion is expected in 2019. Those are additional expenses that will be seen, but ones that are necessary to bring more attraction to their customer experience.
This customer excellence, compounded with their locational excellence, tells me that they are well in the running and will likely be chosen as one of the airlines allowed to operate out of Havana, Cuba, which would also be a massive boost to their sales figures. Harboring a large presence in a chain of Boston-New York-Washington D.C-Atlanta-Orlando-Havana would allow JBLU a large presence in both the business and entertainment corridor.
Valuation
In terms of what might else be holding the stock's price down aside from capacity concerns, competition among air fare and baggage prices are also weighing on airlines, despite the lower fuel costs.
In JBLU's Q4 2015 report, the firm stated it had hedges for roughly 14% of fuel consumption, which is almost a 38% decrease from Q4 2014. However, there will be no fuel hedges for the firm for the first two quarters of 2016, followed by 10% for the rest of 2016. This leaves the firm very exposed to fuel fluctuations, more so than other firms, meaning there will be a much higher correlation of merit between the stock's price and the price of fuel.
Of course, if one begins to speculate based on normal crude fluctuations due to seasonality, and also the anticipated OPEC oil meeting, no hedges could pan out very nicely for JBLU, and lead to superior margins. JetBlue also charges $20 for their first bag in terms of fees in that department, while LUV has no baggage fees for the first two bags, and budget airliners SAVE and ALGT rely more on baggage fees, while DAL charges $25 for the first bag.
Another concern is that JBLU has already disclosed Revenue per Available Seat Mile (RASM) has fallen 10-10.5% in February, while capacity grew. Continued trends in this department going forward into March and April could lead to a lower expected growth rate for 2016. Capacity going up is not out of the ordinary due to the higher amount of canceled flights due to the harsh winter weather. JBLU was perhaps one of the airlines hardest hit by winter storm Jonas in January.
Taking into account the higher short term capacity, lower fuel costs, and trend toward higher operating margins for JBLU, and the projected 2016 EPS of $2.52/share, I project a year end price target of $29.11, which entails 40% upside at current price levels.
Paying attention to the wire will be paramount for investors. Attractive valuation brings up the discussion to buy airlines in the first place, but pressure on fare and bag fees are nothing to disregard. A huge coup would be to win a spot in Havana and experience a location advantage for Americans eager to experience the island for the first time in over 50 years. I would not buy JBLU above $25, and ideally it would be best to initiate a position in the $19-20 range for maximum return.
Disclosure: I am/we are long LUV.
I wrote this article myself, and it expresses my own opinions. I am not receiving compensation for it (other than from Seeking Alpha). I have no business relationship with any company whose stock is mentioned in this article.
Editor's Note: This article covers one or more stocks trading at less than $1 per share and/or with less than a $100 million market cap. Please be aware of the risks associated with these stocks.