In the book, Hedge Fund Market Wizards: How Winning Traders Win, Tom Claugus of GMT Capital discusses what he calls his "Evil Knievel" stock screener. Tom defines this screener as companies trading at five times or more of book value and losing money. Tom says these companies are "trying to jump the Grand Canyon and probably are not going to make it." Tom's fund is a long/short equity fund with a 25-plus year record of 20% annual returns. The Evil Knievel screener is the tool Tom uses to begin his search for short trades, especially when the market reaches the upper limit of a Bollinger Band. Claugus talks about getting shorter as the market reaches the top of the band and selecting a few companies from his Evil Knievel screener is a go-to move. During the first week of November 2015, the S&P 500 touched the upper band and dropped significantly over the next two weeks. After another month or so of flat to slightly down movements, the market began its significant decline on December 30th. The market finished an approximate 10% decline at the bottom on February 11th, but a number of companies on this list had 30% plus drops.
Whether short selling is part of your investment strategy or not, companies showing up on this list need to have a very compelling story to justify their stock price. Additionally, anything other than a bull market is going to be a big problem for most of the companies on this list.
I decided to begin monitoring this list for my own trading purposes. I first designed my screener to include stocks traded in the United States, market cap of $2 billion or more, losing money and trading over five times book value. If you lowered the market capitalization to $300 million or more, there would be 98 companies on the list. That's a few more than I have time to analyze.
As of March 25, 2016, there are 29 companies that meet my Evil Knievel screener.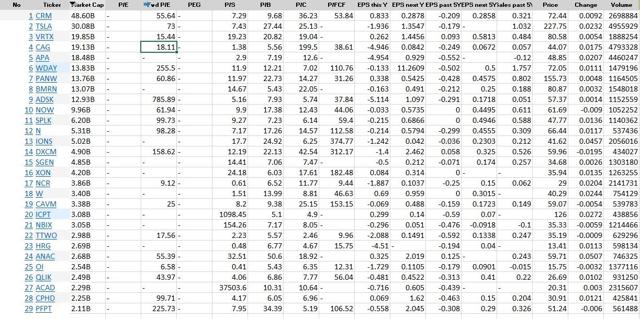 The purpose of this article is to introduce the idea of monitoring this list as well as to discuss, at a high level, some of the included companies. This is not intended to be a deep dive analysis of all 29 companies. I would recommend if you are long companies on this list be sure you have done your homework. You need a very compelling reason to hold a company on this list.
Salesforce.com (NYSE:CRM)
The largest market capitalization stock on this month's Evil Knievel screener is Salesforce.com.
During the last earnings call, CEO Marc Benioff was beside himself over how well the company performed for the quarter and for the full fiscal year. The company's 24% revenue growth is impressive and significant brand name customers were added during the fourth quarter (i.e. Charles Schwab). The company has a tremendous brand name and Jim Cramer loves Marc Benioff. The continued concern for this company is the lingering question of when is this business going to become profitable? The Company is currently spending over 50% of its revenue on marketing and sales costs. That's a huge percentage and would presumably explain the sales growth. The future prospects of Salesforce.com create a lot of excitement in the market, but the current fundamentals need to improve sooner rather than later.
In the company's latest 10-K filing, you can see negative working capital of approximately $1.25 billion and a net loss of $47 million on revenue of $6.2 billion. On the positive side, free cash flow for full-year 2015 was approximately $1.3 billion. Based on my valuation, the company needs net income of $1.6 billion and a continued 20% growth rate to justify the current stock price. Can the fundamentals of this business ever catch up with this stock price? In a market that's fighting headwinds of a slowing economy, falling corporate profits and looming interest rate hikes, there is a lot of risk in a stock like Salesforce.com. The company's 30% drop from December to February could return any time the overall market takes a dip. With a short float of only 1.75%, you would not have very many investors in the fox hole with you if you decided to go short. Interestingly though, there aren't many big name hedge funds in the stock either. I'm not looking to go short, but not really interested in owning the stock either. For a further analysis of the company, see Shudeep Chandrasekhar's article here.
Tesla Motors (NASDAQ:TSLA)
Tesla is the second largest market capitalization company on this month's Evil Knievel screener. It's also the most shorted stock on the list by a long shot (33% short float). During the November to February period discussed previously, Tesla dropped 35%. Tesla has been covered thoroughly on Seeking Alpha and as Jim Cramer referenced, Tesla is a "cult stock." The price of Tesla is currently trading at 27 times book value, the sixth highest multiple on the list. At a $30.08 billion market capitalization, Tesla will need to flawlessly produce and sell a ton of cars. This is not a stock I would consider investing in. Too much of the price is built on the hype machine of Elon Musk and growth projections which many analysts are questioning. There is way too much downside for my taste. This is one of the most shorted stock in the entire market, so no need to beat a dead horse.
Proofpoint (NASDAQ:PFPT)
Landing on the list as the third most shorted company (19.9%) of the 29 on the screener is Proofpoint. I couldn't really come up with much positive to say from a fundamental prospective for Proofpoint. I also checked to see if any well-known hedge fund investors own the stock and could only come up with a long list of insiders selling. The best fundamental I could come up with is the approximately $20 million in free cash flow the company produced in 2015. That's not much for a company with a $2 billion market cap. One of the more comical things I found during my research was that of the 23 analysts that cover the company, 10 have a strong buy rating, 12 have a buy rating and one has a hold rating. I don't know which is correct, but there is a major disconnect between Mr. Market and the analysts. There are over 1,200 stocks traded in the United States with market capitalizations over $2 billion and Proofpoint's 19.9% short float puts the company at the 49th most shorted stock. Seems strange analysts love it and think we should all own it. No thanks.
Conclusion
You may not need to run out and short these companies today, but this would certainly be a good starting point when it begins to feel like the market has gotten ahead of itself. I am a fundamental, value investor, but I do like to monitor certain technical warning signs. Monitoring Bollinger Bands for the market as a whole is a systematic way to know when it may be time to expose your portfolio to your Evil Knievel screener.
Disclosure: I/we have no positions in any stocks mentioned, and no plans to initiate any positions within the next 72 hours.
I wrote this article myself, and it expresses my own opinions. I am not receiving compensation for it (other than from Seeking Alpha). I have no business relationship with any company whose stock is mentioned in this article.