Apple (NASDAQ:AAPL) bulls have been heartened by reports of strong demand for the new iPhone SE in China, with initial indications of pre-orders of 3.4 million units.
They should not get too excited. The Samsung Galaxy S7 models landed pre-orders in China totaling more than 10 million. Samsung is a relatively minor player in today's Chinese smartphone market with a 7.7% market share.
In China, pre-orders are merely indications of interest and do not usually correlate one-to-one with eventual sales. It is useful to look at some history as well - pre-orders of the iPhone 6 in China were reportedly over 20 million when it was released in the fall of 2014.
Apple reported over $16 billion in revenue in China in the December quarter of 2014. If sales revenues correlate with iPhone pre-orders, the 3.4 million iPhone SE pre-orders when contrasted with the 20 million iPhone 6 pre-orders in China would imply quarterly China revenues of 3.4/20 x $16 = $2.7 billion, hardly enough to get excited about when you consider the scale of Apple.
To my way of thinking, reports of 3.4 million pre-orders for the new SE version in China imply that the new device has a very limited market. Apple sold only 30 million 4-inch phones in 2015 and I don't think this new iPhone will do much to increase that volume.
SA Author Esekia hits the nail on the head with his review of the smaller iPhone - it is likely to be well-received by those Apple fans who prefer a smaller phone and at the same time is unlikely to make a major impact on Apple's results. Esekia points out that Apple downgraded the screen in the SE model to improve battery life, long a bug-bear for iPhone users, with the result that the display is a disappointment compared to many competing devices at or below the same price point with AMOLED displays and plenty of battery life.
To me it seems Apple is true to form - releasing a substandard device with inferior components in an attempt to maintain margins at a lower price point, just as it did with the poorly accepted iPhone 5C. Apple may one day recognize that consumers can demand more for their smartphone dollars and that competitors are willing to provide more at very attractive prices.
Jon Russell gets it right in his article in Tech-Crunch. Apple's iPhone SE is unlikely to make a splash in Asia despite its low price. The iPhone SE is unlikely to make much of a splash in North America either. Consumer Intelligence Research Partners posits that the iPhone SE will have a limited market in the U.S. where it estimates 81% of the iPhones in use are larger screened versions.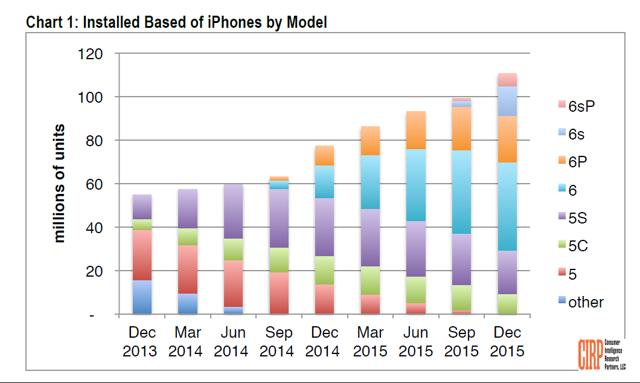 Click to enlarge
Source: CIRP
The high proportion of United States users already owning a larger screened iPhone has another implication for the March quarter - fewer upgrade sales!
Apple's March quarter results will be out in a few weeks. I suspect they will show weaker sales and higher inventories with a guarded outlook for the June quarter. Investors should avoid or short the stock.
Disclosure: I/we have no positions in any stocks mentioned, but may initiate a short position in AAPL over the next 72 hours.
I wrote this article myself, and it expresses my own opinions. I am not receiving compensation for it (other than from Seeking Alpha). I have no business relationship with any company whose stock is mentioned in this article.