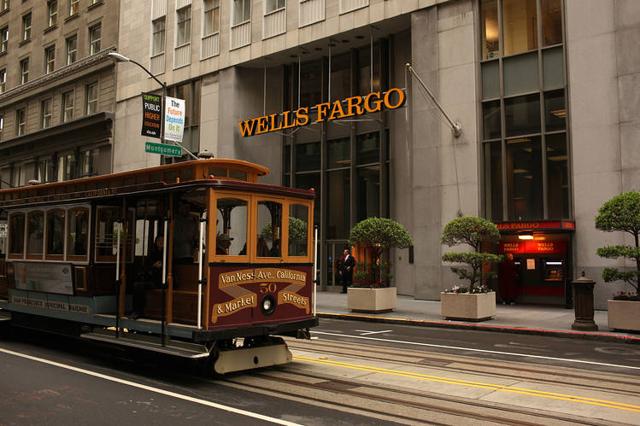 Click to enlarge
Wells Fargo (NYSE:WFC) is perhaps the only major bank I have overlooked in my continual excess returns analysis of bank stocks. Recently, UBS's downgrading of WFC has brought more eyeballs to the stock. In my last article on FOMC meetings, I received a request to analyze WFC in particular:

From a fundamental standpoint, WFC looks attractive. It beats the industry standard by double on net margin, return on assets, and return on equity. However, I believe the best fundamental statistic with which to valuate bank stocks is excess returns, the expected returns over the average that the bank produces.
The Excess Returns Model
The excess returns model was developed by Professor Damodaran (see his articles on this model here, here,and here). Damodaran rightly noticed that discounted cash flow valuations fail when used on bank stocks due to their ability to "creatively" report free cash flows. The excess returns model looks at the main aspect that matters for bank stocks: their ability to outperform with their investments.
Hence the excess returns model, which incorporates excess returns and opportunity cost into one model. If you believe in fundamental analysis, you cannot deny the concept of a bank stock's price being attached to the capital it produces from its investments. Yet my analyses of the major bank stocks through the excess returns model has produced a clear and consistent pattern: Prior to 2008, bank stocks were significantly overpriced; after 2008 bank stocks have been chronically underpriced.
I attribute the latter aspect to "wet feet": The idea that investors are much more reluctant to buy bank stocks after the events of 2008. In fact, as I mentioned in this article on Bank of America (NYSE:BAC), banks are actually a lot safer now than in 2007, in spite of their lower credit ratings. Banks now have larger reserves, allowing them to more aptly deal with systematic defaults (e.g., energy-based loans).
But as we see below, WFC shows a drastically different trend than that of the other major banks.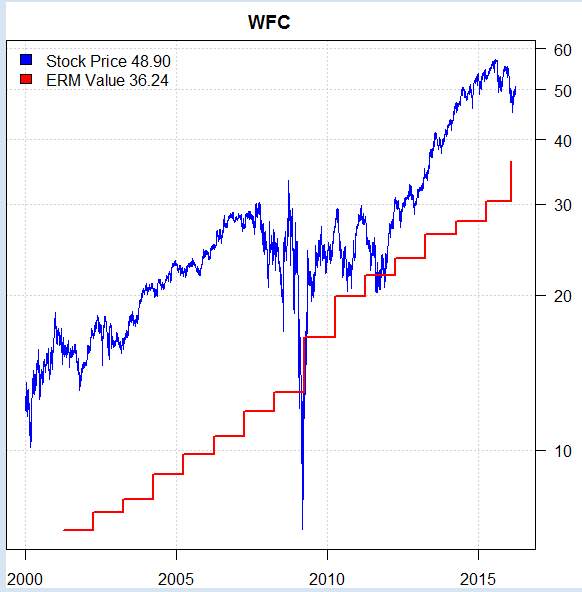 Unlike the other major banks, which were overpriced prior to 2008 and underpriced afterward, WFC has consistently been overpriced. Their excess returns do not merit an investment in this stock in light of the opportunity costs both within the banking sector and outside.
My Thoughts
If you're waiting for an entry point for WFC, wait until the stock drops to roughly $35 or lower. If you absolutely must get in now, consider buying the warrants instead of the stock, as they are cheaper and have significantly less downside than outright buying the stock, which fell 2% just one day ago. Still, if you've been paying attention, the 2% drop was unjustified as it was the result of another absurd downgrading (where were these downgrades in 2007?).
Thus, if you don't trust the excess returns method of valuating stocks, the 2% drop might be a nice entry point. After all, even if WFC is overpriced it still moves in tandem with the financial sector. And the financial sector is finally rising, having been a laggard during this bull market.
The fact that WFC is overpriced while most other bank stocks are underpriced could also point to a phenomenon of financial sector investors preferring what appears to be the most stable of the banking stocks over the "riskier" banks, such as Citigroup (NYSE:C), which has significant exposure to the weakened energy sector and weakening Chinese market. It is possible that WFC is cannibalizing the other bank stocks, sucking liquidity from the other majors. This could partly explain the consistent underpricing phenomenon we see in the other major bank stocks.
For long term investors, these short-term negative reactions indeed could be opportunities for adding more to your dividend position. WFC's dividend has grown consistently since 2009. The return on equity has also stabilized since 2009, hovering around 12%.
Still, this return on equity is almost half that of the decade prior to 2008, where ROE was commonly 20%. This makes it hard to justify prices higher than those prior to 2008. In 2003, you could have picked up WFC for under $20 a share, while grabbing the equivalent dividend to 2015 and nearly double the ROE of today.
Conclusion
This model shows WFC to be 31% overpriced. If you are banking on rising interest rates lifting bank stocks, your better bet is to buy a stock such as BAC or JPMorgan (NYSE:JPM). Avoid WFC for now.
Learn More about Earnings
My Exploiting Earnings premium subscription is now live, here on Seeking Alpha. In this newsletter, we will be employing both fundamental and pattern analyses to predict price movements of specific companies after specific earnings. I will also be offering specific strategies for playing those earnings reports.
Our last newsletter looked at the upcoming earnings for ConAgra Foods (NYSE:CAG).
Request an Article
Because my articles occasionally get 500+ comments, if you have a request for an analysis on a specific stock, ETF, or commodity, please use @damon in the comments section below to leave your request.
Disclosure: I/we have no positions in any stocks mentioned, and no plans to initiate any positions within the next 72 hours.
I wrote this article myself, and it expresses my own opinions. I am not receiving compensation for it (other than from Seeking Alpha). I have no business relationship with any company whose stock is mentioned in this article.