Click to enlarge
One thing that we keep reading is that PepsiCo Inc. (NYSE:PEP), and every beverage stock for that matter, is overvalued right now. If you look at the PE ratio of any of the big beverage stocks you will see that they have begun to trade at higher multiples now than they have in the last five years. But five years is not a long time for companies like PepsiCo and Coca-Cola (NYSE:KO) which have been around much longer. If we stretch out the timeline, as you can see below, suddenly 27 times earnings doesn't look that expensive. Even when we are disregarding any of the extreme multiples, we feel 27 to 30 times earnings is actually quite fair historically.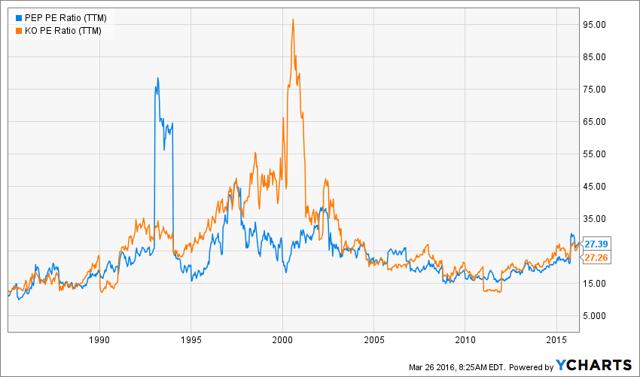 Click to enlarge
That may not be enough for some investors, but for us we feel comfortable with it and instead of worrying about it being expensive, we have turned our attention to whether there is an investment opportunity here right now. Well, the good news is that we think there is.
Despite speaking recently about Hershey's (NYSE:HSY) and its battle with the fight against sugar. We do feel PepsiCo, whilst it will undoubtedly be affected, is diverse enough geographically and with its portfolio of products to shield it from any major problems.
There are several reasons why we like PepsiCo. One is the recession-proof nature of the company. Its products continue to be bought in a recession, which makes the shares a great long-term buy and hold investment in our view. We don't necessarily believe a recession is looming, but there have been many worries of one being on the horizon for some time. Some economists believe that we are overdue a recession in the United States, but time will tell if they are to be correct. Regardless, it is nice to hold shares in a company that you know will continue to perform well in a recession. So PepsiCo gets a little more attractive because of this.
As we mentioned before, the product assortment and it geographical diversity is a key benefit. As of 2015 the company's revenue was split as 53% for snacks and 47% for beverages, and geographically five countries comprised of 75% of total sales. Unsurprisingly, the United States is the company's biggest market and makes up 56% of total sales. 31% comes from emerging markets which is great to see. These markets could grow to be extremely big consumers in the next decade. If PepsiCo can position itself well enough it could grow along with these countries' vast consumer classes.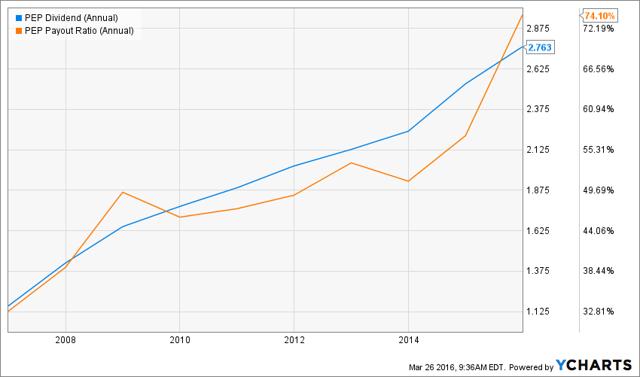 Click to enlarge
Another reason to hold the shares of PepsiCo is its dividend. PepsiCo has been growing its dividend each year for the last 44 years. The chart above captures just the last ten years. At the same time, it hasn't had to payout any more than 75% of its earnings. This has meant the company built up enough cash reserves to buyback $5 billion worth of shares in 2015. This is exactly what we want to see from an investment. A growing dividend and share price gains are the perfect combination!
For us, its recession-proof qualities, dividend, strong product assortment, geographical diversity, and its robust balance sheet make PepsiCo a great investment today and more than justifies the premium we are apparently paying for the shares. As far as we can see there is no overvaluation here. The industry as a whole trades at an average PE ratio of 26.17, which is just a fraction lower than PepsiCo and Coca-Cola which trade at 27.39 and 27.26 times earnings, respectively.
We expect the company to grow its earnings just ahead of the market-average of 5% per annum for the next five years. This level of growth, although slower than some companies, represents consistent share price gains to go along with the almost 3% dividend. We therefore have an expected return in the region of 8% per annum for the next 5 years. As part of a balanced portfolio this is a winner in our view. We bought shares recently and intend on holding them for the long-term.
Although we expect the average return to be around 8% per annum, we do see growth being stronger at the start of the five years. Our one-year price target of $116.50 provides upside of 16% from the current price the shares trade at. If the company produces earnings per share of $4.68 as we expect it will. This will mean the shares would be trading at a PE ratio of around 25.
In conclusion, we don't see PepsiCo or Coca-Cola as being overvalued at present. We do see them as being priced well for a long-term buy and hold strategy and expect to see strong gains because of it. Grab them whist you can and sit back and relax with a can of Pepsi Max.
Disclosure: I am/we are long PEP.
I wrote this article myself, and it expresses my own opinions. I am not receiving compensation for it (other than from Seeking Alpha). I have no business relationship with any company whose stock is mentioned in this article.