After seeing many investors panic earlier at the beginning of the year, it made me wonder if they had all forgotten about 2008 already or do they keep thinking about it and see it happening again everywhere? When the stock market drops 10% like it did in February, several people started to sell. Others, like me, started to buy.
During this period, there were sectors that were hit harder than others. One them was the financial sector, particularly banks. I guess some investors think that the Chinese crisis could eventually contaminate other banks and branch out to North America. This is why 3 strong US banks dipped badly within the first 6 weeks of 2016: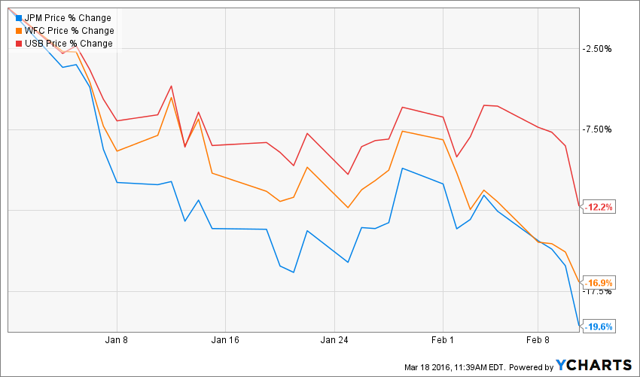 Click to enlarge
Source: Ycharts
JPMorgan (NYSE:JPM), Wells Fargo (NYSE:WFC) and US Bancorp (NYSE:USB) all fell faster than the S&P 500. To date, all three banks have yet recovered their losses since the beginning of the year. I think this is a great buying opportunity sitting right in front of us. Let me explain why.
Strong Growth & Sustainable Dividend Payments Ahead
After the 2008 credit crisis, regulations affecting banking activities have changed significantly as well as how banks manage their own money. To date, banks are still limited to paying less than 30% of their net profit in dividends. Regulators want to make sure that banks' dividend payments will not jeopardize their financial health. While this is bad news in the short term for some investors hoping for high dividend yielding stocks in the financial industry, it is also great news over the long term as it is a sign that dividend payments will be more sustainable if they are limited according to current profits. It forces management to be very conservative with their dividend payment growth.
While the financial sector has suffered from many dividend cuts in 2008 and 2009, some banks have taken this opportunity to transform their business in difficult times. They reviewed their business models, streamlined their processes and gotten into better shape to generate stronger profits. This is why JPM, WFC and USB have increased their dividend payments by over 30% CAGR since 2011: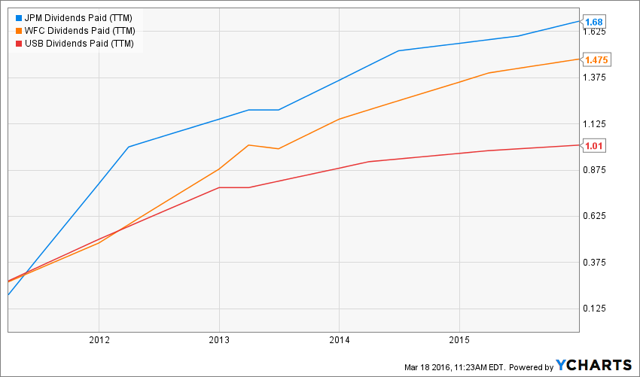 Click to enlarge
Source: Ycharts
They are still limited to pay less than 30% of their net profits (counting on a few accounting rules to soften the %) and yet, JPM and WFC quickly returned back to their previous 2008 dividend payment standards. USB still has a longer way to go to reach its pre-2008 dividend payment, but it is on the right path to achieve this.
Let's review each bank to see which one is the most appealing right now.
JPMorgan
Dividend yield: 2.84%
5-year dividend growth rate: 39.58%
Payout ratio: 32.21%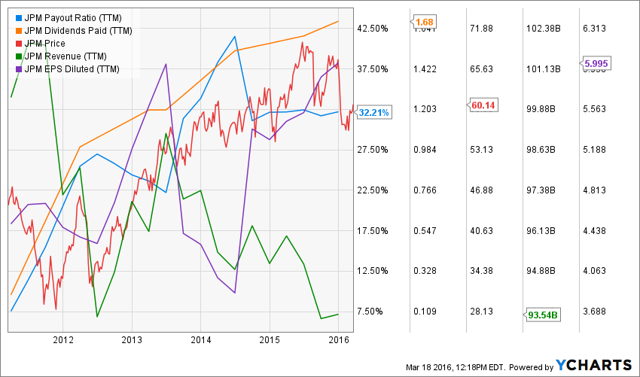 Click to enlarge
Source: Ycharts
JP Morgan Chase is the second-largest publicly traded bank in the US, and 16th-largest publicly traded corporation overall. The Consumer & Community Banking segment is the company's largest, followed by the Corporate & Investment Banking segment.
The company benefits from a strong network of branches and ATMs. While JPMorgan's investment banking division might have been affected by the 2008 crisis, consumers continue to enter Chase branches and do business with this bank because they focus on great customer service: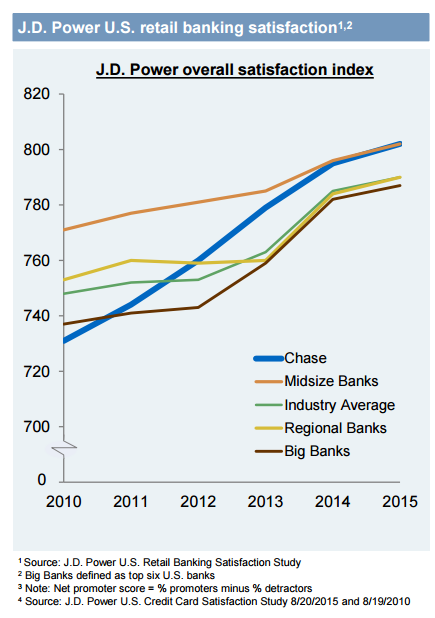 Source: JPM Investor Presentation
The future looks bright for JPM in its larger segment of business as delinquency trends have stabilized to low levels: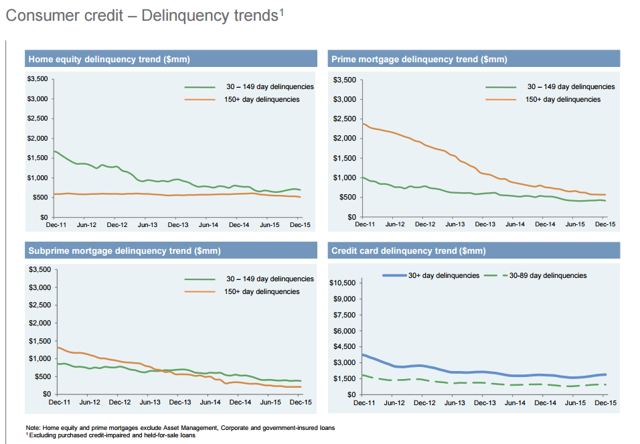 Click to enlarge
Source: JPM Investors Presentation
Recently, JPM's stock price dropped based on fear related to the oil market. A similar situation is happening to Canadian banks as the market fears defaults from that sector, and banks will be the second sector to be hurt after the oil industry. However, the fear hasn't materialized at this time and the recent jump in oil prices should be enough to make these clouds disappear for a while.
JPM is definitely a good addition to a retirement portfolio when you have time in front of you. The dividend payment will continue to grow and this financial will bring additional stability over time.
Wells Fargo
Dividend yield: 2.97%
5-year dividend growth rate: 38.55%
Payout ratio: 37.71%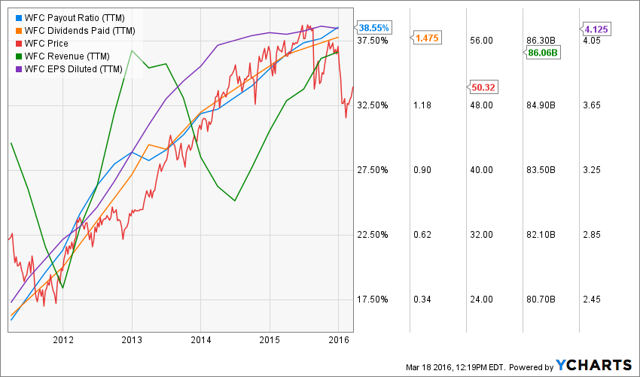 Click to enlarge
Source: Ycharts
Wells Fargo is a company offering financial services. It operates through 3 different segments: community banking, wholesale banking & wealth along with brokerage & retirement. Wells Fargo is part of the famous Warren Buffett Berkshire Hathaway portfolio. WFC is one of the first banks to climb out of the 2008 financial meltdown.
The WFC business model is clean and simple. Most of its business comes from classic banking activities: savings and loans. The company has over $1 trillion in deposits and therefore is in a very strong position to benefit from rising interest rates. The company has a long history of strong risk management and its loan portfolio is well balanced between commercial (49%) and consumer (51%) loans.
WFC shows all the requirements to meet my 7 investing principles of dividend investing. The dividend yield is high enough to meet my standard and the payment growth will be there for several years to come. The company pays more dividends than it did back in 2007 and the payout ratio is now 20% lower. We have a strong bank that is well positioned with a nearly impossible-to-replicate competitive advantage. This ensures dividend growth for several years.
US Bancorp
Dividend yield: 2.45%
5-year dividend growth rate: 34.34%
Payout ratio: 33.73%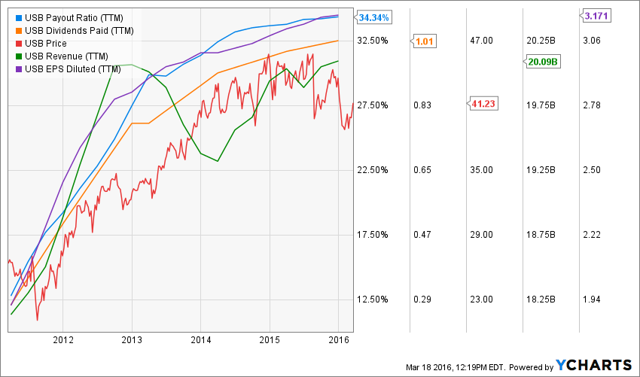 Click to enlarge
Source: Ycharts
U.S. Bancorp shows a pretty strong picture since the 2008 credit crisis. Through a very solid loan underwriting process, the bank was able to succeed where many others failed during the credit crunch. However, it is interesting to keep in mind that the bank default rate peaked at only 2% of its loan book during the crisis. This demonstrates their strong loan underwriting ability and successful risk management.
Now that the US economy is growing and American consumers' confidence has returned, there is even more space for this bank to grow their profits through classic and conservative banking operations. US Bancorp benefits from a very strong business model based on repetitive fees. Through credit cards, wealth management and payment processing businesses, USB generates a constant inflow of cash. These activities represent roughly 50% of their revenues.
Then again, I'm well aware that the dividend yield is not astonishing (2.54%), but it doubled in only the past 5 years. If you take into consideration that regulations force banks to pay less than 30% of their net income in dividends, this is quite a feat.
While the dividend payment will continue to be restrained, USB's management has reaffirmed their will to reward shareholders. After using 30% of its net income for dividend payments, the bank intends to use another 30% of its profit to buy back more shares.
The recent "bank run" has generated yet another great buying opportunity.
Final Thoughts on the Banking Industry
With a stable US economy powered by a steady employment creation and a low unemployment rate, I think the three banks would be very good additions to any long-term portfolio. They show similar profiles since they all generate a good part of their revenue from classic banking activities (consumer and loan). Because of its capital market side and past legal issues, JPM would be my third choice. For a lower dividend yield and a smaller size, USB would be my second pick behind my favorite, Wells Fargo. I think WFC is the best pick among these three banks. What do you think?
Disclaimer: We hold WFC in our Dividend Stocks Rock portfolios.
The opinions and the strategies of the author are not intended to ever be a recommendation to buy or sell a security. The strategy the author uses has worked for him and it is for you to decide if it could benefit your financial future. Please remember to do your own research and know your risk tolerance.
Disclosure: I am/we are long WFC.
I wrote this article myself, and it expresses my own opinions. I am not receiving compensation for it (other than from Seeking Alpha). I have no business relationship with any company whose stock is mentioned in this article.