Background
TravelCenters of America (NYSEMKT:TA) is the largest publicly traded truck stop operator in the United States. It was spun off from Hospitality Properties Trust in 2007 and is headquartered in Westlake, Ohio. TravelCenters operates convenience stores, gas stations and truck stops across America. Currently, the company leases and operates over 250 truck stops and owns over 225 convenience stores. These truck stops provide services, such as parking, showers, restaurants, food, Wifi and gyms. TravelCenters is heavily focused on the Midwest, but has operations across America and in Ontario, Canada.
Product Mix
Although TravelCenters derives most of its current revenues from close to 250 truck stops, the company has also begun to heavily invest in convenience stores. It now owns and operates over 200 convenience stores across the United States.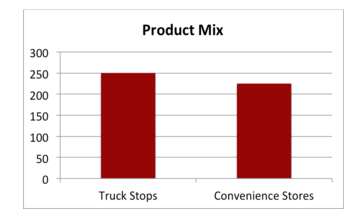 (Source: TravelCenters 2015 Investor Presentation)
Revenue Mix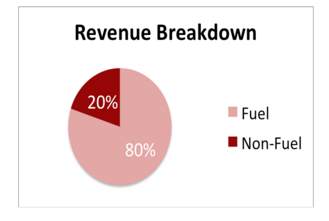 (Source: TravelCenters 2014 10-K)
TravelCenters derives most of its current revenues from its fuel business. The company makes a substantial amount revenue from its fuel business, because fuel is a very high-volume business with low margins. Its non-fuel business includes everything from convenience stores to truck repair services to restaurants and showers.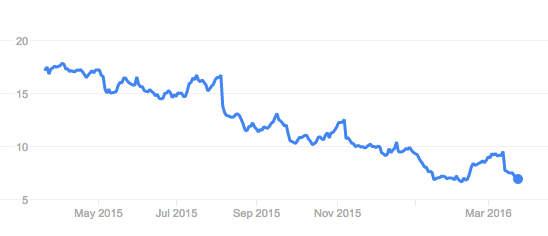 (Source: Google Finance)
TravelCenters has seen a decline in revenue and net income as the price of oil has dropped rapidly. Additionally, capital expenditures have risen over the last few years as the company aggressively buys up convenience stores and fuel stations. As a result, investors have sold off the stock, and it has dropped over 60% in the last year.
Industry Analysis
In America, most domestic freight is transported by train, plane, ship or truck. The domestic freighting business moves close to $1 trillion in goods every year. Of this, 68.5% of domestic freight is moved by trucking, amounting to $671 billion in retail, industrial and manufactured goods per year. Trucking is expected to gain market share over the coming years; trucking's share of the shipping market is expected to rise to 70.8% per by 2024.
Trucking: Competitive Advantages
Trucking has a number of advantages that give it a distinct edge over shipping by train, plane or ship. Shipping by air is comparatively expensive, and shipping by boat takes far too long for most domestic shipping. Additionally, trucks can go on nearly any road, while trains can only go on certain routes. Furthermore, trucks can leave at any time and can be loaded and unloaded quicker than trains. As consumers began to demand more timely deliveries, trucking stands to benefit. Lastly, the truck industry is heavily subsidised by the government, which covers road upkeep.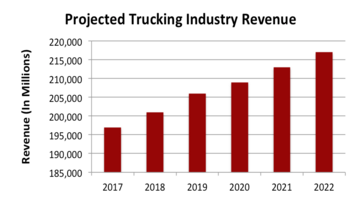 (Source: IBISWorld)
Investment Thesis
1) TravelCenters' extensive economies of scale give the company a distinct competitive advantage in the high-barriers-to-entry truck stop operating business.
Its operating model will allow for above average returns for years to come. TravelCenters has competitive advantages in supply, demand and economies of scale.
Oligopoly
TravelCenters is the largest publicly traded player in an oligopoly. There are only 1900 truck stops operated near key interstate highway exits. The company operates 253 of them, giving it a 13.3% market share. Additionally, over 60% of American gas stations are part of a chain of only 1-10 gas stations. Lastly, over 60% of the interstate truck stop business is dominated by the three largest players. This gives large players a distinct advantage in terms of positioning and pricing discipline.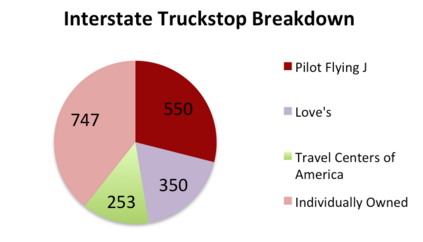 (Source: Love's Website, Pilot Flying J Website, TravelCenters 2015 Investor Presentation)
New Truck Stop Development
Recent trends in land prices have impeded new truck stop development. Most of TravelCenters' truck stops are within ¼ mile of an interstate highway exit. These key locations are impossible to replicate. A majority of these truck stops were developed 20-30 years ago, when land prices were cheap. However, land prices have risen substantially; as a result, the land beneath a small truck stop in California costs over $1 million. Since most individuals do not have the resources to buy and develop these properties, there is a dearth of new truck stops. As a result, there has not been a new truck parking space built within 50 miles of a major U.S. city in the past 15 years. Additionally, many of these key properties are already developed, and it would not make sense financially for a competitor to develop a truck stop next to already existing properties. As a result, TravelCenters is virtually shielded from new competition.
Demand Competitive Advantages
Long-Term Contracts:
Diesel sales amount to 85% of TravelCenters' fuel revenues. Additionally, over 50% of diesel sold is on a contract basis with fixed demand. These contracts are in place with the 100 largest trucking companies in America. Since the contracts are set at a "cost-plus" guarantee, the company is guaranteed a fixed margin for its fuel. These contracts not only guarantee a constant stream of demand for TravelCenters' fuel, they also ensure a profitable fuel margin for the company.
Rewards Cards:
TravelCenters has a nationwide network of rewards cards that provides benefits such as cheaper gas, extra amenities, food discounts and free showers for truck drivers. Since 62% of gas station owners across the U.S. operate chains of just 1-10 stations, most small chains cannot afford to operate a nationwide rewards card with extensive benefits. This gives TravelCenters a key advantage. This advantage is due to the fact that 43% of gas consumers have used a discount from a loyalty card. Additionally, 18% of gas consumers looked for a chain where they specifically had a rewards card. Lastly, 37% of gas consumers preferred going to a certain chain because of a rewards card. As a result of these initiatives, the company can attract repeat customers and generate a dependable flow of revenue.
Largest Array of Offerings:
TravelCenters has a distinct competitive advantage, because it offers the largest array of services in the industry. In the trucking industry, most drivers sleep in their trucks and utilize a truck stop for all their needs, ranging from showers to Wifi to lounges and restaurants. On average, the company offers more amenities than any of its competitors.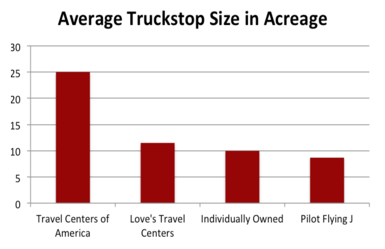 (Source: TravelCenters 2015 Investor Presentation, Pilot Flying J Website, Love's Website)
The average TravelCenters truck stop is nearly twice the size of its largest competitor's. This larger size enables the company to build more restaurants, convenience stores, lounges and other amenities on its properties. Furthermore, TravelCenters has the largest number of truck parking spaces (per property) in the industry. This enables it to service a larger number of truckers and reap the spending benefits that come from this.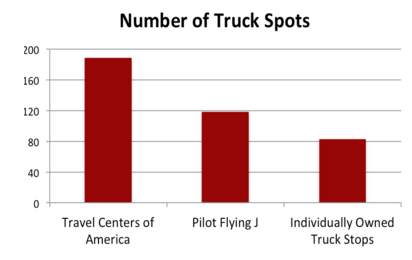 Note: This refers to physical parking spots at each truck stop.
(Source: TravelCenters Investor Presentation, Pilot Flying J Website)
Restaurants:
In terms of restaurant offerings, every Travel Center has one, if not two, restaurants. Meanwhile, only 20% of its competitors have even one restaurant. Again, since truckers stop for 9-10 hours, they want food options and will invariably turn to the company that provides the best options.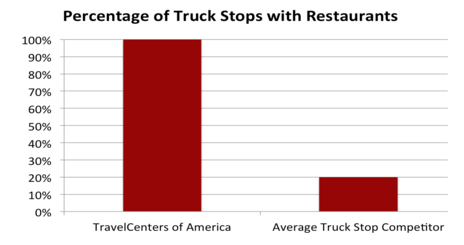 (Source: TravelCenters 2015 Investor Presentation)
Best Truck Repair Offerings:
Aside from amenities, the company also has the widest array of truck repair offerings in the industry.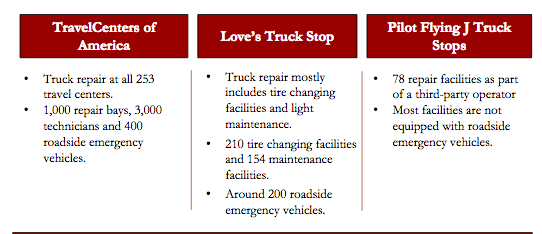 Key Takeaway: The truck repair business allows TravelCenters to take advantage of the higher-margin truck repair business, while also attracting truckers, because most drivers stop at truck stops with maintenance facilities.
Strategically Located:
TravelCenters can also ensure steady demand because of its strategic location on heavily trafficked interstate highways.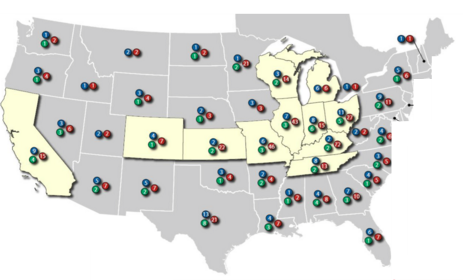 Note: Red - Convenience Stores, Green - Petro Stations, Blue - TravelCenters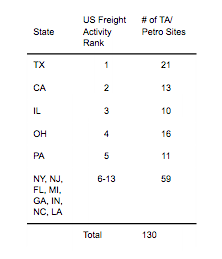 (Source: TravelCenters 2015 Investor Presentation)
Trucking Traffic and TravelCenters:
TravelCenters is heavily concentrated in states with high trucking traffic. Over half of its truck stops are located in the top 13 states with the highest trucking traffic. For example, in Texas, the state with the highest trucking traffic, the company has strategically placed over 13% of its truck stops. Furthermore, the truck stops are all located on highly trafficked interstate highways, which ensures that they will gain a large percentage of trucking traffic. Below is a map of Texas' interstate highways as well as TravelCenters' truck stop locations.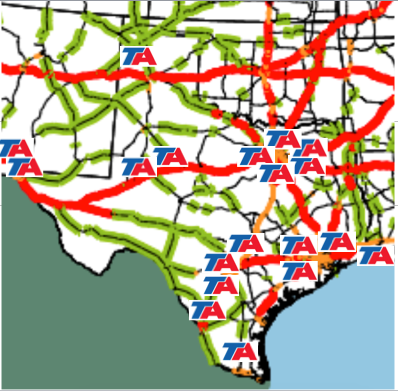 (Source: Proprietary Map)
Truck Industry Regulations:
We believe that upcoming trucking industry regulations will spur increased traffic to TravelCenters' truck stops and convenience stores. The Department of Transportation enacted the Hours of Service Regulations in 2012 to limit driving time and encourage breaks. The rules state the following: "After 11 hours behind the wheel, the driver must take a 10 hour break. After 14 hours on duty, a trucker must have 10 hours of rest before driving again. Truckers can be on duty a maximum of 60 hours in 7 consecutive days." Although truckers are required to take these breaks by law, many of them do not, because the hours are self-reported. However, the Department of Transportation is enacting new regulations to ensure that truckers take these breaks.
The Department of Transportation is requiring the installation of Electronic Log Displays for truckers in 2016 and 2017. Up until now, a majority of independent truck drivers used paper work hour logs, allowing them to skip breaks. As this system is phased in, the truck will be electronically monitored for service times, and this will ensure that truckers are required to take breaks. As truckers take more breaks, they will stop at truck stops more frequently, causing a rise in TravelCenters' fuel and non-fuel revenues.
Economies of Scale Competitive Advantages:
TravelCenters possesses a number of competitive advantages related to its economies of scale that allow it to keep costs down and maintain higher margins than its competitors. In terms of purchasing fuel, gas station owners estimate that buying fuel in bulk results in a 2.5 cent discount when compared to buying for an individual gas station. Since TravelCenters operates over 250 gas stations, it likely gets an even larger discount. This is material in an industry where the gross margin is only 15-18 cents per gallon. This size advantage allowed the company to keep its costs down and maintain higher margins than its individual truck stop operator competitors.
Credit Card Fees:
TravelCenters' scale allows it to negotiate substantially lower credit card fees when compared to its competitors. Individual stores cannot compete on profitability. For a typical 100-gallon purchase, the company is charged a credit card fee of between $.30 and $.60. However, individual truck stops face a credit card fee of close to $6. Since the typical gross profit on a sale of 100 gallon is only $18, individual truck stop operators struggle to compete on profitability and margins.
Mispricing by the Market
TravelCenters' recent contraction in fuel margins is misleading and caused investors to sell off the stock. However, the fuel business is still quite profitable by historical standards.
In 2015, the company had all-time high fuel margins. When it reported lower fuel margins towards the end of 2015, investors sold off the stock and it dropped significantly. However, these all-time high margins can be explained by a phenomenon that occurs when oil is volatile. Throughout 2015, the price of oil dropped rapidly. As this occurred, the price of fuel dropped substantially as well. COGs fell rapidly, but gas prices remained sticky. Gas station owners tried to keep prices high for as long as they could. Eventually, some gas station owners dropped prices in order to garner increased market share and larger profits. As soon as some gas station owners started to drop their prices, other did as well, and the price of retail gas fell. However, for a short period of time, gas station owners had unusually high margins. This occurred for TravelCenters as well. The market began to expect these abnormally high margins for its gas business. When this phenomenon ceased, TravelCenters disappointed investors. However, the company's fuel business is still quite robust, and its fuel margins are very high compared to historical standards.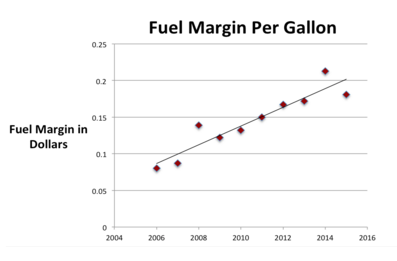 (Source: TravelCenters Historical 10-Qs)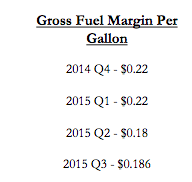 (Source: TravelCenters 2015 10-Qs and 2014 Q4 10-Q)
As TravelCenters' fuel margin begins to stabilise, we believe investors will realize the historical profitability of this business.
Recent Acquisitions
As TravelCenters rapidly expands into the higher-margin convenience store business, we believe the market will re-price the company from a low-margin fuel provider to a higher-margin convenience store operator.
TravelCenters has been rapidly expanding into the convenience store space. In 2015, it acquired 194 convenience stores. The company plans to upgrade and renovate stores for quality. Historically, it has taken about a year to fully integrate these stores. These stores were bought at an average of $2 million at 7.0x EBITDA.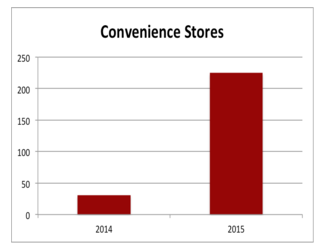 (Source: TravelCenters 2014 10-K, 2015 Q3 10-Q)
Past Convenience Store Acquisitions
In 2013, TravelCenters acquired 31 convenience stores. At the time, management was able to integrate and re-brand these stores. Within a year, these stores were showing up in profits. Results began to show in 2014, as non-fuel gross profit grew by 10%, compared to 5% annual growth over the previous two years.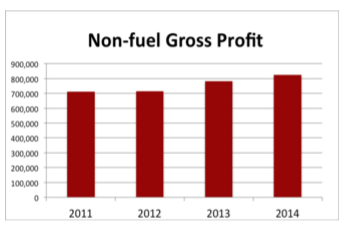 (Source: TravelCenters 10-K 2011-2014)
Convenience Store Integration
In the past, when TravelCenters acquired convenience stores, EBITDA increased dramatically. The company's EBITDA is expected to rise between $50 and $61 million in 2016 due to the 2015 purchase of 194 convenience stores. Investors have become impatient, because this massive capital expenditure has yet to produce any profits. We believe that within a year's time, the profits will begin to show up. However, the market has yet to recognize this increase in EBITDA, and the stock is mispriced as a result.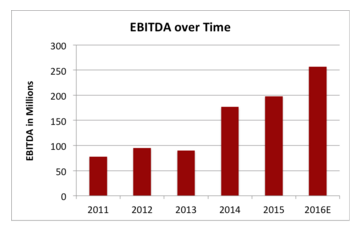 (Source: TravelCenters 10-K 2011-2014)
Successful Integration
We believe this convenience store integration will be successful, for a number of reasons. Primarily, management already has experience operating convenience stores in over 250 truck stops. Additionally, management was able to successfully integrate 31 stores in 2013. They are also relatively easy to operate, and their profitability is mainly influenced by location. Lastly, there is little long-term management necessary, and these stores were already generating substantial profits when they were purchased. For all these reasons, we believe convenience stores will continue to be a profitable endeavor for TravelCenters. Below is a chart of the company's convenience stores.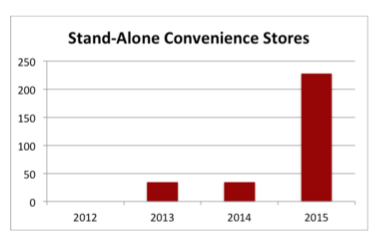 (Source: TravelCenters 10-K 2012-2014, 2015 Q3 10-Q)
Mispricing by the Market
Although TravelCenters is mostly a convenience store business, it is still being priced as a fuel business. The company's non-fuel segment has grown substantially, and currently amounts to close to 20% of revenue.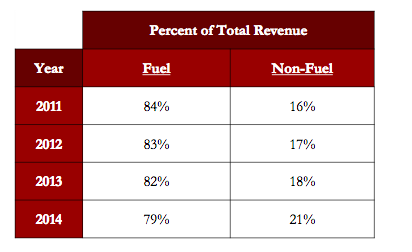 (Source: TravelCenters 10-K 2011-2014)
However, from a gross profit standpoint, most of its earnings actually come from the non-fuel side of the business.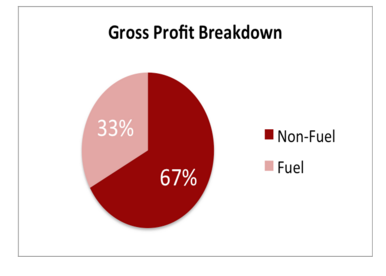 (Source: TravelCenters 10-Q Q3 2015)
TravelCenters is being incorrectly priced as a low-margin fuel business, when close to 70% of its gross profits come from the non-fuel business. As the integration is completed and non-fuel revenues grow even more, we believe the market will reprice TravelCenters to a more fair value. This will also help the company's financials, as convenience stores are a higher-margin business when compared to fuel.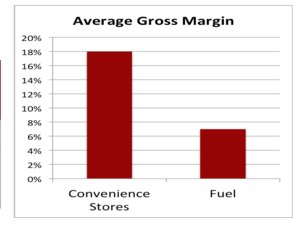 (Source: Retailowners.com)
Key Takeaway
As TravelCenters reports higher earnings from convenience stores, the company will increase profits and margins will rise. Accordingly, the market will assign a higher multiple that is more in line with the convenience store average of 8-9x.
Valuation
We see two catalysts that will lead to better results and change the market perception of TravelCenters.
Electronic Log Display Regulations go into Place

This will lead to increased foot traffic in convenience stores and drive both fuel and non fuel revenues.


Integration of the Convenience Stores

Cash flows will increase dramatically. Margins will also increase, and the company will be revalued as a higher-margin business.
Comparable Companies Analysis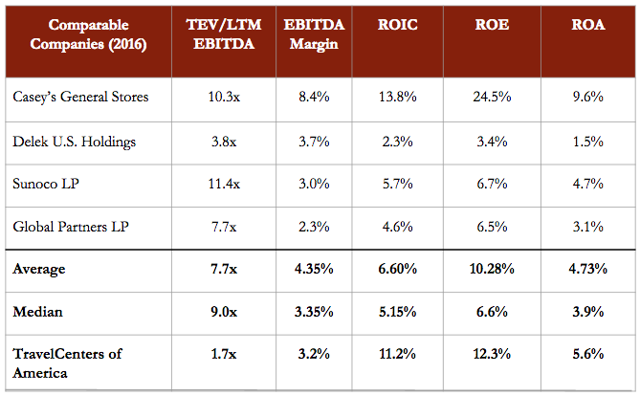 (Source: S&P Capital IQ)
We took a set of comparable companies and compared their operating metrics. TravelCenters beats its average competitor in terms of return on assets, return on equity and return on invested capital. However, on an EV/EBITDA basis, the company trades at a significant discount to all of its competitors. We believe this represents a fundamental disconnect between TravelCenters' prospects and its valuation.
Discounted Cash Flow Analysis and Three-Statement Model
(Source: Proprietary DCF)
We conducted a discounted cash flow analysis with three scenarios. In our worst-case scenario, we arrived at a fair value of $8.20, indicating 22% upside from current prices.
Here are the assumptions for our base case: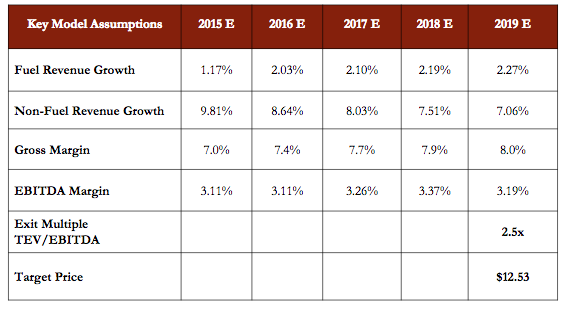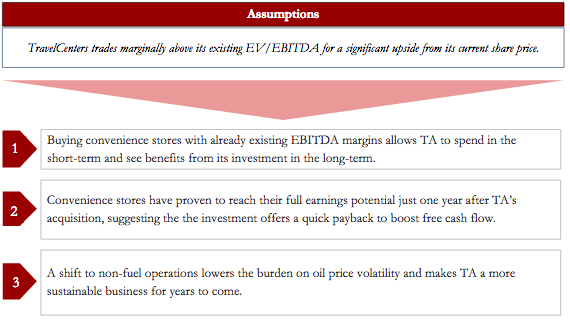 (Source: Proprietary DCF)
Here are the key assumptions for our bearish case: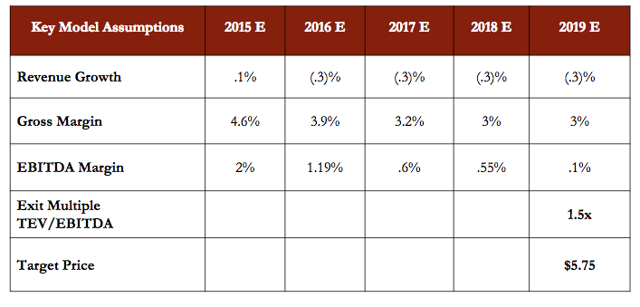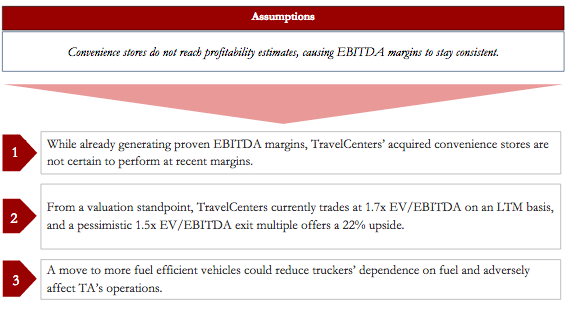 (Source: Proprietary DCF)
Lastly, here are the key assumptions for our bullish case:
(Source: Proprietary DCF)
Even in the worst-case scenario, we believe there is a substantial margin of safety for an investment in TravelCenters. Investors' greatest fears are already baked into the share price. Although there may be volatility over the next few quarters, we believe this company will, in the long term, trade within our estimate of intrinsic value.
Risks
An investment in TravelCenters is not without its risks. Obviously, the relationship with Hospitality Properties Trust will continue to be a drag on the share price. This relationship stipulates a number of rules that TravelCenters must follow. An entity besides HPT cannot purchase more than a certain percentage of TA stock. Additionally, TravelCenters must make fixed payments to the HPT REIT. Many consider these terms to be onerous and unfair. However, the company has always had this relationship with HPT, and has only recently traded at such low valuations. This leads me to believe that the low valuation is related to other developments. Additionally, the key executives know the structure of the HPT relationship much better than any shareholders do, yet they continue to own substantial shares (even though they aren't legally required). Tom O'Brien, the CEO, owns close to 2 million shares (over 4% of the company), and is one of the largest shareholders in the company. Furthermore, HPT itself owns close to 10% of the company. I am reluctant to believe HPT would continue to own substantial amounts of TA shares if it believed the company would go bankrupt due to unfair rent agreements.
Additionally, the convenience stores could prove to be unprofitable. However, they were profitable when purchased, and management is adept at operating these types of stores.
Lastly, growing fuel efficiencies could harm the business. However, low oil prices will likely slow down the purchase of fuel-efficient vehicles. Additionally, TravelCenters is hedging its bets by testing several LNG terminals in select truck stops.
Conclusion
Although TravelCenters faces some problems, it is rapidly moving towards increased profitability. Additionally, the fundamental competitive advantages that the company possesses leave me confident that this is a solid business that will be around for years to come.
Disclosure: I/we have no positions in any stocks mentioned, and no plans to initiate any positions within the next 72 hours.
I wrote this article myself, and it expresses my own opinions. I am not receiving compensation for it (other than from Seeking Alpha). I have no business relationship with any company whose stock is mentioned in this article.