KGI Securities' Ming-Chi Kuo, who has been pretty accurate over the years (though not perfect) in reporting on Apple's (NASDAQ:AAPL) future hardware plans, states AAPL plans to launch an iPhone sporting a 5.8" OLED display in 2017. He cautions the device could become a high-end add-on to an iPhone lineup that includes a 5.5" LCD model if enough OLED panels aren't secured.
Apple also is reportedly thinking of using front-and-back glass panels - save for the plastic 5C, every iPhone launched since the 4/4s has had an aluminum back panel. Kuo adds Apple could also use plastic or ceramic, but thinks glass is the most likely material choice.
Also said to be part of Apple's 2017 iPhone plans: Wireless charging integration and the inclusion of new biometric recognition tech such as face and iris scanning. Apple recently bought Emotient, an A.I. startup that developed technology for deciphering human emotions via facial expressions.
Kuo's OLED and wireless charging remarks fit to an extent with recent reports. The Nikkei, Kuo, and Korea's Electronic Times have reported Apple is interested in launching iPhones sporting OLEDs, but some of the reports have pointed to a 2018 (rather than 2017) ETA. Bloomberg, meanwhile, has reported Apple is working with U.S. and Asian partners to develop over-the-air wireless charging technology that could go into iPhones as soon as next year. There's speculation (but no confirmation yet) that Energous (NASDAQ:WATT) is a wireless charging partner.
With OLED production ramping and the technology steadily improving, migrating from LCDs to OLEDs feels like a smart move. OLEDs, long used by high-end Samsung (OTC:SSNLF) phones and gradually taking high-end TV share, can deliver better contrast/deeper blacks than LCDs. Moreover, the fact OLEDs don't need a backlight can potentially yield improvements in power consumption and thickness - two things that Apple's engineers have long obsessed over.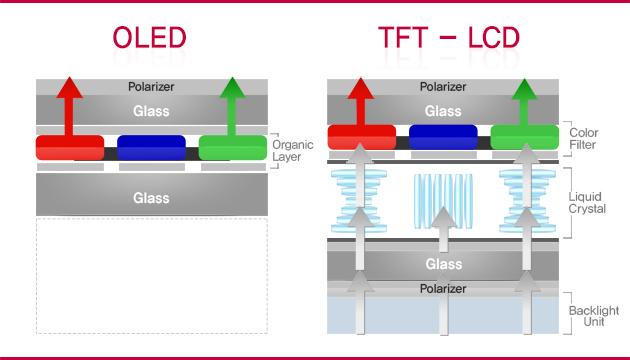 Source: OLED.at
OLED materials and technology provider Universal Display (NASDAQ:OLED) is a clear beneficiary if Apple launches an OLED iPhone next year. Depending on whom Apple places OLED orders with (and how they compare with its LCD orders), panel manufacturers Samsung, LG Display (NYSE:LPL), and AU Optronics (NYSE:AUO) could also benefit.
A glass rear panel might also be well received by consumers. The iPhone 4/4s' glass back (in my subjective opinion) helped give it a premium feel, and the same holds for Samsung's Galaxy S6 and S7. A tradeoff with using glass instead of aluminum is a greater risk of the phone shattering when dropped, but the iPhone cover glass supplier Corning (NYSE:GLW) has improved the Gorilla Glass's shatter resistance in recent years and is also working on Project Phire, a solution that promises sapphire-like scratch resistance while maintaining Gorilla Glass's shatter resistance. Corning, of course, gets to supply twice as much glass for a phone that has glass on its back rather than aluminum.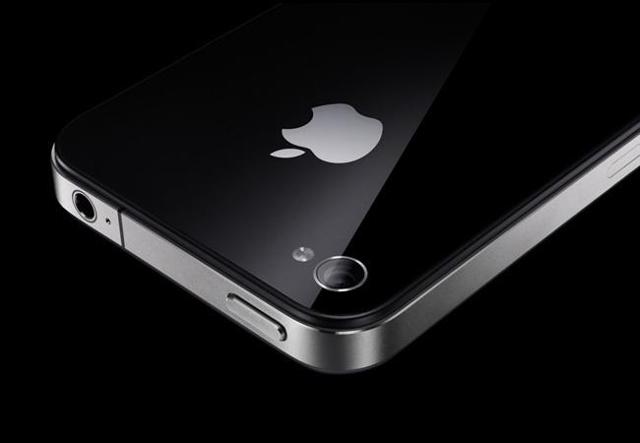 Click to enlarge
The iPhone 4's rear glass panel.
Source: Digital Trends.
Notably, the hardware changes reportedly being considered for 2017 iPhones appear much bigger than the ones that have been rumored to date for this year's expected iPhone 7 launches. Relative to the 6s/6s Plus, the biggest changes rumored for the 7 are a dual-lens rear camera that delivers better image quality and potentially enables optical zoom, and the removal of the 3.5mm headphone jack (headphones would be connected via Bluetooth or a Lightning port).
That, in turn, suggests Apple is willing to depart from its standard iPhone hardware upgrade cycle, through which the company unveils a major design overhaul every two years, with smaller upgrades provided in the interim year.
If such a strategy shift is occurring, it likely has much to do with the fact that - with its high-end models now sporting 4.7" and 5.5" displays - it's tough for Apple to now have major upgrade cycles revolve around display size increases, as they did for the iPhone 5 and 6. Moreover, with phone subsidies and two-year service contracts (once the primary means of buying iPhones in the U.S. and certain other markets) increasingly replaced by installment and upgrade plans (including Apple's own upgrade program), the incentive for linking a big iPhone overhaul with two-year contract expirations isn't as strong as it used to be.
Major technology improvements, rather than display size changes, are now set to drive Apple's iPhone upgrade pace. And those improvements won't necessarily arrive every other year.
Disclosure: I/we have no positions in any stocks mentioned, and no plans to initiate any positions within the next 72 hours.
I wrote this article myself, and it expresses my own opinions. I am not receiving compensation for it. I have no business relationship with any company whose stock is mentioned in this article.
Editor's Note: This article discusses one or more securities that do not trade on a major U.S. exchange. Please be aware of the risks associated with these stocks.