After experiencing a huge decline in the past 12 months, Enerplus Corp. (NYSE:ERF) has now seen sharp gains over the last couple quarters. ERF is among those companies that have been significantly impacted by the negative influence of low oil prices. Echoing the 70% drop in crude oil, the company's share price also tumbled by more than 74% in the 12 months from fiscal 2015 to Feb. 11, 2016.
Since Feb. 11, oil prices have made a big U-turn, with market fundamentals improving by more than 50%. Oil began its surge on the back of production talks, falling rig activities and declining outputs. This situation has also provided considerable support to the beaten-down stocks of exploration and production companies. ERF's share price has grown by 34% since Feb. 11 of this year.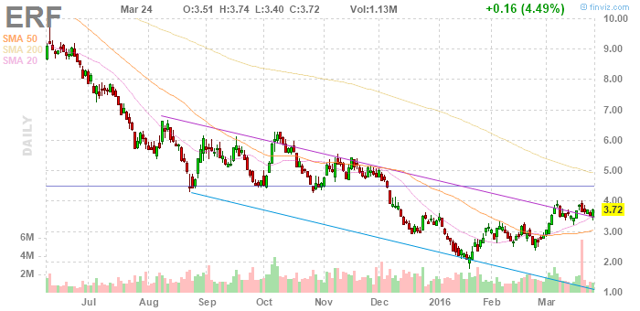 Click to enlarge
The rally of both crude oil and ERF's share price was predicted by me as recently as Feb. 24. In an earlier article, I suggested investors catch this fallen giant on the expectation of a rally in oil prices. The company's stock has now posted share price appreciation exceeding 34% in less than two months, validating my opinion. However, the question of the moment is: What's next? Is it a sell, or could holding this stock result in even further price appreciation?
What's Next?
In my view, the principle of buying low and selling high clearly applies to Enerplus, but only for short-term value investors. They can see a return on their investment of almost 34% by selling this stock. However, there's no need to panic if you bought shares above the company's current price of $3.72.
The market fundamentals for oil prices are continuing to improve, which I believe will continue to support exploration and production companies. Russia and Saudi Arabia have announced their intentions to freeze their outputs at January levels, while 13 additional major oil producers have also jumped on board, proclaiming their intent to freeze production in order to support oil prices. They will likely all be in on an April 17 meeting in Doha to further discuss production levels.
Recently, Baker Hughes (NYSE:BHI) reported that the U.S. active oil rig count dropped by 15 in one week, falling to a seven-year low of 372. In addition to positive fundamentals for oil, oil and gas companies have been aggressively reducing their cost structures to lower their breakeven points. They have also slashed their spending on capital projects, and have lowered their dividends to strengthen their position in light of a very challenging environment.
I believe Enerplus is currently trading at a significant discount based on its production potential, its strong hedging positions, and its massive cost cutting. After cutting back its capital investments by a significant amount in 2015, ERF has now lowered its planned investment by another 60% for this year. It is showing enormous discipline in its investments and its production strategies.
ERF is spending a major portion of its capital on its North Dakota assets, where it has been seeing massive production growth at a very low cost. In North Dakota, the company has seen significant improvements in its all-in well costs; these are down almost 30% from 2014 levels. In addition, the company lowered its operating costs by 10% and its G&A costs by 6% in 2015. ERF has also sold its non-core assets, which further allows it to concentrate its energies on fewer, larger operations while also strengthening its balance sheet.
Despite lower investment and the sale of assets, the company is not compromising on its production targets. In the final quarter of last year, it generated production growth of 3% -- the majority of growth coming from North Dakota, where it has been investing 60% of its capital. At the same time, on average in 2016 it has hedged 11,000 barrels per day of oil and 62,500 Mcf per day of natural gas in a combination of swaps and three-way collar structures.
Conclusion
T. Boone Pickens is expecting oil to trade near $60 a barrel by the end of this year, while several analysts are expecting it to trade around $50 a barrel in the second half of the year. There is no reason to expect a sell-off in oil prices when the major producers are seriously looking to stabilize them at a respectable rate.
ERF is ready to capitalize on the gains in oil prices thanks to its strategy of lowering costs and investing primarily in high-margin assets. We can expect further improvements in both the company's share price and its financial performance in the coming days. Therefore, holding this stock could result in even more gains in the future.
Disclosure: I/we have no positions in any stocks mentioned, and no plans to initiate any positions within the next 72 hours.
I wrote this article myself, and it expresses my own opinions. I am not receiving compensation for it (other than from Seeking Alpha). I have no business relationship with any company whose stock is mentioned in this article.