Around four weeks ago, I had written why Whiting Petroleum (NYSE:WLL) is capable of making a comeback. I was counting on the crude oil price recovery and Whiting's move to cut its capex by a huge margin to drive its recovery. However, in just four weeks, Whiting's stock price has appreciated over 70% since I wrote that article as crude oil prices have been able to sustain their comeback.
Now, even after this stupendous rally in such a short time, I believe that Whiting Petroleum will be able to get even better. Let's take a look at the reasons why I believe that Whiting's rally is sustainable.
A lower cost base will help it benefit from the oil rally
Whiting Petroleum has been consistently lowering its costs in a bid to generate better returns in a weak pricing environment. For instance, during the fourth quarter, Whiting reduced its lease operating expenses, G&A expenses, and exploration costs by 27%, 60%, and 19%, respectively, on a year-over-year basis. More importantly, Whiting has been able to reduce costs on a sustainable basis as its lease operating expenses and G&A costs were down 27% and 34%, respectively, last year. This is shown below: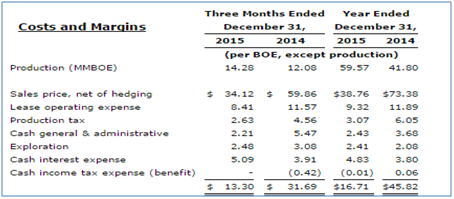 Source: Whiting Petroleum
A majority of these cost reductions are sustainable since they are driven Whiting's focus on bolstering completion designs. Due to improved completion designs that involve the usage of more frac sand, Whiting has been able to bring down costs remarkably.
Moreover, encouraged by the success that Whiting has gained in its completion process, the company has decided to spend more effort toward this process. As a result, Whiting will be spending approximately two-third of its capital budget on completions this year without drilling any new well.
This is not surprising as the company is able to generate higher production due to the advanced completions process. For instance, from the 31 completed wells that Whiting had completed in the Williston Basin recently, it recorded an initial 30-day production rate of 1,339 BOE/d, which was 22% better than the third quarter. Looking ahead, Whiting is focused on improving its cost profile further as it is looking to sort the best wells in the play so that it can continue to reduce costs and enhance production to improve the return profile.
Why the crude oil rally is sustainable
A key factor why crude oil prices have increased in the past couple of months is because of concrete steps that are being taken by producers to control production. In fact, driven by the tremendous drop in capital spending by crude oil companies in the U.S., the EIA has upgraded its forecast for the crude oil production decline.
In its latest report, the EIA reduced its oil production forecast by another 3.2% to an average of 8.2 million barrels per day for 2017. More importantly, its forecast for 2016 saw an additional drop of 0.3% in average oil production to an average of 8.7 million barrels per day. All in all, EIA's latest forecasts represent a drop of 8.06% and 13% in 2016 and 2017, respectively, as compared to last year. The following chart shows the decline in projected oil production in the U.S., which will be a growth driver for crude oil prices.

Source: EIA
On the other hand, OPEC's crude oil production is expected to grow at a slower rate this year as compared to 2015. The EIA anticipates OPEC's crude oil production to rise by 0.7 million barrels per day in 2016 and then by 0.4 million barrels per day in 2017. This is relatively lower than oil production growth of 0.8 million barrels per day in 2015.
More importantly, the drop in OPEC crude oil production is already underway. In February, OPEC's crude oil production dropped by 174,800 barrels per day as against January. The majority of the decline in crude oil production came from Iraq, which is the second-largest oil producer in the OPEC. Similarly, other regions such as Algeria, Nigeria, and the UAE are also seeing decline. As shown in the chart below, the drop in crude oil production in the OPEC was far greater than the increase in production.

Source: EIA
Conclusion
Therefore, a combination of recovering oil prices and low costs will allow Whiting Petroleum to sustain its rally in the future. As a result, it will be a good idea if investors continue remaining invested in Whiting Petroleum as it is capable of getting even better.
Disclosure: I/we have no positions in any stocks mentioned, and no plans to initiate any positions within the next 72 hours.
I wrote this article myself, and it expresses my own opinions. I am not receiving compensation for it (other than from Seeking Alpha). I have no business relationship with any company whose stock is mentioned in this article.