Excerpt from Fortune:
"What is behind this 3 trillion RMB milestone is an entire business ecosystem and fully-integrated Internet ecosystem that harmoniously works together to achieve tremendous capabilities."
Daniel Zhang, CEO - Alibaba Group
Earlier this month, Alibaba (NYSE:BABA) announced that it has broken the 3 trillion RMB ($463 billion) GMV (Gross Merchandise Volume) barrier.
Now, Alibaba wants to outdo itself and has declared a GMV target of 6 trillion RMB by 2020. That's double the volume of sales going through their channels right now.
The company is obviously on a growth high, but with their presence largely restricted to China, can they realize such aggressive growth plans? Is BABA market valuation to be considered too high? Is there a safety net for investors who trust that the company will achieve its goals in China, India and elsewhere?
These are the questions I will attempt to answer in this article.
Alibaba's Strengths
The first strength the company possesses is the way it does business. Unlike Amazon (NASDAQ:AMZN), JD.com (NASDAQ:JD) and others in the space, Alibaba creates synergies with other companies and leads them to the front of the market.
I've described this phenomenon in an earlier article called Why You Should Own Alibaba, and it is the primary driver of the tremendous popularity they enjoy among Chinese users, as you can see below: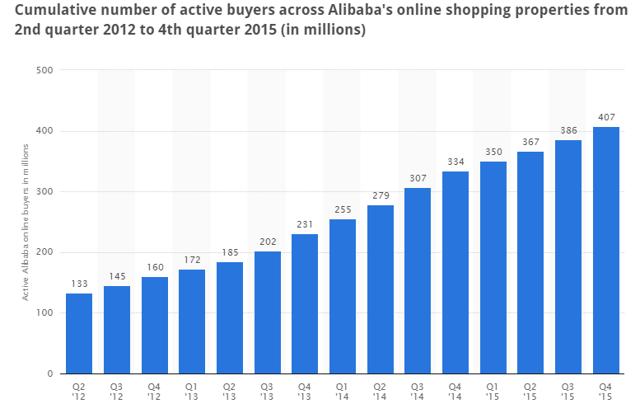 Click to enlarge
Source: Statista
The second strength I see is their penetration - or, more accurately, the lack of it - even within China. Although nearly 60% of Chinese internet users are already active on Alibaba, making it the clear leader in the Chinese e-commerce market, the country itself is only half connected to the internet. At 52% internet penetration, there's a tremendous opportunity for Alibaba to keep growing that 400 million user base and getting them to spend more online.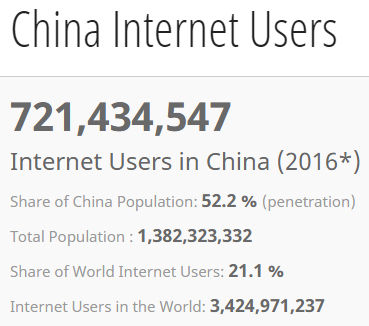 Source: Internet Live Stats
There is one downside to this that I can foresee, however: The explosive growth in usage which we saw from 2006 to 2015 will slow down, and will now transition into a steady growth phase for the next decade.
That's the typical curve for penetration in any market: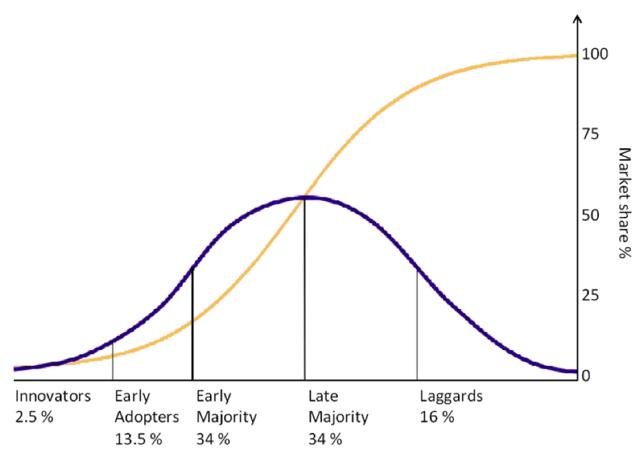 Click to enlarge
Source: Wikipedia
Therefore, Alibaba's future GMV growth needs to come not only from additional users, but from existing users who are becoming even more dependent on the Alibaba group for its online purchase needs. Globally, they will have accretive growth in subscribers and merchandise volume; however, China being their core and largest market, a slow and steady penetration is what they can expect.
The third strength is giving accessibility to foreign sellers. Alibaba intends to fully utilize the billions of consumer data points it currently possesses to package and provide meaningful insights for foreign sellers to make the most of their opportunities on TMall.com and Taobao. This is what Executive Vice Chairman Joe Tsai refers to as "making foreign businesses China-fluent." This particular initiative will allow foreign companies to see what works and what doesn't in the unique Chinese market so they won't have to make the mistakes that Wal-Mart made, for example, when they enter the market.
Alibaba Still a One Trick Pony, But WHAT A TRICK!
Being largely restricted to China is still a major hurdle to Alibaba's intended e-commerce growth, but they've shown how far 60% of China's internet users can take the business.
In this growth story, China's internet penetration and Alibaba's penetration of the China market are inextricably intertwined. China's rural population is already getting a taste of the internet, and Alibaba is already on top of their destination list.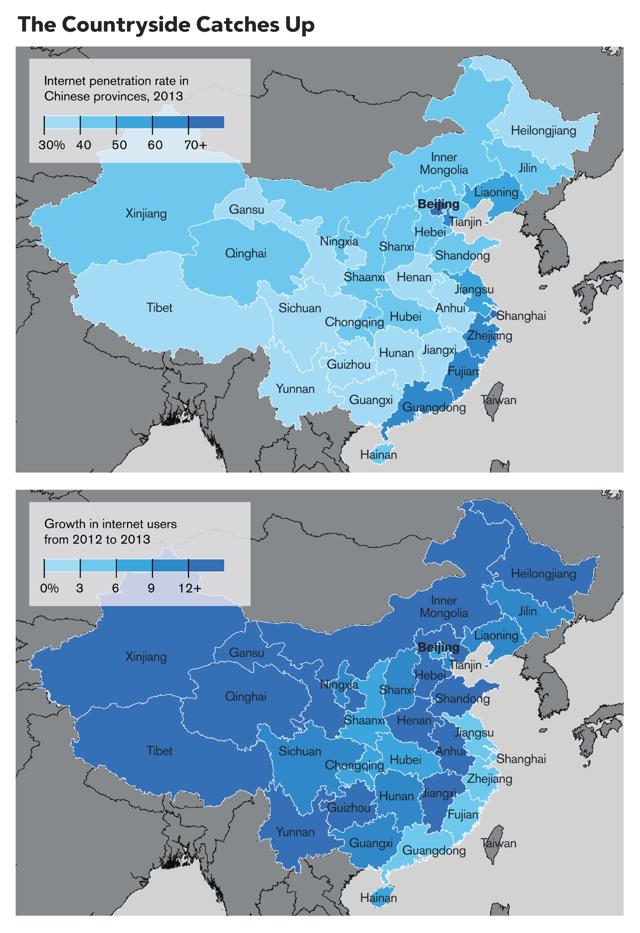 Click to enlarge
Source: Bloomberg
As more provinces get deeply connected, Alibaba stands to reap the benefits. We've already seen this happening over the past few years, so this is not proof of concept anymore; it's a matter of how fast this will happen.
Investor-speak: Threats to Alibaba's Ambitious Growth Plans
For now, Alibaba has every reason to keep concentrating on China - until the point where GMV growth starts to plateau. I mentioned earlier that growth over the next 10 years can't be as aggressive in China as it was in the past; although GMV growth has slowed down considerably, for now it's still at healthy double-digit levels...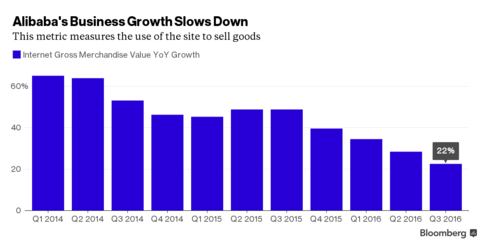 ...and that growth is still clearly visible quarter-over-quarter.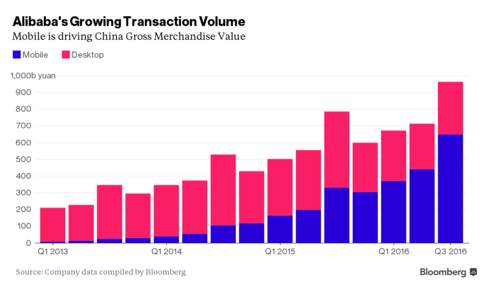 The biggest opportunities apart from penetration are product additions and foreign seller growth. However, on the latter, there is one major hurdle - counterfeit products.
Jack Ma is vociferously against such practices, as I noted in Why You Should Own Alibaba, and has warned sellers of spurious goods of severe punitive action. The fact remains, however, that this is still a problem that hasn't gone away completely, and that's something that is sure to negatively impact how sellers in the United States and other developed nations perceive Alibaba as an ideal sales channel.
The advantage that Alibaba has on that front is the fact that foreign sellers don't really have much of an alternative if they want to get into China in a big way.
There's a great article that was recently written by SA Author Martin Vlcek that talks about Alibaba possibly having a fair valuation at this price. I recommend that you read it because I agree to a great extent with his line of thinking. I believe even at this price Alibaba's valuation is justified. Vlcek qualifies it with the trust factor, and I think that's wise. But I still hold that Alibaba is a stock that you should own into the next decade simply on the strength of what I've outlined above.
They haven't even entered the U.S. e-commerce space, but they must be studying it very closely to see how they can duplicate their China success using the partnership strategies that were highly effective in their home market.
Furthermore, their foray into the Indian market may well garner some returns over the next five years - although I doubt that very much looking at PayTM holding company's - One 97 Communications Limited - figures.
At the end of the day, China is its best bet - so a combination of foreign sellers, more products, a more refined product line and further penetration in China is all they have.
I'm tempted to say that this is a risky bet, but based on the strong performance of the company so far, I would say it was an even bet either way. The most important point to note, however, is that there's absolutely no sign that any major collapse of stock price is not going to happen in the next few years, making Alibaba an ideal medium-term investment despite its seemingly high valuation.
Thank you for reading my work.
Would you like to follow me and discover the real truth behind the facade that most companies present to investors? I welcome you!
Disclosure: I/we have no positions in any stocks mentioned, and no plans to initiate any positions within the next 72 hours.
I wrote this article myself, and it expresses my own opinions. I am not receiving compensation for it (other than from Seeking Alpha). I have no business relationship with any company whose stock is mentioned in this article.