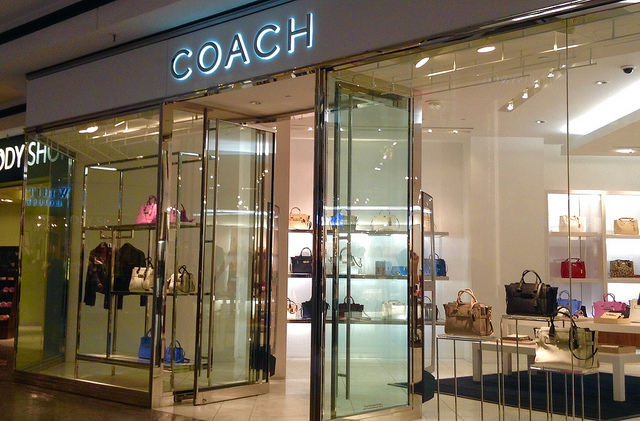 Photo by Mike Mozart
Design is for purpose
Since following the fashion industry, I've concluded that design always has a purpose. Many fashion industry analysts might disagree with this view. However, in the fashion world, design has a clear purpose: to project onto a consumer the beautiful objects they own. In other words, facilitate the association between brand status and the consumer. In the fashion marketplace, consumers do not only buy a piece of garment, but they also buy a statement of how they want to be seen by others.
Brands matter a lot
The difficult part for brands is to craft an interesting statement that resonates on the consumers' state of mind (aka current trend). This is where it gets interesting for investors. There are a couple of brands that have nailed a powerful statement and have made it count through the years. Once a brand has reached the sweet spot of sustained public recognition, it's been hard to destroy this powerful asset (not impossible though).
Brands with celebrity-like status have been able to weather cycles much more easily than other businesses lacking powerful brands. Again, this is where it gets interesting for investors; well-managed brands turn a commodity into a completely differentiated product. It is the difference between razor thin and fat margins. Avoiding being a razor-thin margins business is the essence to avoid cyclicality, which means high earnings multiples.
Milking a brand might be an awful strategy
On the other hand, investors might be a drag on brands. For instance, Coach, Inc. (NYSE:COH) wanted to grow its bottom line so fast, it made a huge mistake. COH started to act in discordance to its statement as a classic luxury powerhouse. The company adopted the slogan accessible luxury which the consumers ended up reading only as accessible. Most people will agree there isn't much luxury in something accessible.
However, the affordable strategy worked for a while. The drop in prices attracted a wave of consumers who aspired to buy a Coach bag but never had the possibility. Suddenly, Coach was experiencing magical growth. In the meantime, while the income statement was shining, the brand was losing its power. The discount damaged the previous luxury perception and consumers no longer aspire to Coach's bags as they used to.
Healing the brand is the painful part
Presently, Coach has been committed to revert the effects of over-discounting. The brand turned to Stuart Vevers, the renowned designer, for help to redefine its identity. Mr. Vevers, whose recognized work at Loewe (OTC:LOEEF) resembled the present mission a lot, redefined the concept as Modern Luxury. Additionally, Coach has been positioning its products in the higher pricing brackets.
Unfortunately, raising prices and elevating a brand mean lower revenues in the short term. That's what happened to Coach. Inevitably, the renewed strategy pressured revenues down. Before, investors couldn't feel the pain of a brand slowly vanishing, but now they are panicking over hemorrhaging revenues.
Graph 1 - Coach Quarterly Revenue (Based on the Company's Fiscal Year)

However, there are some good news: the quarterly revenue numbers. While the absolute revenue is still far from a couple of years ago, we are seeing four consecutive quarters of growth. This is a trend not seen since 3Q12. Additionally, for the first time in years, we have a positive comparison between 2Q16 and 2Q15 (2QY corresponds to the fourth civil quarter - Coach uses a different fiscal year).
I concede these are still fragile numbers, and we will have to wait and see if the trend is sustained. However, we are almost two years since the strategy to re-elevate the brand was rolled out, therefore, I wouldn't be surprised if some results are starting to emerge.
Retail is vital in the luxury market
A further point is needed to explain Coach's troubled story. A brand is not just about design (although it plays a vital role). The way the products reach the consumers is also part of the statement. Therefore, COH's over-reliance on outlet stores was a major shot in the foot. Again, it was a contradictory message when the company wanted to keep the luxury brand status.
The message inside the store must be coherent with the product. If you are selling classic luxury (or more recently modern luxury), the layout of the store must convey this message. Coach understood this problem and acted accordingly. The company initiated a program to close underperforming stores and to revamp the remaining ones. Again, closing and redesigning stores is not a positive combination for revenues nor earnings in the short term (see Table 1).
Table 1 - Number of stores open at fiscal year-end for the North America segment

The number of both full-priced stores and outlets dropped in 2015, which helps to partly explain the revenue troubles. At this point, I should mention what I believe to be the weakest spot in Coach's strategy execution. The company has been talking about reducing the number of stores, but in Table 1, we can see that the number of outlet stores peaked in 2014. In the company's defense, the number of outlets has been reduced by three locations in 2015. This seems a bit contradictory, and I will be closely monitoring this indicator for the following quarters.
Well distributed brand with great design and a powerful statement equals a great investment
Coach has a very powerful and valuable brand. A couple of years of dilution surely damaged the brand, but aren't enough to annihilate it. The strategy to re-elevate the brand brought additional and prolonged pain. However, once there is assuring evidence that the brand is healing, Coach will become a great investment opportunity. As I've pointed out, the revenue seems to be bottoming. If this trend shows reinforcing signs, I will be very positive on this stock. A powerful brand growing revenues at a moderate pace and bought at a reasonable price is one of the most safe investments one can have.
Disclosure: I am/we are long COH.
I wrote this article myself, and it expresses my own opinions. I am not receiving compensation for it (other than from Seeking Alpha). I have no business relationship with any company whose stock is mentioned in this article.