Toronto-based hedge and mutual fund Company Sprott Asset Management LP, with over $10 billion in assets under management, including $825 million in equity assets per its most recent SEC 13-F filing for Q4, was founded in 2000, and is led by Chairman and Chief Investment Officer Eric Sprott. The company was spun-off the asset management business of Sprott Securities, now called Cormark Securities Inc., which Mr. Sprott founded in 1981. The company is also a wholly-owned subsidiary of Sprott Inc. that is a gold- and resource-focused fund manager that has been offering managed accounts since 1981, the Sprott family of mutual funds since 1997 and a family of long/short funds since 2000.
The fund holds a moderately diversified equity portfolio of over 130 positions, with over two-thirds of its holdings in gold and silver stocks, and the rest mostly in silver and gold funds in the Market Vectors®, iShares, and SPDR index funds. Also, about 60% of its holdings are in small-cap and micro-cap equities, another quarter are in mid-caps and large-caps account for the remaining 15%-20%. Their 13-F assets are slightly down from the $890 million we reported in our earlier coverage of their holdings for the prior quarter.
The following are Sprott's major buys in Q4 based on our analysis of their latest 13-F for Q4, that are also trading under-valued compared to the peers in their group (see Table):
Coeur d'Alene Mines Corp. (NYSE:CDE): Coeur d'Alene is engaged in the exploration and development of silver and gold mines in the U.S., Mexico, South America, and Australia. At $14 million, this was Sprott's largest buy in Q4, adding to its $38 million prior quarter position. At $52 million, this is also the second largest position in Sprott's portfolio, and it was also the largest buy in Q3 as reported by us last month in our coverage of Sprott's Q3 activities. CDE just reported its Q4 last Thursday, missing earnings and beating revenues, with earnings coming in lower year-over-year (48c v/s 60c). However, looking forward it is expected to increase earnings at a 14.7% annual rate from $2.60 in 2011 to $3.42 in 2013, while it trades at a discount current 11.0 P/E and 1.2 P/B compared to averages of 20.1 and 3.2 for its peers in the silver mining group, and also averages of 21.1 and 2.3 for its (mid-cap) peers in the gold mining group.
Suncor Energy Inc. (NYSE:SU): SU is an integrated energy company, engaged in the development of petroleum resource basins in Canada's Athabasca oil sands; acquisition, exploration, development, production and marketing of crude oil and natural gas in Canada and internationally; transportation and refining of crude oil; and marketing of petroleum and petrochemical products primarily in Canada. Sprott more than doubled its position, adding $6 million in Q4 to its $5 million prior quarter position. SU reported an in-line Q4 earlier this month, on February 1st; its shares currently trade at a discount 7-8 forward P/E and 1.5 P/B compared to averages of 44.4 and 3.1 for its peers in the Canadian integrated oil & gas group, while earnings are projected to ratchet up from $3.53 in 2011 to $5.05 in 2013 at a compound 19.6% annualized rate.
Pan American Silver Corp. (NASDAQ:PAAS): PAAS is a Canadian mining company focused on silver, with mining operations in Mexico, Peru, Argentina and Bolivia. Sprott added $3 million in Q4 to its $1 million prior quarter position. PAAS reported a good Q4 last Thursday, beating earnings and increasing its dividend by 50% to $0.0375/share; its shares trade at a current 10.1 P/E and 1.7 P/B compared to averages of 20.1 and 3.2 for its peers in the silver mining group, while earnings are projected to increase at a modest 3.8% annual rate from $2.35 in 2011 to $2.53 in 2013.
Kinross Gold Corp. (NYSE:KGC): KGC is engaged in mining and processing gold, silver, and copper in the U.S., Brazil, Ecuador, Chile and Russia. Sprott added $2 million in Q4 to its $2 million prior quarter position. KGC reported a weak Q4 earlier this month, missing analyst revenue and earnings estimates, but re-affirming its 2012 gold production and raising its common dividend by 33% to 8c/share. Its shares are slightly higher after the report, and they trade at 9-10 forward P/E and 1.0 P/B compared to averages of 10.4 and 3.6 for its (large-cap) peers in the gold mining group.
Select Stocks that Sprott is most bearish on based on its moves in Q4 (see Table) include:
Table
click to enlarge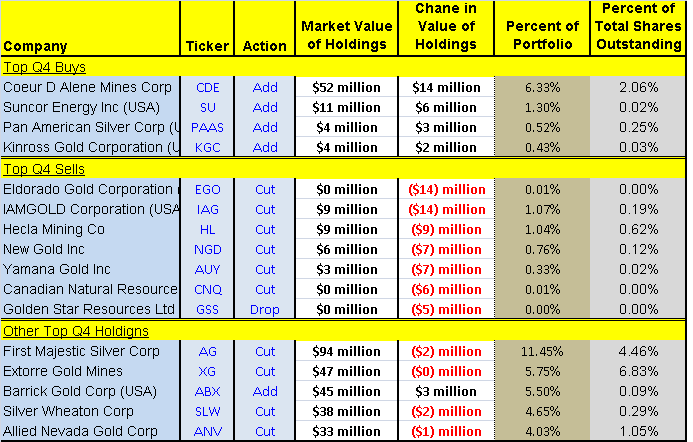 Click to enlarge
Credit: Historical fundamentals including operating metrics and stock ownership information were derived using SEC filings data, Zacks Investment Research, Thomson Reuters and Briefing.com. The information and data is believed to be accurate, but no guarantees or representations are made.
Disclosure: I have no positions in any stocks mentioned, and no plans to initiate any positions within the next 72 hours.
Disclaimer: Material presented here is for informational purposes only. Nothing in this article should be taken as a solicitation to purchase or sell securities. Before buying or selling any stock you should do your own research and reach your own conclusion. Further, these are our 'opinions' and we may be wrong. We may have positions in securities mentioned in this article. You should take this into consideration before acting on any advice given in this article. If this makes you uncomfortable, then do not listen to our thoughts and opinions. The contents of this article do not take into consideration your individual investment objectives so consult with your own financial adviser before making an investment decision. Investing includes certain risks including loss of principal.