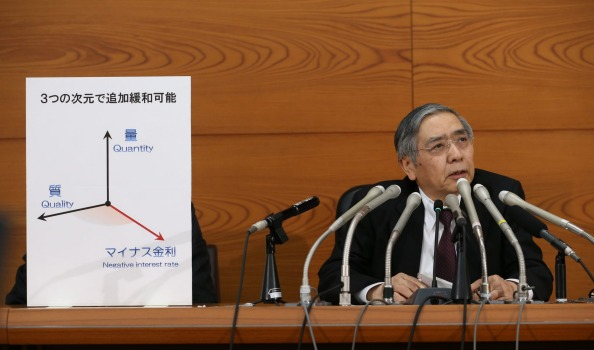 There was yet another disappointment emanating out of Japan's economy last week as consumer inflation was announced as being unchanged from a year previous, when economists were expecting a slight increase of 0.1 percent. Low energy costs and weak consumption put a stop on any price growth according to the data released on Friday. Even when you strip out the effects of energy and fresh food prices from inflation, it still shows inflation at just 1.1 percent. This is still far below the target for the Bank of Japan and puts pressure on the central bank to act.
How the central bank acts will be the big question. It is running out of tools to bring its currency and the economy as a whole in check. We don't envy the position that Governor Haruhiko Kuroda is in right now. We still believe he could take rates down as low as negative 0.5 percent, and is likely do so if Janet Yellen and the Federal Reserve don't increase rates in the U.S. at their April meeting.

Click to enlarge
Sourced from Trading Economics
Luckily for Mr Kuroda the Federal Reserve meet on April 27 2016 with its interest rate decision. This is a day ahead (local time) of the Bank of Japan's interest rate decision, giving the Bank of Japan time to react to whatever comes out of the Fed's meeting.
We are starting to get very bullish on the U.S. dollar because we sense a rate hike coming at last in April. During an interview on Bloomberg last week St. Louis Fed President James Bullard said "You could probably make a case for moving in April." This was further reiterated the next day during a speech. Often in the past we have found board members will downplay comments made in interviews, but Mr Bullard's reemphasis has certainly got us excited.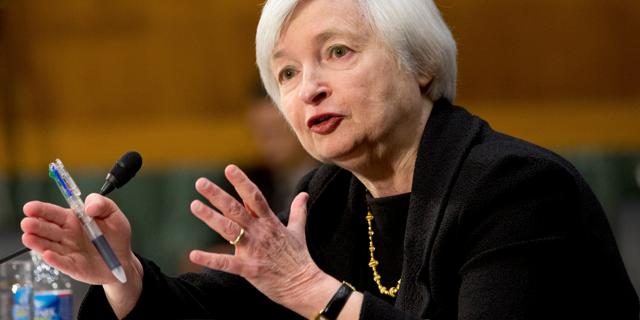 Click to enlarge
There is little doubt that a rate hike will strengthen the U.S. dollar. Even though rates in the United States will still not be as high as other western economies, it does make the risk-free nature of the U.S. dollar an attractive destination for funds. Especially if the market is confident that this is the start of a number of rates in the next couple of years. Naturally this should weaken the Japanese yen which we believe is unnaturally high at the moment.
If the Federal Reserve don't raise interest rates, then it will be up to Governor Kuroda to act around ten hours later. The latest set of soft data released from Japan continues to keep the central bank under significant pressure to change its monetary policy by adding further stimulus or taking rates lower. T his is a vital move, because the data really does emphasize just how close the Japanese economy is to falling into another recession. Especially with core consumer prices in Tokyo, which is regarded as a leading indicator of nationwide prices, seeing their largest annual decline in March for nearly three years. This can be seen on the chart below.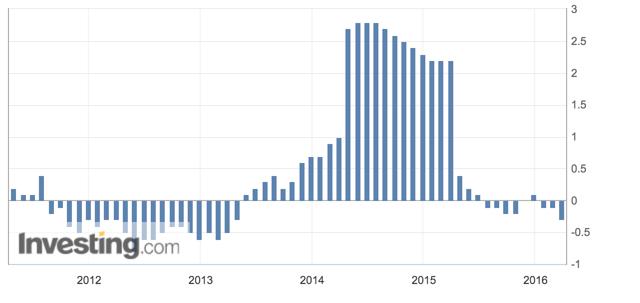 Click to enlarge
Sourced from Investing.com
One thing for certain though is that this time next month the USD/JPY pair could look very different to what it does right now. We expect at least one of the two central banks to act at their next interest rate meetings. Whichever does act, both outcomes are likely to act in a way that devalues the Japanese yen against the U.S. dollar.
Because of this we believe that shorting the CurrencyShares Japanese Yen Trust ETF (NYSEARCA:FXY) is a great move now. Not only is it very likely for the Japanese yen to weaken against the U.S. dollar, but the downside risk is limited. We feel it is unlikely the yen could climb much higher with the Bank of Japan looking like it is ready to step in and prevent it happening. As we pointed out last time, there is speculation in the markets that the Bank of Japan interfered with the currency after the last interest rate decision to stop it strengthening further.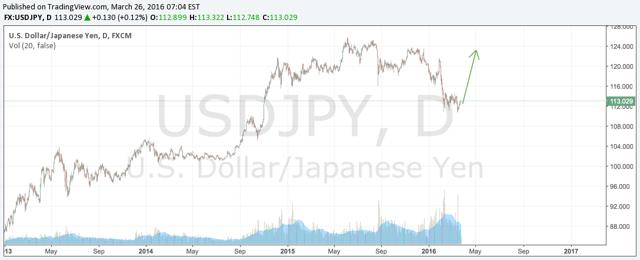 Click to enlarge
Sourced from DailyFX
If decisions go favorably, we expect the U.S. dollar to start to climb to 124.00 from the 113.03 it sits at presently. This is a 9.7 percent increase from the current trading price and a great trade in our opinion.
Best of luck with your trades!
Disclosure: I am/we are short FXY.
I wrote this article myself, and it expresses my own opinions. I am not receiving compensation for it (other than from Seeking Alpha). I have no business relationship with any company whose stock is mentioned in this article.