After being mired in a prolonged bear market, gold prices have aggressively moved higher from their low in mid-December around $1050 to a high of $1285 in mid-March. This has led to a resurgence of interest in precious metals and hope that the bear market has ended.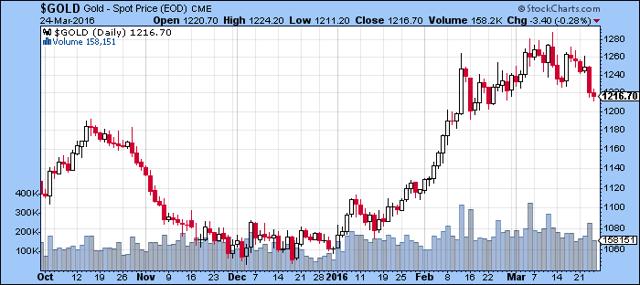 Click to enlarge
Such extreme moves out of oversold conditions typically begin as short squeezes. If fundamentals improve, there is the potential for a change in trend; otherwise, the primary trend will reassert itself. This article will examine some of the reasons behind gold's move higher, and why these are not enough to sustain a change in trend.
Despite the rise in gold prices, the balance of evidence favors that this is a short squeeze. Traders and investors should take advantage of this opportunity to sell precious metals positions at these elevated prices.
Improvements in Gold Fundamentals
Certainly, there have been some developments supportive of gold prices since mid-December. The most important are negative interest rates in Japan and Europe, and the March FOMC decision in which the Fed focused on global risks, even with inflationary pressures building domestically. Both factors place downward pressure on real interest rates, which drive gold prices.
This chart from Jordan Roy-Byrne at The Daily Gold shows the close link between real interest rates and gold prices.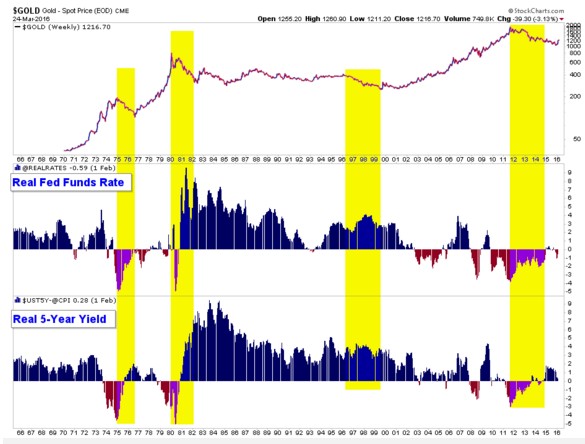 Beyond the chart, this relationship makes intuitive sense as higher real interest rates correlate to a healthy economy. Gold is an asset that yields nothing. If the risk-free rate of return is 3%, then gold is less attractive compared to if the risk-free rate of return is zero. In this scenario, there is no cost to holding gold.
In recent months, real interest rates have dropped as inflation measures have begun to move higher and central banks embarked on a new round of aggressive stimulus. While this was the catalyst behind the move, the bear market in gold also led to heavy positioning on the short side and extremes in bearish sentiment. This unwinding of short positions and bearish sentiment has also contributed to the velocity of the move higher.
It is important to note that higher prices have now led to a similar extreme in bullish sentiment. This can be seen by many measures, such as the rush of money into the SPDR Gold Trust ETF (NYSEARCA:GLD).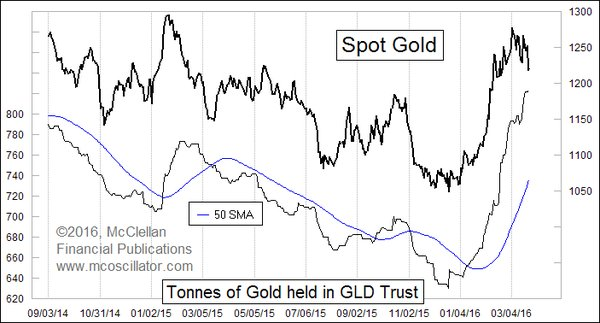 Another chart showing the same message regarding the futures market: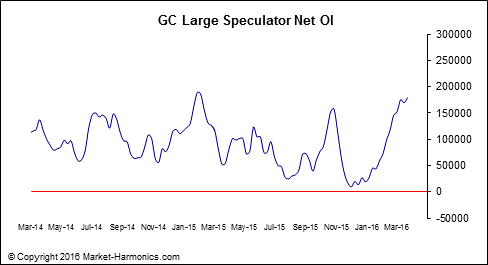 Clearly, gold is overbought after its recent rally. If the metal is in the early stages of a bull market, then this is meaningless beyond some short-term volatility. However, if gold remains in a bear market, then this overbought status is an excellent entry point with minimal risk to fade this strength.
The US Economy Remains Resilient
Like the Federal Reserve, precious metals traders and investors need to remain "data-dependent." The US recovery continues to be sluggish, but underneath the surface, there are signs of optimism. Renewed strength in the economy implies higher interest rates, a stronger dollar and lower gold prices.
Currently, market participants have a relatively negative attitude towards the economy. This has already translated into expectations of interest rate hikes being pushed back, as the chart below shows: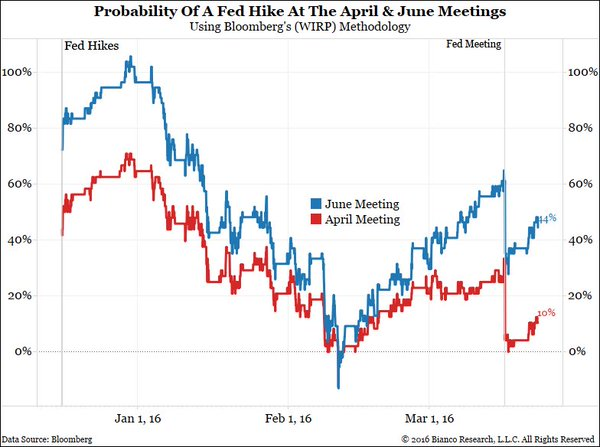 However, recent economic data has been quite constructive, with continued strength in the housing and labor markets - supportive of further economic strength. Charts below from Calculated Risk show that this data continues to trend higher.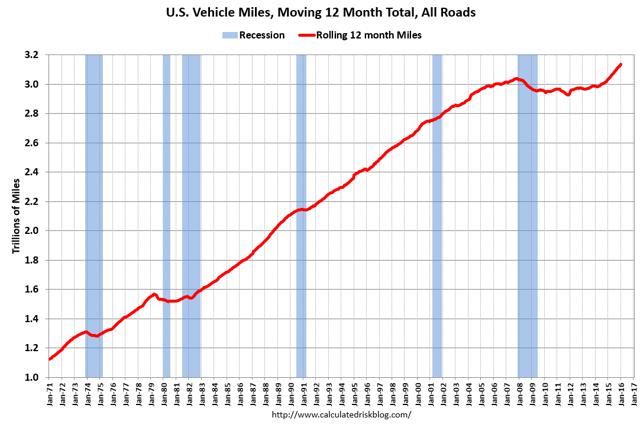 Click to enlarge
Miles driven continue to rise, no doubt helped by the fall in gas prices. However, it is one manifestation of economic activity. The smooth ascent conflicts with the recession narrative.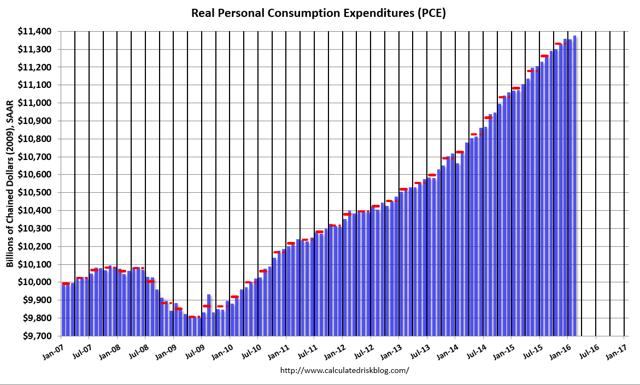 Click to enlarge
Consumer spending, which makes up the largest part of the economy, also continues to hit new all-time highs without showing any signs of flattening. This is particularly impressive, as the savings rate has been increasing over the past year as well.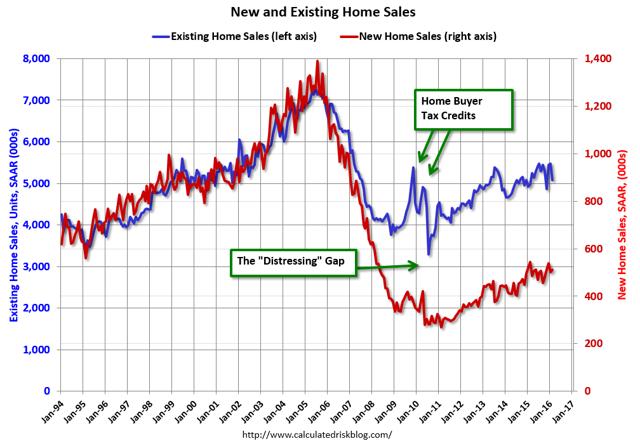 Click to enlarge
Home sales continue to increase, although they remain below what is required given the demographic needs. A strong housing market will be a boon for construction workers and related industries.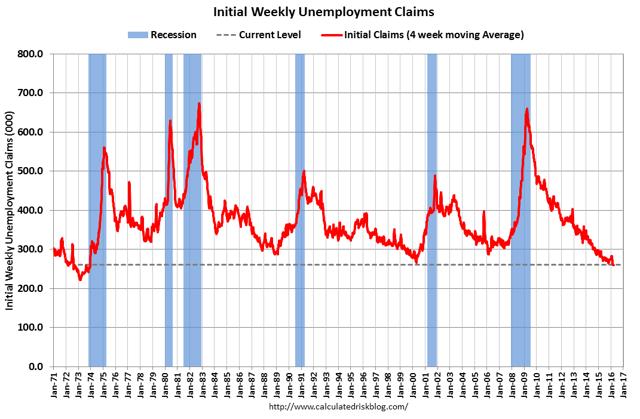 Click to enlarge
Unemployment claims continue to trend lower, which is a sign of a healthy labor market and supportive of continued household formation and consumer spending.
In contrast to the resilience in these economic measures, manufacturing and industrial production have been in recession. Below is a chart for industrial production: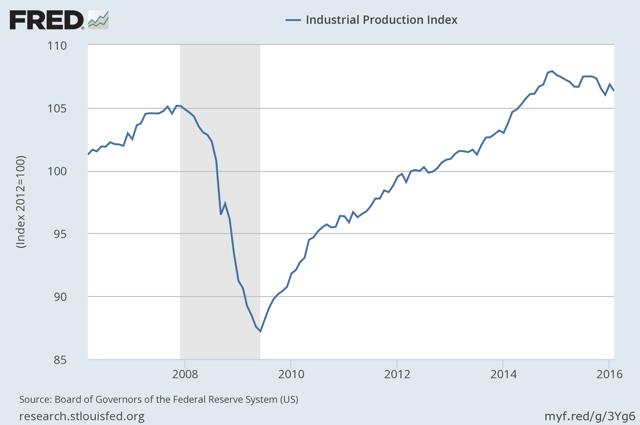 Click to enlarge
Industrial production peaked in October 2014, entering a recession due to weakness in commodities, overseas economies and a stronger dollar. There are signs that the industrial economy has bottomed out and is now ready to become a contributor to GDP rather than a drag. Now, it is way too early to say this with any certainty, but early signs are encouraging and verified by price action in steel, construction, as well as industrial and transportation stocks.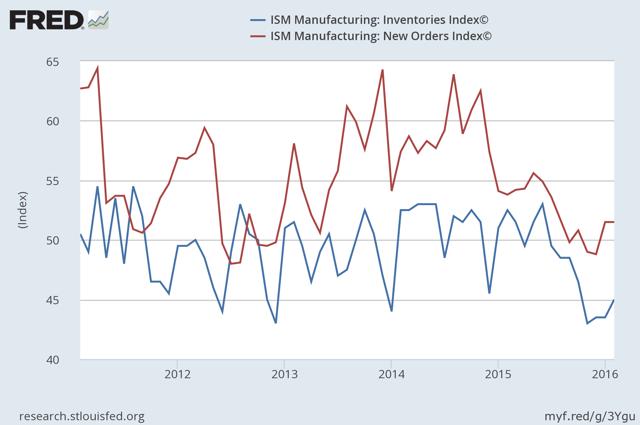 Click to enlarge
Conclusion
There is good reason to believe that gold's recent strength is transitory and the result of a unique mix of circumstances - excessive bearish sentiment and a more dovish Fed than anticipated. The dovish Fed has been priced in, as expectations for interest rate hikes have been pared back and sentiment has now reached excessively bullish levels. It is also important to recognize that the Fed has merely taken its foot off the accelerator rather than taken to some radical shift in policy.
Economic data shows that the domestic economy remains quite strong. Additionally, the industrial economy looks to be on the verge of a recovery as well. These factors are supportive of higher interest rates, pushing gold lower.
Disclosure: I/we have no positions in any stocks mentioned, but may initiate a short position in GLD over the next 72 hours.
I wrote this article myself, and it expresses my own opinions. I am not receiving compensation for it (other than from Seeking Alpha). I have no business relationship with any company whose stock is mentioned in this article.