It is easy to understand why Wells Fargo (NYSE:WFC) is Warren Buffett's largest equity holding and biggest bet. The bank pulled through the global financial crisis or GFC in relatively good shape and continues to perform well with it relatively unburdened by the weight of legacy assets that continue to weigh down the performance of Bank of America (NYSE:BAC) and Citigroup (NYSE:C).
While the major banks remain unpopular with many investors following the GFC and financial meltdown in Europe, Wells Fargo remains in good shape and is undervalued by the market. With solid growth prospects, potential upside in the vicinity of 20% and a dividend yielding 3%, it is a worthy addition to any portfolio, despite claims by some analysts that it is now a sell.
Background
Wells Fargo is a full service commercial bank that offers the full suite of lending, deposit taking and wealth management services. What makes it different from the other major banks is that it is a relatively vanilla commercial bank that has little exposure to investment banking, trading operations and capital markets.
Instead, it focuses on traditional commercial banking business and generates its revenue from commercial loans, mortgages and consumer lending. This can be seen with the bank generating 53% of its revenue from its lending operations, and the rest comes from a diverse range of streams as shown below.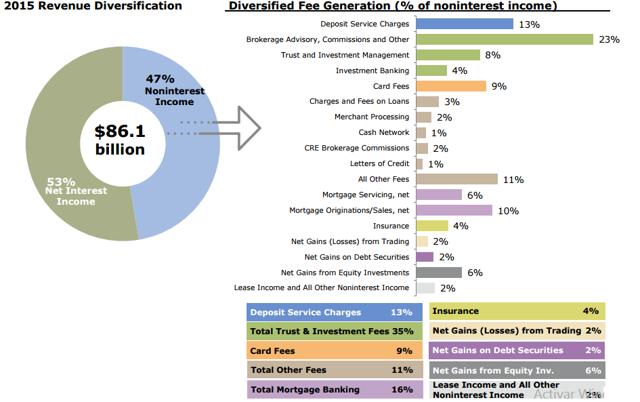 Click to enlarge
Source: Wells Fargo Presentation Credit Suisse Financial Forum February 2016.
As a result, it is not as exposed to complex financial instruments and derivatives as its peers.
It also holds a dominant market position across a range of segment having established itself as the number one residential mortgage originator, commercial real estate originator and small business lender. This leaves it well positioned to benefit from the upturn in the U.S. economy as well as growing business and consumer confidence.
Macroeconomic growth catalysts
There are a range of tailwinds that will help to propel Wells Fargo's growth over the long term. Key among them is the improvement in the U.S. economy with GDP expected to continue growing at between 2% and 3% over the course of 2016.
U.S. manufacturing is expected to increase at a faster rate than the overall economy with production forecast to grow by 2.6% in 2016, 3.0% in 2017, and 2.8% in 2018.
Unemployment has also fallen sharply over the last year to be 4.9% in February 2016 or 60 basis points lower than it was for the same period in 2015.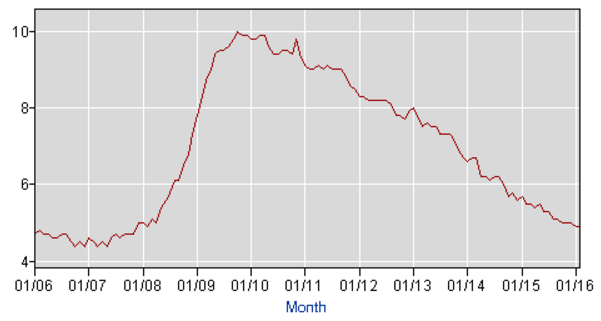 Source: U.S. Bureau of Labor Statistics.
These factors bode well for increased credit demand that will drive growth of Wells Fargo's loan portfolio and net interest income.
Outlook for housing remains positive
An important growth catalyst for Wells Fargo is the recovery in the U.S. housing market, with it being the number one residential mortgage originator in the U.S. At this time, the outlook for the housing market is subdued, but it is expected to grow over the course of 2016 with recovery picking up steam over the course of the year.
According to the National Association of Home Builders or NAHB, steady employment and economic growth, pent-up demand, affordable home prices and attractive mortgage rates will keep the housing market on a gradual upward trend in 2016. The NAHB predicts that single-family starts in 2016 will grow by 27% when compared to 2015, while residential remodeling activity will increase by 6.1% for that period. It also believes that the recovery is broad-based and is occurring across all regions while foreclosures are dropping back to normal levels.
These factors will see demand for residential mortgages growth and allow Wells Fargo to expand its mortgage book boosting net interest income over the course of the year.
Operating costs continue to fall
High operating expenses were impacting the top six lenders as they emerged from the financial crisis with swollen costs that they needed to work down. They were hiring temporary employees to work on the high volume of impaired mortgages, customer complaints and regulatory investigations. The banks were also incurring considerable legal expenses and fines as they sought to settle disputes related to toxic mortgage-backed securities that they had sold in the run-up to the financial crisis.
For the fourth quarter, analysts estimated that the top six lenders spent the lowest amount on costs including employee compensation, marketing and real estate since the equivalent quarter in 2008.
These cost cutting efforts are reflected in Wells Fargo's fourth quarter 2015 results. Non-interest expenses were down by 2% YoY while its efficiency ratio which measures how effectively the company deploys its assets to generate a return came in at 57.4% or 1.6% lower than it was for the fourth quarter 2014.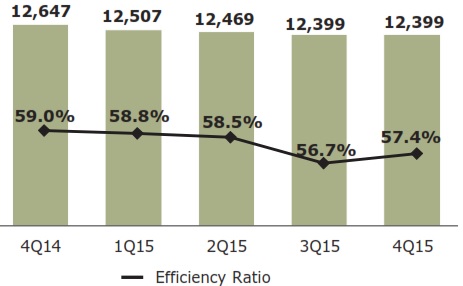 Source: Company filings.
Except for an uptick of 70 bps when compared to the third quarter 2015, this illustrates a downward trend over the last year. As a result, Wells Fargo has estimated that its efficiency ratio for 2016 will be in the range of 55% to 59%.
Loan-to-deposit ratio highlights considerable liquidity
Another positive factor in Wells Fargo's operations is that its loan-to-deposit ratio, an important indicator of liquidity remains well below 100%, at 75%. This indicates that Wells Fargo is highly liquid and is sourcing the funding for its credit portfolio internally.
Typically, this is more cost effective than using external sources such as wholesale funding and is a far lower risk.
You see, these external sources are higher cost than sourcing from capital from deposits, and during times of economic stress, those costs can rise sharply or the sources funding can even disappear if the stress is severe enough. During the global financial crisis, this occurred and left many banks that were overly reliant upon wholesale funding for their lending operations flat-footed, with some dangerously exposed to the prospect of insolvency.
Nonetheless, there is a downside to having a low loan-to-deposit ratio. This is because a particularly low ratio indicates a bank is not maximizing its returns by effectively deploying the deposits it receives and generating the maximum amount of earnings that it can from those deposits.
The sweet spot for the loan-to-deposit ratio is for it to be between 80% and 90%, and Wells Fargo's ratio is well below this.
There are a number of reasons for Wells Fargo's low loan-to-deposit ratio, the most significant being a move to risk-averse behavior and greater liquidity requirements in the wake of the global financial crisis. It is also required to keep a larger portion of its deposits liquid because of its custodial banking services.
Remains well capitalized
Another pleasing aspect of Wells Fargo's financial health is that it remains well capitalized with a common equity tier 1 ratio of 10.7%, which as the chart shows represents an upward trend.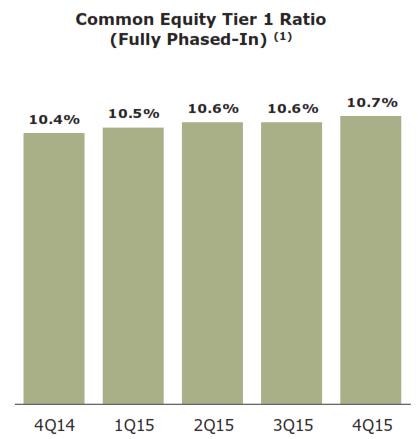 Source: Company filings.
This is well above the regulatory minimum and illustrates Wells Fargo's financial strength.
Balance sheet and credit quality is healthy
When assessing whether a bank is a worthwhile investment, it is important to ensure that it has a healthy balance sheet. Wells Fargo's balance sheet remains strong.
Credit quality is high with a non-performing loan ratio of 1.4% at the end of the fourth quarter 2015. This reflects a 50 bps decline in the ratio YoY and can be attributed to a sharp decrease in non-performing assets which were down by 17% YoY in value to $12.8 billion.
However, for the same period, provisions and net charge-off expenses grew markedly to $831 million, an increase YoY primarily because of a $90 million increase in Wells Fargo's oil and gas portfolio losses.
Wells Fargo expects the quality of its oil and gas portfolio to continue deteriorating because of the harsh operating environment created by sharply weaker oil prices. It is this exposure to the beaten down oil and gas sector that is one of the major risks that Wells Fargo is facing.
Exposure to the troubled energy patch
One of the greatest risks facing banks is their exposure to the beaten down oil and gas sector with consulting firm Deloitte estimating that up to one-third of all oil companies will go bankrupt during 2016.
It is estimated that with direct exposure of $42 billion, including drawn and undrawn loans, Wells Fargo has one of the largest exposure of any major U.S. bank to the troubled oil and gas industry. Nonetheless, it is lower than Citigroup's $58 billion and Bank of America's $44 billion.

Click to enlarge
Source: Company filings.
At this time, there is $17.4 billion outstanding, with the majority of that being for oil exploration and production companies, which is the most vulnerable industry segment. Of the $17.4 billion outstanding, the bank estimates that at this time, the majority of it is non-investment grade.
However, the risk to Wells Fargo is not as severe as it appears at first. This is because the total exposure only represents 4.6% of the value of Wells Fargo's total loan book, while drawn loans only represent 1.9% of the value of its total loan book. Even if the entire portfolio defaulted, the impact on Wells Fargo's balance sheet would not have a significant impact on the bank.
Then it should be noted that the majority of loans to E&P companies, which is the highest risk segment, are senior secured loans determined by the companies' proved reserves. As a result, they are collateralized with real assets, which would allow Wells Fargo to sell those assets in the event of those companies failing and redeem at least some of the funds loaned.
Finding Wells Fargo's true value
Despite the headwinds facing the economy, I expect Wells Fargo to continue posting solid returns on equity or ROEs over coming years because of strong long-term growth prospects. Its approach to controlling costs, boosting its efficiency ratio, and relying upon internal funding for its lending activities means it is capable of generating solid margins.
As a result of these recent results, I have valued Wells Fargo using a retained earnings valuation model with the following assumptions:
Wells Fargo's ROE has been discounted over the valuation period, in order to reflect the impact of the headwinds the bank is facing including its exposure to the struggling O&G industry. An ROE in perpetuity of 10% has been used to calculate the terminal value of retained earnings.
This takes into account both the bank's growth prospects as well as any future economic headwinds it may experience. A conservative rate of economic growth has been used. This is represented by an assumed long-term GDP growth rate of 2% for the U.S. and takes into account the near-term impact of the weaker commodity prices.
I have accounted for the bank's dividend payout ratio using a combination of its stated dividend policy and its average payout ratio in recent years.
I have applied a cost of equity of 7.7%, which was calculated using the capital asset pricing model (CAPM). The calculations and assumptions for the CAPM model are set out below.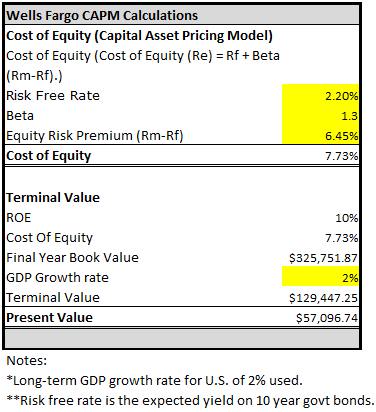 From this data and assumptions, an indicative fair value from Wells Fargo's retained earnings of $60.19 per share has been calculated as the table shows.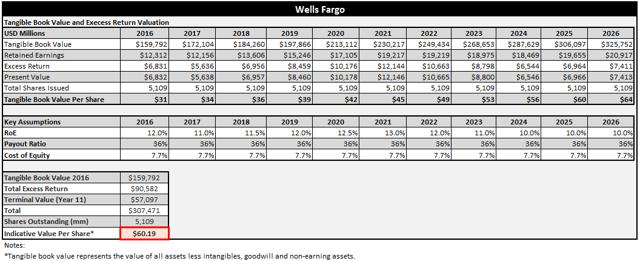 Click to enlarge
This represents upside of 23% and highlights just how irrationally the market has priced Wells Fargo because of concerns over its exposure to the beleaguered energy patch. The upside also offers investors a reasonable margin of safety because of the conservative methodology used. It is a credible 12-to-18-month target with the bank set to benefit from the long-awaited rally in crude, which is expected to occur in late 2016 or early 2017.
Investors should also not forget Wells Fargo's dividend, which at this time is yielding 3%. The dividend is also sustainable with an average payout ratio of 36% over the last five years. Wells Fargo has also hiked that dividend every year for the last seven years since the global financial crisis to now being higher than it was before the crisis. This is an impressive feat because of the increased regulatory scrutiny and financial obligations burdening banks since the crisis.
Bottom-line
Wells Fargo is a well-managed bank with a solid balance sheet that is well capitalized with strong liquidity. Its focus predominantly on mortgages, consumer and commercial lending means that it is not as exposed to the vagaries of financial markets like larger peers such as Citigroup and Bank of America that have substantial capital markets operations.
The fear-based dip in Wells Fargo's share price because of concerns over its exposure to the oil industry and the impact of growing economic uncertainty globally has created a buying opportunity for the long-term investor, with 23% upside on offer. Then there is its sustainable 3% dividend yield which will continue to reward patient investors as they wait for the company's share price to appreciate.
All of these factors make it easy to understand why Wells Fargo is Warren Buffett's biggest bet and he topped up his holding during the fourth quarter of 2015.
Disclosure: I/we have no positions in any stocks mentioned, and no plans to initiate any positions within the next 72 hours.
I wrote this article myself, and it expresses my own opinions. I am not receiving compensation for it (other than from Seeking Alpha). I have no business relationship with any company whose stock is mentioned in this article.