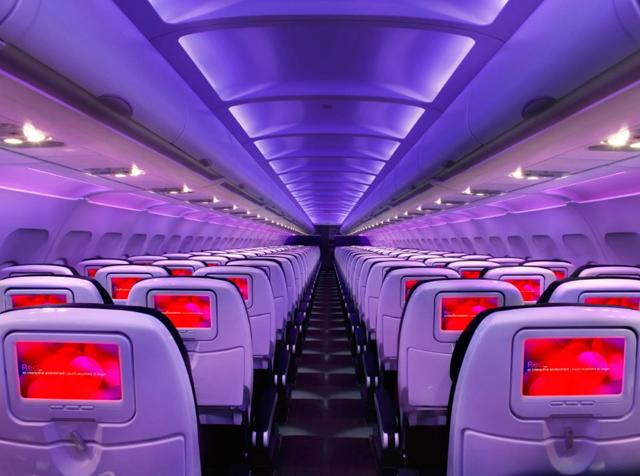 Click to enlarge
Img 1: A Virgin America Aircraft Interior
Bloomberg reported today that JetBlue (NASDAQ:JBLU) and Alaska Airlines (NYSE:ALK) are behind the latest merger rumors from Virgin America (NASDAQ:VA), something I correctly predicted in my previous article last week, here. While many have flocked to Virgin America as its stock has soared 20% on the recent merger talk, I believe JetBlue is the better long-term bet.
I believe Virgin America stock is fully/over valued at this point as the airline has few assets and has had trouble making much money outside of the current low oil environment. While interested parties may bid higher causing Virgin America stock price to appreciate further, I believe JetBlue is a much more solid long-term bet. Such a deal will provide a multitude of benefits for JetBlue, something I go into further detail on below.
A Perfect Combination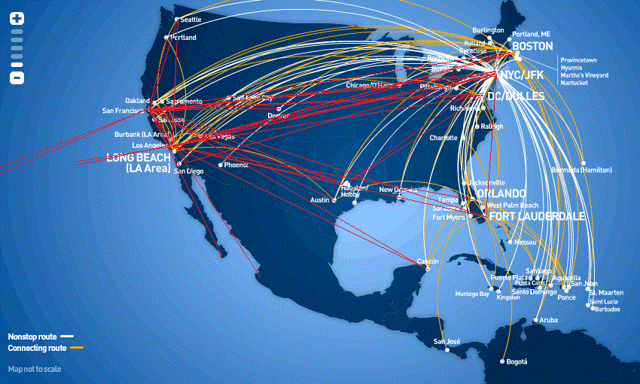 Click to enlarge
Img 2: A Combined JetBlue and Virgin America route map
JetBlue is very weak in the West Coast compared to its East Coast strength at Boston, Fort Lauderdale and Washington D.C. This is something that prevents the airline from winning higher margin cooperate contracts of bigger firms who need their employees to have good access to flights on both the East and West Coast. While JetBlue does operate a hub out of Long Beach this is not a viable alternative as it is farther from Los Angeles, offers few flights and offers no international connections. Virgin America and its established Los Angeles and San Francisco network would be a good asset for JetBlue, giving it a much larger presence in the West Coast.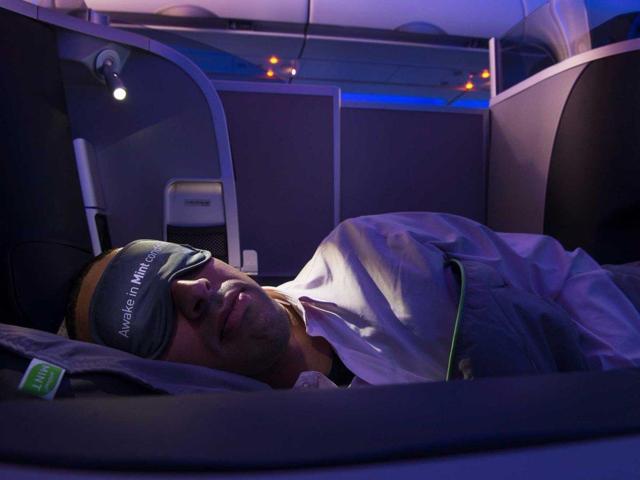 Click to enlarge
Img 3: JetBlue Mint, a budget business class offering
In addition, the JetBlue Mint product is most valuable on transcontinental flights but these transcontinental flights need passenger feed at both ends, something that JetBlue is lacking on the west coast. A merger with Virgin America could allow JetBlue to deploy its higher margin successful Mint product on additional transcontinental routes.
A merger would grow the size of JetBlue by 20% overnight while bringing in an abundance of new customers, airline partners, and aircraft. The combined fleet size of the airline would grow to 277 aircraft while adding little complexity to the operation as the two airlines operate the same aircraft family. In addition to operating the same fleet type, the two airlines benefit from a similar low cost with frills business model, a "tech focused, hip" onboard offering, and a customer first approach making such a combination easy to integrate.
| | | | |
| --- | --- | --- | --- |
| Aircraft | JetBlue | Virgin America | Combined Total |
| A319 | 0 | 10 | 10 |
| A320 | 130 | 50 (+3 on order) | 180 (+3 on order) |
| A321 | 27 (+19 on order) | 0 | 27 (+19 on order) |
| A320NEO | 30 on order | 30 on order | 60 on order |
| A321NEO | 30 on order | 10 on order | 40 on order |
| E190 | 60 (+23 on order) | 0 | 60 (+23 on order) |
Table 1: Combined Fleet Of JetBlue - Virgin America
Financial
The financial benefits of such a transaction would be a long-term positive for JetBlue shareholders. JetBlue shareholders would benefit from as discussed above an airline that could win more high margin cooperate contracts. It would also benefit from the ability to deploy its high margin Mint product on more transcontinental routes along with benefits from a larger scale. Another benefit that not many people have mentioned is the airline's ability to diversify away from the North East United States. JetBlue's concentration in the North East United States has led to large losses and service disruptions in years that the North East has witnessed large snow storms. Having a profitable and large west coast operation would reduce the company's exposure to events like this and stabilize earnings.
Any JetBlue - Virgin America merger will have little effect on pricing in the U.S airline industry due to the small size of Virgin America; however, on some highly profitable markets like LA/SFO to JFK, the elimination of one competitor will provide greater pricing power to JetBlue and allow JetBlue to expand its successful Mint product onto Virgin America's flights between the two cities.
| | | | |
| --- | --- | --- | --- |
| Airline | Change In Stock Price Since Merger | Stock Price at Merger | March 28, 2016 Closing Price |
| American Airlines | +55.97% | $26.23 | $40.91 |
| Delta Air Lines | +480% | $8.31 | $48.20 |
| Southwest Airlines | +256.51% | $12.94 | $43.87 |
| United Airlines | +223.7% | $17.89 | $57.91 |
Table 2: Appreciation In Airline Stock Prices Post Merger
While some people complain about consolidation in the airline industry, it has led to a much more stable investment friendly airline industry and will reduce the amount of cut-throat price wars, making airlines like JetBlue a more stable long-term investment. Wall Street seems to agree and taking a look at the last four airline mergers you can see the stock price appreciation since the closing of the merger. In addition, all airlines broke previous 52-week highs post merger something that would push JetBlue past its 2003 high of $30.00, or a 44% upside from yesterday's closing price if it followed this pattern.
Future Growth
JetBlue has an abundance of growth opportunities ahead with or without a Virgin America merger, with an opportunity to serve Canada, launch additional service to Mexico with the introduction of open skies between the United States and Mexico and opportunities domestically to serve markets in the flyover states. Internationally, JetBlue has done very well in the Caribbean and has embarked on expansion to South America. With the arrival of the A321NEO, and possible acquisition of the A321NEOLR, JetBlue would be able to viably serve some Western European destinations from both Boston and New York along with service into deeper South America.
Antitrust & Alaska Airlines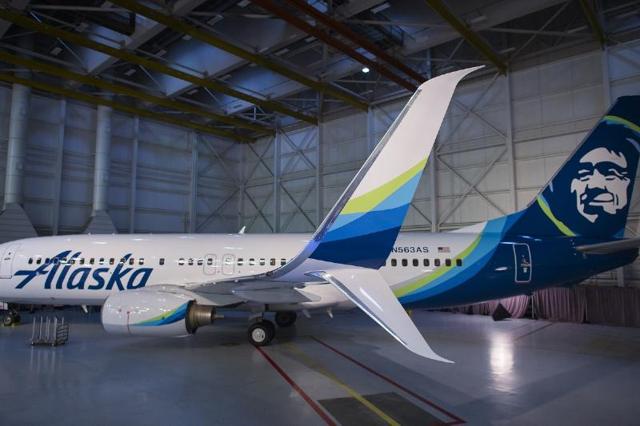 Click to enlarge
Img 4: An Alaska Airlines Aircraft
I believe the most likely scenario for Virgin America is a JetBlue acquisition. I believe that while Alaska may have some plan for JetBlue that it is simply submitting an offer to keep JetBlue honest and ensure its competitor pays as much as possible in order to expand into Alaska Airlines' west coast territory. A merger with Alaska would not bring much to Alaska Airlines, other than more West Coast routes in a region that it is already strong. Alaska could replicate much of Virgin America's route network for a fraction of the cost and much less complexity. While not a requirement for mergers, Virgin America has an entirely different aircraft fleet and product, something that would be much harder to integrate into Alaska.
| | |
| --- | --- |
| Airline | Passengers Carried 2015 |
| American Airlines | 201,249,127 |
| Delta Air Lines | 179,382,874 |
| Southwest Airlines | 144,574,882 |
| United Airlines | 140,369,000 |
| JetBlue + Virgin America | 35,100,986 + 7,036,0000 = 42,136,986 |
| Alaska | 31,883,000 |
Table 3: Largest Airlines In The United States 2015
JetBlue can make the argument that an acquisition of Virgin America will make the two airlines a stronger competitor against the major legacy airlines created in previous airline mergers. Virgin America is a very small airline and even with the two airlines combined, they will still only be 20% the size of American Airlines, a mega airline created in the last approved U.S airline merger. While JetBlue and Virgin America do overlap on 10 routes, or 24% of Virgin America's network, there are zero routes a combined carrier would have a monopoly on. In addition, three of these routes have an additional low cost carrier competing on them.
Conclusion
I believe JetBlue has an excellent management team in place at this point and I believe they will ultimately merge with Virgin America barring some unexpected event. There will likely be lots of noise between now and the merger as politicians threaten the merger, and analysts point out issues, leading to a roller coaster ride for investors, but I believe investors should use now and each of these opportunities to buy JetBlue. The precedent has been created which should allow JetBlue to merge with Virgin America and in addition it has strong arguments that can be made for a merger to go through. JetBlue's merger with Virgin America, further consolidation in the airline industry, and exciting growth opportunities in EPS and the airline itself make JetBlue a compelling buy ahead of this merger in my opinion.
Disclosure: I/we have no positions in any stocks mentioned, but may initiate a long position in JBLU over the next 72 hours.
I wrote this article myself, and it expresses my own opinions. I am not receiving compensation for it (other than from Seeking Alpha). I have no business relationship with any company whose stock is mentioned in this article.