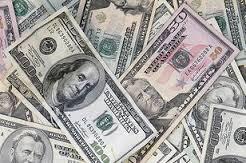 Nordstrom (NYSE:JWN) is a leading fashion specialty retailer. It sells clothing, shoes and accessories for men, women, and children. It has 326 stores in the United States and Canada. To put this in perspective, 197 of the above are Nordstrom Rack stores - the low cost outlet store for Nordstrom. It serves 96 countries online at Nordstrom.com. It provides off-price fashion online at nordstromrack.com and its private sales site HauteLook. Nordstrom pays a 2.6% annual dividend per share.
In Q4 2015, it produced results that missed adjusted EPS expectations by $0.05 per share at $1.17 per share (including $0.17 per share in impairment charges). Its Q4 2015 revenues missed expectations by $20 million at $4.1 billion. Total company net sales increased 5.2%; and comparable sales increased 1.0%. Full priced net sales only increased 0.7% and comparable full priced comparable sales increased even less at 0.2%.
Full-line store net sales decreased -2.5%. Comparable full-line store net sales decreased -3.2%. This was disappointing news. However, the real disappointment was the 1H 2016 guidance that called for a -30% decrease in EPS for 1H 2016 versus 1H 2015. FY2015 EPS was $3.15 per diluted share. If you include the $0.17 per share in impairment charges they were in line with the FY2015 outlook of $3.30-$3.40 per share. FY2015 net sales increased 7.5%; and comparable sales increased 2.7%. This last was in line with the company's outlook of 2.5%-3.0%. Unfortunately, the Q4 2015 data was not as good.
In contrast, the online net sales were better. Nordstrom.com sales increased +11%. Off-price net sales (Nordstrom Rack stores and nordstrom.com/HauteLook) were up 12%; and comparable online sales (and off-price sales) increased 3.6%. Nordstrom Rack net sales increased 6.9%. Unfortunately, comparable sales for Nordstrom Rack decreased -3.0%.
Nordstromrack.com/HauteLook sales increased 50%. Gross profits as a percentage of net sales decreased 184 bps to 34.8% year-over-year. The decrease was due to increased markdowns due to high inventory levels and an increased promotional environment during the Christmas season. Inventory growth of 12% exceeded net sales growth of 5.2%. JWN has incorporated an increased promotional environment into future forecasts. This is no doubt part of the reason for the -30% year-over-year decrease in EPS forecast for H1 2016.
The charts below give a good overall picture of JWN's recent comparable sales history.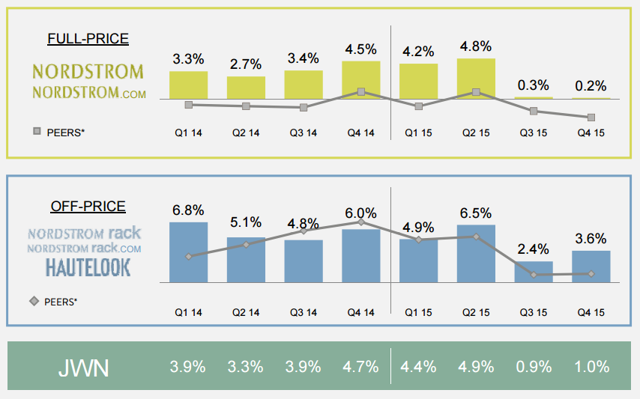 The gray lines above show that peers are generally faring worse than JWN. However, JWN's performance in Q3-Q4 of 2015 was still poor. Remember the full-line store comparable net sales decreased -3.2%. That's not growth! When you remember the -30% decrease in EPS forecast for 1H 2016, you have to be even more discouraged by the company.
In 2016, JWN plans to open three new full-line stores, 20 new Nordstrom Rack stores, one full-line store relocation and two Nordstrom Rack store relocations. Let's just pay attention to the completely new stores, which have a ratio of 3 full-line to 20 Nordstrom Rack stores. In other words, only 8.7% of new stores opening in 2016 will be full-line stores. 91.3% will be off-price stores. This means margins likely will continue to fall in future quarters.
The charts below give a good picture of JWN's progress over the past decade and its plans for future progress.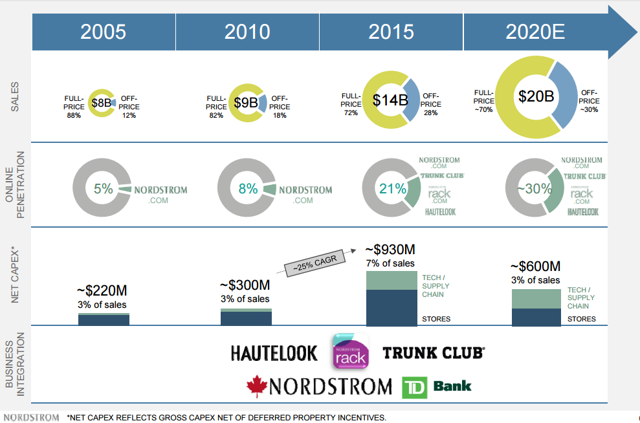 As readers can see, the sales growth is expected to slow down a bit in percentage terms from 2016 to 2020E. However, it should still be good. The bad news is that a smaller part of it will be Full-Price growth. That should translate into lower margins. On top of that, JWN is expecting to have the same sort of high ramp up costs we have seen over the years for Amazon.com (NASDAQ:AMZN) for its online business. New fulfillment centers are expensive; the business is a low margin business. Yes, the revenues are growing, but the expenses are growing even more quickly. Ending inventory growth of +12% was much bigger than the net sales growth of +5.2%. Return on invested capital was only 10.7% for the fiscal year ending January 30, 2016. This is a big decrease from the prior 12-month period of growth of 12.6%. This number will likely go down even further over the next five years. As an example, EBIT were $324 million in Q4 2015 compared to $465 million in Q4 2014. That's quite a decrease. The growth in expenses seems likely to be a continuing problem due to the planned growth in the online business. This requires large outlays for technology, increased marketing costs and the cost of new fulfillment centers. Remember we have Amazon.com as an example in this area for low or negative profits in this area for many years, while growing online sales.
JWN is planning to grow its online business from 2015E 21% of net sales to about 30% of net sales at 2020E. This means a larger and larger part of its business will show small or negative profits for many years to come. On top of this, Amazon.com has just started its new apparel clothing line. Cowen & Co. expects AMZN to take first place in US apparel sales by 2017. It estimates that AMZN's apparel sales will grow from $16 billion in 2015 to $52 billion in 2020 (from a 5% share to a 14% share of the US apparel market). If AMZN's expected $52 billion in sales in 2020 are 14%, then JWN's expected $20 billion in sales will be about a 5.4% market share. It seems likely that JWN has not completely figured in the AMZN effect. Regardless, AMZN's gains seem likely to make JWN's attempt at further gains in the online marketplace more expensive and less successful. AMZN is the unquestioned online leader. Then too Wal-Mart (NYSE:WMT) has been expanding its online presence in the last year or two. It could end up making significant gains in the apparel industry. All of this looks bad for JWN.
With full-line (high profitability) sales slowing and little or no profit online sales growing quickly as a percentage of the business, JWN seems to be heading into a time of lower profits. This means it is a sell. It has a mean recommendation of 2.7 on Yahoo Finance currently (a high hold). However, the trend is decidedly negative. Since the beginning of 2016, it has been initiated by two companies (at peer perform and at sell). During that same time, it has been downgraded four times - two to neutral and two to sell. From the prior quarter to this one, institutions have sold -5.72% of their stock; and don't forget JWN has itself forecast -30% lower EPS in 1H 2016. These things agree with the downgrades. In other words, a lot of other analysts and money managers are seeing the same downtrend in profits for JWN in the future that I am seeing. On top of that, the S&P 500 as of March 24, 2016, is expected to report a blended decrease in EPS of -8.7% for Q1 2016. This will be the fourth consecutive quarter of the earnings recession. Q1 2016 is also expected to be the fifth consecutive quarter of revenue declines at -1.1%. It is hard to see JWN doing well in this kind of environment. Further, JWN's book value per share of only $5.02 is not likely to support a stock price of $55.97 per share as of the close on March 24, 2016, especially with profitability expected to decrease. By way of comparison, Macy's (NYSE:M) book value per share is $13.70 for a stock price of $43.48 per share. Yes, JWN has grown sales by roughly 50% over the last five years; but that is not enough with margins declining on those revenues. JWN is a SELL.
The ten year chart of JWN shows its performance through the last recession.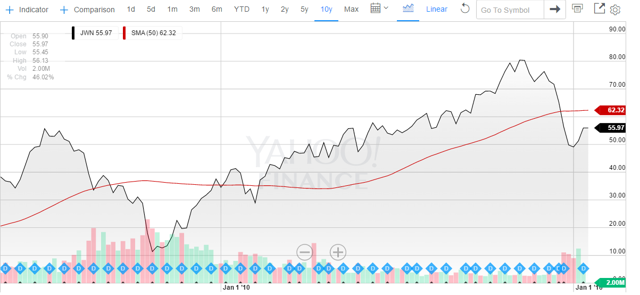 As readers can see, JWN did not do well in the last recession. There seems to be an increasing likelihood that the US will see another one soon. Some are even predicting a worldwide recession. The stock price low during the last recession was just over $11 per share. If JWN falls that far it would represent an -80% loss in the stock price from the current level. Few people will see that as an attractive possibility. Even if JWN manages to fall less, the roughly $40 per share level seems to be the point of good support. Even that represents a -28.5% drop in the stock price. JWN is already in a downtrend. The likelihood that the downtrend will continue given the fundamentals of the company and the fundamentals of both the US and world economies is high. JWN is a SELL. Aggressive traders may want to short it. With that in mind the short ratio as a percentage of the float was 18.06% as of March 15, 2016. In other words, be prepared for short squeezes, if you do decide to short the stock.
NOTE: Some of the fundamental fiscal data above is from Yahoo Finance.
Good Luck Trading/Investing.
Disclosure: I/we have no positions in any stocks mentioned, but may initiate a short position in JWN over the next 72 hours.
I wrote this article myself, and it expresses my own opinions. I am not receiving compensation for it (other than from Seeking Alpha). I have no business relationship with any company whose stock is mentioned in this article.