Colgate-Palmolive (NYSE:CL) is the third Dividend King in a row that I've written about, after Coca-Cola (NYSE:KO) and Emerson Electric (NYSE:EMR) respectively. The Dividend Kings are stocks that have paid consecutively rising dividends for fifty years or more, and Colgate's place in this elite list is secured by its 52-year record of making such payouts to shareholders.
Company Overview
Founded in 1806 by William Colgate as a New York based soap, starch, and candle firm, the present-day Colgate-Palmolive is a global consumer defensive behemoth with a market capitalization of $62.4 billion. The company has 37,700 employees, sells its products in over 200 countries, and is divided into four sectors, three of which (Oral Care, Personal Care, Home Care) are part of the same division:
Oral Care - This sector covers toothpaste, toothbrushes, dental floss, and mouthwash, most of which sport the Colgate brand name.
Personal Care - This sector covers bar and liquid hand soaps, shampoos and body washes, deodorants, anti-perspirants and shaving cream. Brand names in this sector include Palmolive, Irish Spring, Softsoap and Lady Speed.
Home Care - Dishwashing, cleaning and fabric conditioning products are offered by this sector, and the dominant brands here are Palmolive, Ajax, Suavitel and Murphy Oil.
Pet Nutrition - Canine and feline nutritional products are provided by this sector, whose dominant brand is Hill's. The Pet Nutrition sector is a separate division from Oral Care, Personal Care and Home Care.
Colgate-Palmolive break down their net sales for the Oral Care, Personal Care and Home Care division by geographical region: for 2015, North America comprised 20% of sales, Latin America comprised 27%, Europe and the South Pacific made up 18%, Asia provided 15%, and Africa and Eurasia provided 6%. Combined, the division provided 86% of net sales, while the remaining 14% was provided by the Pet Nutrition division.
Competitive Advantage
Colgate-Palmolive holds several competitive advantages, chief among them being its strong market presence within each market sector that the company operates in. In oral care, it has 45% of the global toothpaste market, making it #1 in that market. It is also #1 in manual toothbrush sales with 34.3% of that market, and #2 in mouthwash with 16.5% market share, behind Johnson & Johnson's (NYSE:JNJ) Listerine mouthwash, which has approximately 36%.
In personal care, they are also #1 in liquid hand soaps and #2 in bar soaps and liquid body cleansing. In home care, they hold the #1 position in liquid fabric conditioners and #2 in hand dishwashing and household cleaners. For Pet Nutrition, Hill's has strong veterinary approval worldwide and holds market dominance in U.S. vet clinics.
It should be emphasized that these top positions are in global markets, which the exception of the vet clinic market which is U.S. specific. Colgate-Palmolive's overwhelming market dominance in several global market sectors ensures that it remains very profitable. And this profitability is assured due to its extremely strong brand portfolio.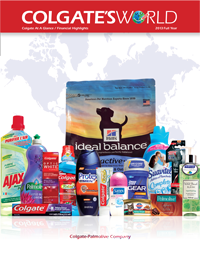 Colgate-Palmolive ensures that these brands remain strong through huge advertising expenditure. Between 2009-2013, the company spent between $1.534 billion and $1.891 billion annually on advertising. In 2014, $1.8 billion was spent on advertising, and in 2015 $1.4 billion was spent.
The importance of brand recognition is not lost on Colgate, as the amounts invested in their advertising show. This strong brand presence, combined with the company's global reach and market dominance, provide Colgate-Palmolive with very strong competitive advantages.
Valuation
Colgate is currently trading in the high $60 range at a forward price-to-earnings ratio of 23.23, with a dividend yield of 2.23% and a payout ratio of 56.9%. The dividend yield is in line with its five-year average, and the average five-year dividend growth rate has been 8.12%. The current price, however, does not provide much of a margin of safety, and I would want to see a drop to at least the low $60 range before adding to my current position.
Conclusion
The quality of Colgate-Palmolive cannot be overstated. The company focuses upon four key sectors and has enough diversity in its product portfolio to ensure that its income stream will not be impaired by one underperforming product. Consumer defensive firms provide products that experience little or no volatility in any case, and with products like toothpaste and soap that require repeat custom, Colgate-Palmolive is more stable than most.
The company is excellent, and should be a key component of any dividend investor's portfolio, but I consider it to be overvalued at the present time. A drop to the low $60s at the very least would be required, though ideally the company would be better priced around $55 before an investor should consider making a lump-sum investment.
Nonetheless, Colgate-Palmolive should be on the radar of any serious income investor.
DISCLAIMER: I am not a financial professional and accept no responsibility for any investment decision a reader makes. This article is presented for information purposes only.
Disclosure: I am/we are long CL, KO.
I wrote this article myself, and it expresses my own opinions. I am not receiving compensation for it (other than from Seeking Alpha). I have no business relationship with any company whose stock is mentioned in this article.