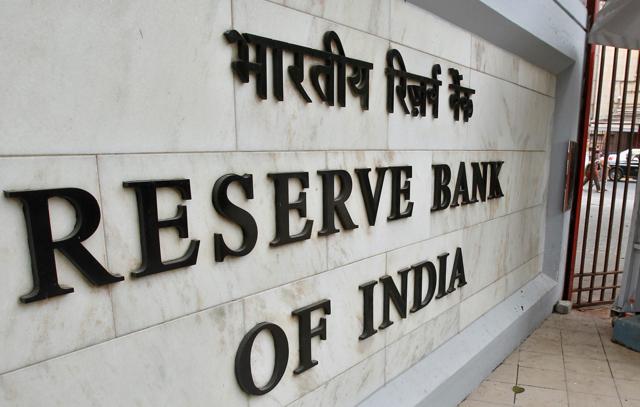 Click to enlarge
We believe that with macroeconomic factors currently in our favour, there is no better time to go long with the U.S. dollar against the Indian rupee. Both central banks have divergent monetary policies which could lock horns this month, leaving the rupee considerably weaker against the U.S. dollar following a strong performance in the last month.
The Reserve Bank of India's move
The prospects of a lower interest rate have increased significantly recently with many economists and bankers expecting the Reserve Bank of India to cut rates at its monetary policy review on April 5. The latest rate cut push follows the Indian government's decision on small savings rates. It recently surprised the markets when it slashed interest rates on small savings.

Click to enlarge
Sourced from Trading Economics
The Development Bank of Singapore has stated that with India's inflation readings being below the central bank's target and the government delivering on its fiscal objectives, there is a strong case for a 25 basis points cut at the April 5 meeting. We would expect the Indian rupee to weaken against the U.S. dollar if this occurs as we expect it will do.
The Reserve Bank of India has a retail inflation target of around 6 percent, but looks likely to fall short of this target if it doesn't act quickly. As you can see below, in February it dropped down to 5.18 percent from 5.69 percent in January. Bringing down its interest rate from 6.75 percent to 6.5 percent would be a good start in our opinion and give inflation a helping hand to reaching the 6 percent target.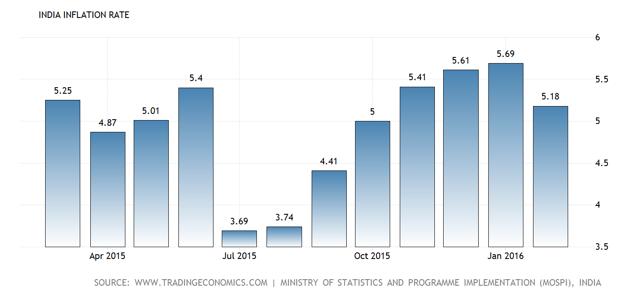 Click to enlarge
Meanwhile, over in the United States rates could be rising.
If Friday's non-farm payroll report is a positive one, we see little reason why rates will not be able to be increased at the next Federal Reserve meeting at the end of April.

Click to enlarge
Sourced from Trading Economics
We felt conditions were ripe for a rate rise in March, but Janet Yellen decided against it. Her decision to also cut down the expected amount of rate rises to two in 2016 clearly weakened the U.S. dollar. But this for us has brought about a great trading opportunity now, especially with the U.S. dollar versus the Indian rupee.
We are confident that the Federal Reserve will raise interest rates (pending the non-farm payrolls report) following comments from St. Louis Fed president James Bullard's comments last week.
In February Mr Bullard was very much against raising rates. In a speech he said:
I regard it as unwise to continue a normalization strategy in an environment of declining market-based inflation expectations.
Yet just over a month later he has swiftly changed his tune during an interview with Bloomberg where he said that rate hikes were not far off. This makes us more optimistic considering his previous stance.
Going long with the U.S. dollar against the Indian rupee
We believe that because of all of this, now is a great time for traders to go long with U.S. dollar against the Indian rupee. As you can see on the chart below, we expect the U.S. dollar to climb to at least the 69.000 level in the next month or two.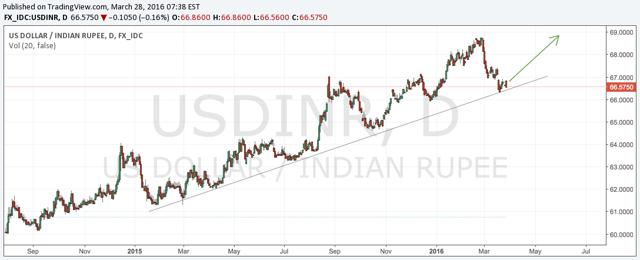 Click to enlarge
Sourced from DailyFX
From the current trade price of 66.575, this represents an increase of 3.6 percent. We do expect the long term trajectory to be upwards. As 2016 unravels we believe the divergent monetary policies will lead to further weakening of the Indian rupee against the U.S. dollar. Those with a long time horizon could look at aiming for 72.000, which is a return of over 8 percent.
The best way to make this trade without using a futures account is to take advantage of the WisdomTree Indian Rupee Strategy Fund (NYSEARCA:ICN). This ETF tracks the value of the Indian rupee against the U.S. dollar. By shorting this ETF traders can achieve the same result as those using futures contracts.
We believe this is a trade with a high probability of success. We will endeavour to keep you updated with how it pans out and wish you well with your own trades.
Disclosure: I am/we are short ICN.
I wrote this article myself, and it expresses my own opinions. I am not receiving compensation for it (other than from Seeking Alpha). I have no business relationship with any company whose stock is mentioned in this article.