A commenter on the SA boards has stirred lots of thought on my part in how the Trans Pacific Partnership (TPP) will effect trade and business in the future. This article is, hopefully, part 1 of a series on how TPP and trade deals could affect companies in my DIV-GAP portfolio. I am starting with the company that started the conversation… CSX Corporation (NASDAQ:CSX).

Click to enlarge
(TPP is currently 5,544 pages long, I have not read it all but have read a good deal of it.)
Generally speaking, TPP is a trade deal with many countries that could greatly impact U.S. companies by reducing taxes on U.S. goods sold overseas. The trade agreement would affect tax rates, transit, and trade for roughly 40% of the world's consumers. While TPP has not passed, the fast tracking for TPP was approved by all of congress and the bill awaits a chance for a vote. (Many believe it may pass in the lame duck session after the presidential election, and after some elected officials enter their last days in office.)
The Department of Transportation sees traffic and congestion ahead.
Because of the DOT's projections showing traffic and congestion in the future, DOT's National Freight Strategic Plan (NFSP) gives a good idea of how the Department of Transportation means to impact how goods are transported. Their goals are to "build a more multimodal system" and decrease delay across the transportation system in the U.S.
The mentioned NFSP document also states that DOT expects…
The U.S. economy to double in size over the next 30 years.
The nation's population is projected to increase to 389 million people by 2045.
Americans will increasingly live in congested urban and suburban areas, with fewer than 10 percent living in rural areas by 2040.
By 2040, nearly 30,000 miles of our busiest highways could be clogged on a daily basis if no actions are taken to address traffic congestion.
The below image shows the projected congestion on highways in 2040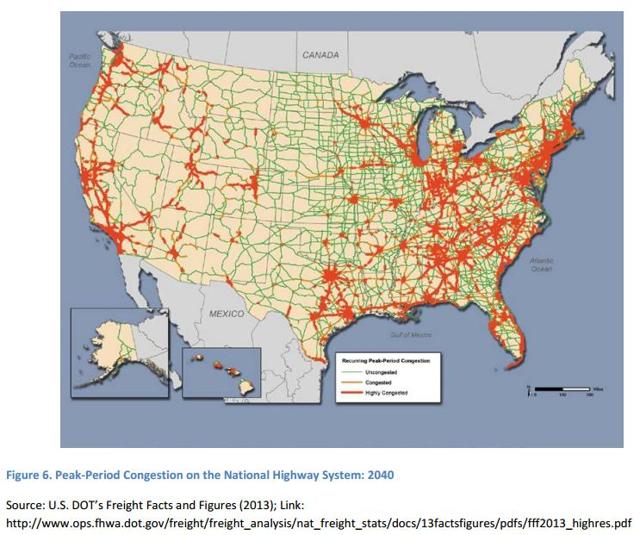 Click to enlarge
DOT documents show that today, truck congestion wastes $27 billion in time and fuel annually. That is why it appears that DOT is looking to push for railroads to handle the bulk of the long distance freight movements. In fact, they have mentioned reducing trucking industries shipments to 500 miles or less… and CSX is focusing on picking up this higher mileage freight business.
DOT and the EPA are also pushing for lowered emissions
"Railroads provide significant environmental benefits over trucks. The U.S. Environmental Protection Agency estimates that for every ton-mile, a typical truck emits roughly three times more nitrogen oxides and particulates than a locomotive. Related studies suggest that trucks emit six to 12 times more pollutants per ton-mile than do railroads, depending on the pollutant measured"
The constant pressure from DOT and the EPA will continue to push freight movement towards rails and ports and away from trucking, accept for smaller distances that make trucks more efficient. Rail is also a preferred mode for hazardous materials shipments because of its safety record.
Western Ports handle much of the traffic now… how long will that last?
One of the big points I previously mentioned in CSX's favor was the expansion of the Panama Canal. The new canals are expected to open right around April first, which will provide space for larger container ships that were previously forced to dock at the West Coast. As of February 29, 2016 the Panama Canal expansion website listed that the project was 97% completed. Even if there is a delay, we are close to seeing changes in shipping.
For goods which are high priority, the shipments will still be transported to the West Coast and through BNSF or UP rail lines to the rest of the U.S. However for all the shipments that are not as high a priority, those ships will start heading through the Panama Canal and the new locks within weeks based on estimates. Below is a view of the four largest U.S. Class I railroads and their routes.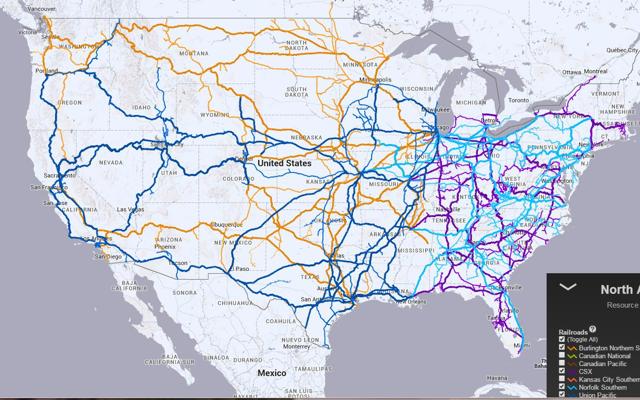 Click to enlarge
While BNSF and UP can still pick up shipments in the Gulf the newly dredged ports in the Gulf, Florida, and the East Coast will create a way for companies to save money on shipment fees allowing the larger vessels to dock much closer to their destination. This can be new, or at least increased, business for CSX and Norfolk Southern.
As I mentioned in my previous CSX article, "the opening of the canal can allow Asian exports easier access to Eastern ports. That is a business opportunity for CSX and NS." The fact that companies are estimating that 10% of Asian exports will head to Eastern ports instead of Western ports shows the upside is there. Maersk even made a large bet by moving back into operation at the recently dredged Baltimore port. This increased traffic makes CSX's moves to complete the Gateway Project even more profitable.
Forget coal… the track toward profits is with intermodal shipments
For reasons like those presented in this article, FAF data project multimodal shipments of freight to triple over the next 30 years. With DOT pushing hard towards ports and rails, that gives a huge chance for CSX and other railroads like BNSF, Union Pacific (NYSE:UNP), and Norfolk Southern (NYSE:NSC) to increase traffic for intermodal containers. CSX has already shown an increase in intermodal traffic of 4% in the last quarter. With all the ports in the East and in Gulf states having been prepared to handle increased traffic, CSX is in the "engineer's" seat moving forward.
CSX's CFP Frank Lonegro said... "Our main focus is to be ready for transformation to have the portfolio of tomorrow. We're actively transitioning and ready for that future." I agree enough that I have placed a full position in my portfolio… and I am considering going beyond that allocation.
Disclosure: I am/we are long CSX.
I wrote this article myself, and it expresses my own opinions. I am not receiving compensation for it (other than from Seeking Alpha). I have no business relationship with any company whose stock is mentioned in this article.