Seaspan Corporation (SSW) has been on my radar for a while and it has given me some of my biggest winners lately. The two arbitrages that I have traded so far are described in previous articles:
Those two trades were the result of a real market mistake, and mistaken valuations do not last long. We can only dream of such big mispricings all of the time, but unfortunately times change, markets calm down, and valuations become more accurate. This leaves traders like us with less opportunities.
This article is about the last remaining arbitrage in the SSW family: the 8.25% cumulative perpetual preferred stock (SSW-E) is a good enough buy in itself with a current yield of 8.94% at a price of 23.06. In addition to that it provides an arbitrage opportunity based on undervaluation to its brother stock, the 7.95% cumulative perpetual preferred stock (SSW-D), which has a current yield of 8.17% at a price of 24.34.
SSW-E compared to the common stock SSW
An investor has to consider alternatives. At some point the preferred stock can offer almost the same reward as the common stock while being the less risky opportunity. I will use fastgraph.com to illustrate my thesis: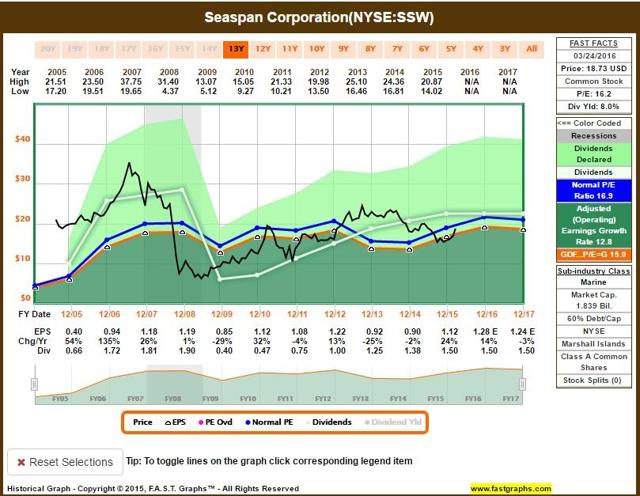 Click to enlarge
For the 13 years history that is available, the common stock has never suspended its dividend. This adds a level of certainty to the preferred stock holders, because even if the common stock loses its value, the operating results are stable enough to continue dividends. If the 2008 crash didn't lead to suspended dividends in common, what would it take for SSW to suspend dividends in common AND preferred?
Let's take a look at the reward for a SSW stockholder for this period: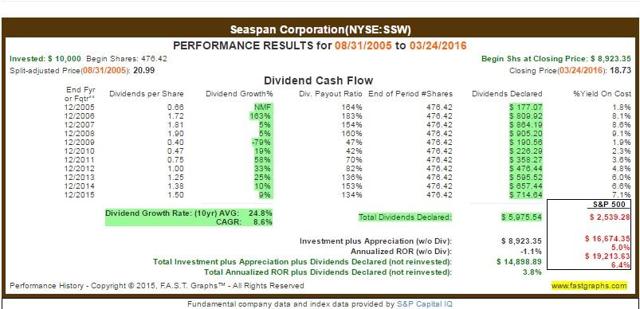 Click to enlarge
The 3.8% received annually is less than the SPDR S&P 500 Trust ETF for the above period. I'll leave it up to the reader to decide if that is acceptable to them, and what is the less risky opportunity.
I am sure that many of the readers are very confident in their stock picking ability so let's imagine you are one of the gifted (or lucky) investors who managed to buy SSW at the end of 2008: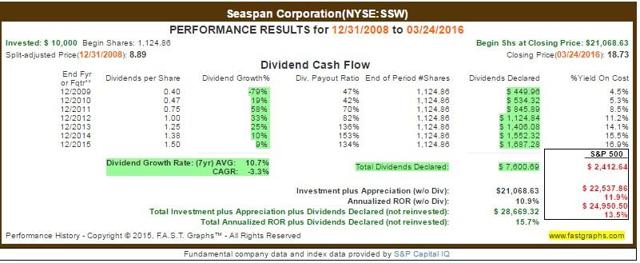 Click to enlarge
You made it: you beat SPY with the fantastic 2.2% on average and your annual return is 15.7%. This is almost twice as much as the preferred stock currently offers. Now you are left with a simple choice; if you believe that these returns are sustainable for the common stock, it is surely the better option. But once you look at the previous picture and the 3.8% annual return, you will come to a conclusion which moves the market: return is proportional to risk. Crises do happen (my personal opinion is that we still continue to take unreasonable risks that will lead to another big disappointment in the future), and after an 8 year run in SSW that has tripled your initial investment, I would personally look for an instrument to preserve this nice winner. The current yield of SSW-E is the average hedge fund's dream and it comes from a fixed income stock. Keep in mind that while owning SSW-E you will always be able to hedge with the common stock, because every problem in the business will punish the stock holders more than the preferred holders (and this is statistically proven).
SSW-E vs. SSW-D
The comparison with the common stock has too many "IFs", and you cannot state unequivocally which is the better opportunity. The comparison with the SSW-D preferred stock, on the other hand, has zero unknowns and the conclusion will be made with mathematical fact. Here is the data I use:

Click to enlarge
source: author's database
SSW-E is simply the better stock to own. The current yield spread is 0.77%. The yield to call is almost 2% better (it is only one consideration, but this be used as a yield to best comparison). The call date on SSW-D is in 1.87 years, and if for some reason SSW-D gets redeemed, you can be sure that the SSW-E will trade at 25 on the logic that it is going to get redeemed as well in the coming year, especially as it's the higher nominal yielder. If this happens, SSW-E's yield to best will be 13% at the call date of SSW-D.
Let's add some historical comparisons: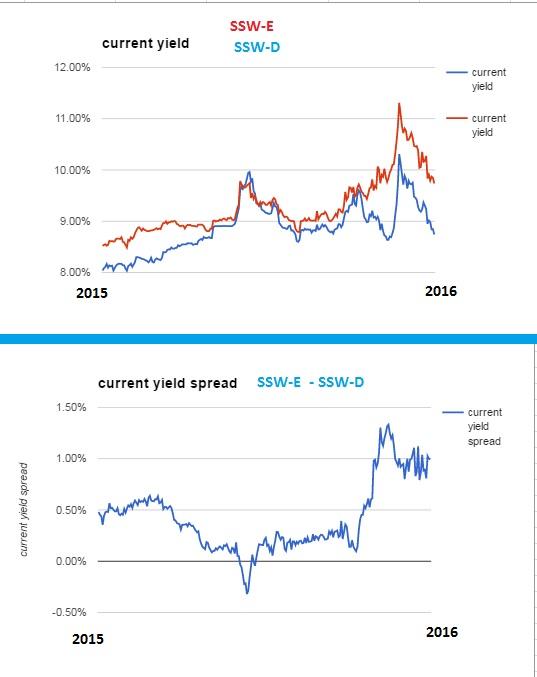 source: author's software
As seen on the charts we are at the historical highs of the current yield spread. This is important to us because while the 2 securities are trading at above par as in the past, there is logic for this spread to widen, because they will be valued based on their yield to call. In the current situation, trading below par, this valuation is totally wrong and this is a mathematical fact (as long as there is some hidden failure to redeem clause in the SSW-D prospectus that I could not find).
A 0.5% spread in current yield while the 2 securities are trading above par means nothing to the arbitrage traders, but at current levels this is a serious thing. Their average current yield spread is 0.42%, but in theory, the lower the price, the narrower this spread should be. If SSW-E were to trade at 24.34 (equal to SSW-D currently), it would bring this couple to their average current yield spread. This leaves a little more than a $1 profit for the arbitrage. Although not as spectacular as the previous arbitrages posted, it at least makes it clear which is the better security to own.
You may ask yourselves, what caused this mispricing? Only one word (or a few in this case): iShares S&P US Pref Stock Idx Fnd (NYSEARCA:PFF). If you want to dig around for the reasons, this is where I would start. But I am not too concerned with reasons; I only want to have a winning trade.
How I trade it
I have been constantly buying SSW-E since it made its lows close to $20. This trade was pointed out in my previous article. I think that the potential is currently not that big, but all the volatility in preferred stocks has dissipated and this is one of the last logical arbitrage trades left. I will add this trade in my arbitrage trading portfolio if the hard to borrow rate in SSW-D is affordable.
Conclusion
Arbitrages still exist, but the recent rally in the overall market has given fund managers and investors time to take a deeper look at what they are selling and buying. A month ago there were at least 50 opportunities, whereas currently we have a limited number in the preferred stock market. SSW-E can give the income investor a nice entry point with a hedge plan given by market inefficiency. This will probably be the last one from SSW for a long time.
Disclosure: I am/we are long SSW-E.
I wrote this article myself, and it expresses my own opinions. I am not receiving compensation for it (other than from Seeking Alpha). I have no business relationship with any company whose stock is mentioned in this article.
Additional disclosure: This is one of my big winners lately and will probably hold it while I see its price equal to SSW-D