Sina (NASDAQ:SINA) reported its 4Q11 and FY2011 results yesterday.
For 4Q11:
Revenue: $133 million, +21% y/y. Non-GAAP revenue was $129 million, + 23% y/y
Advertising revenue: $103.7 million, +26% y/y
Non-advertising revenue: $30 million, +8% y/y. Non-GAAP non-advertising revenue was $25 million, + 11% y/y
EPS: $0.14 per share and Non-GAAP EPS was $0.21 per share
For FY2011
Net revenue $483 million, +20% y/y. Non-GAAP net revenues $464 million, +20% y/y
Advertising revenues $369 million +27% y/y
Non-advertising revenues $114 million, +2% y/y. Non-GAAP non-advertising $95 million, +3% y/y
What concerned me: Weibo Monetization Facing Headwind
In my February 23rd note titled "Sina 4Q11 Earnings Preview: Regulatory Impact In Focus", I pointed out that Beijing government's March 16th deadline on the real-name registration of Weibo users is concerning because it shows that the government is serious about the policy and that this policy will likely become nationwide by the end of this year. Failure to comply with the policy will result in transforming the user's account to a "read-only" model in which sending, forwarding and replying feature will be disabled.
During the earnings call, CEO Charles Chao expressed concern that government regulation will negatively impact useractivity. Sina plans to further invest $110 to $120 million on Weibo to generate extra user stickiness but such investment will negatively hurt the margins and the bottom line.
Despite the short-term negative regulatory impact, I view this as a good opportunity for Sina to further polish the Weibo platform which will likely become a long-term positive for the company as it introduces more features and functions, such as the video social platform, Kandian.com, that allows Weibo users to view, share and comment on online videos, thus increasing network effect and user stickiness.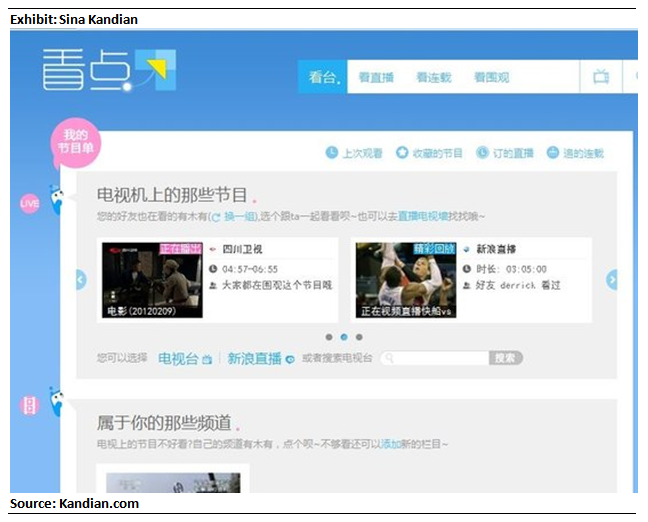 Investors should also note that while regulatory risk is a main concern, Weibo is unlikely to be shut down or severely impacted by regulation because:
Over 50,000 government agencies and officials rely on Weibo to communicate with their constituents.
Former Sina's CEO Mao Daolin is currently the son-in-law of Chinese President Hu Jintao and a close friend of current CEO Charles Chao. Such vital political connection allowed Weibo, rather than Fanfou, to become the de-facto microblog, and will ensure its survival in the Chinese internet space.
Disclosure: I have no positions in any stocks mentioned, and no plans to initiate any positions within the next 72 hours.