In the past two months, Exxon Mobil (NYSE:XOM) has been in recovery mode on the stock market. As the oil pricing environment has improved, Exxon's share price has also started picking up some momentum. This is not surprising as Exxon has been hurt badly by the drop in oil prices since its average realized price of oil last quarter was down 46% in the U.S., as a result of which the earnings from the upstream segment had dropped 84%.
The following chart shows how Exxon's upstream business saw a steep decline last quarter despite an increase in volumes: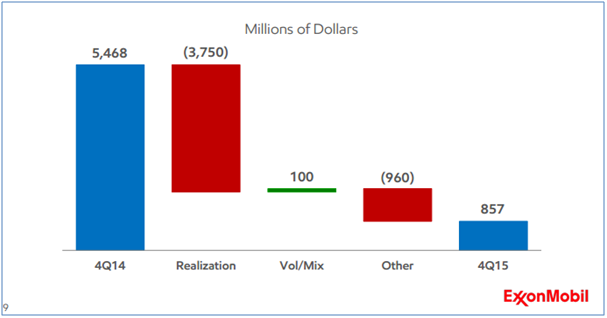 Source: Exxon Mobil
Therefore, the uptick in oil prices in the past two months or so has been a tailwind for Exxon as the company will now be able to arrest the drop in its upstream business. Let's see how.
Upstream set to get better
The improvement in the upstream business will be driven by stronger oil prices. In fact, after a period of sustained decline for almost two years, it is believed that the bottom has finally been achieved. A couple of weeks back, the International Energy Agency announced that signs of a bottom being achieved are emerging in the crude oil market.
The IEA points out that there are enough production cuts taking place in the end market that will push the market toward balance in the future. For instance, the IEA is now more bullish about non-OPEC production declining. According to its latest forecast, oil production in non-OPEC countries is expected to decline by as much as 750,000 barrels per day, which is an increase of 25% as compared to the prior forecast.
This massive decrease in non-OPEC production will be primarily driven by the U.S., where aggressive rig reductions have taken place. Last month, the rig count in the U.S. was down by 106 rigs, representing a drop of almost 76% in the past eighteen months. Looking ahead, the rig count in the U.S. could continue to decline as important shale oil producers such as Noble Energy (NYSE:NBL), Continental Resources (NYSE:CLR), and Hess (NYSE:HES) have reduced their capital expenditure forecasts by a wide range of 40% to 66%, while stopping fracking at the same time.
On the other hand, Iran has not increased its production by much, which will again contribute to a reduction in oversupply. As reported by CNN:
"There are also signs that Iran's return to the oil market may be less dramatic than originally anticipated. The country was hoping to ramp up production by 500,000 barrels a day immediately after nuclear sanctions were lifted earlier this year. But IEA data show Iran's production increased by just 220,000 barrels a day in February."
Now, as the consumption of oil is expected to rise by 1.17 million barrels/day and production is expected to decline, oil prices will continue to get better and help Exxon sustain its momentum. More importantly, Exxon has also been making improvements to the upstream business that will improve efficiency and help it do better in a recovering oil price environment. Let's take a look.
Focusing on efficiency gains in the upstream business
Going forward, Exxon Mobil has decided to streamline its upstream business. The company will reduce its upstream capex this year and keep the same consistent in 2017. By doing so, it will look to invest in selective areas that are capable of generating a higher return in a low pricing environment.
For instance, Exxon Mobil has decided to use its existing infrastructure to increase lower cost production and focus on short-cycle opportunities. As a part of this strategy, Exxon has been extending its lateral lengths in the unconventional plays, which has led to a decline in drilling and completion costs. This is shown in the chart given below: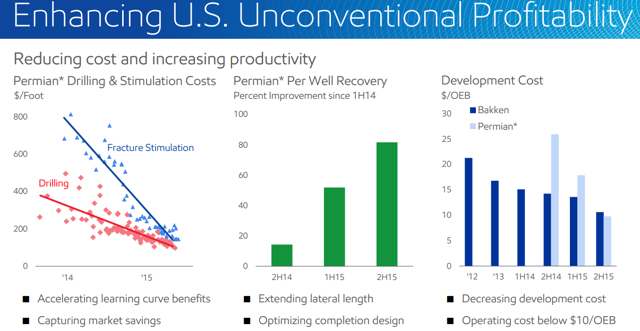 Source: Exxon Mobil
The good part is that as a result of the above mentioned techniques that have helped Exxon reduce both development and operating costs, it now has the lowest cost per barrel in the entire industry. This can be gauged from the chart given below: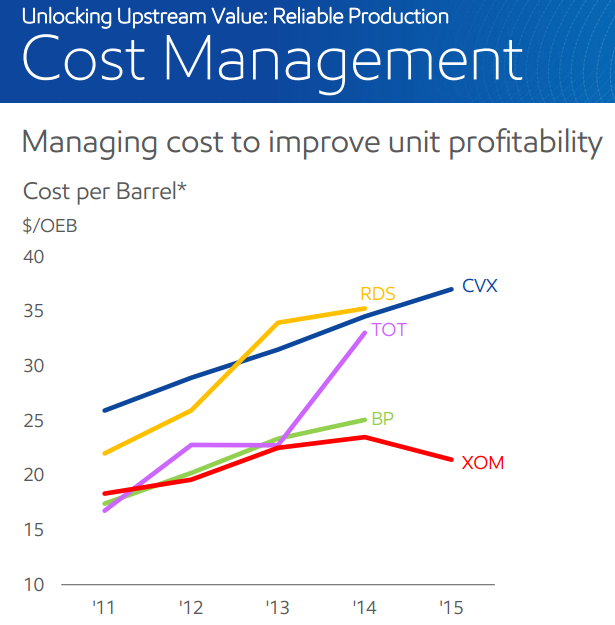 Source: Exxon Mobil
Conclusion
As such, it can be concluded that on the back of its moves to improve infrastructure and capture cost savings, Exxon Mobil is now in a better position in the upstream segment. As a result, the recent improvement in oil prices will allow the company to accelerate its margin growth going forward, which is why it will be a smart move to buy more of its shares as Exxon Mobil will rise higher.
Disclosure: I/we have no positions in any stocks mentioned, and no plans to initiate any positions within the next 72 hours.
I wrote this article myself, and it expresses my own opinions. I am not receiving compensation for it (other than from Seeking Alpha). I have no business relationship with any company whose stock is mentioned in this article.