As a producer of a commodity, Cliff Natural Resources Inc. (NYSE: CLF) is impacted by prices. There seems to be some confusion about how the prices are determined. There are a number of variables that incorporated in the pricing models, such as the price of hot-rolled steel, and many investors are unaware of the fact that the prices are retro-actively adjusted for the year when data used in the pricing models becomes final.
CLF has had a number of problems over the last few years. They sold assets, closed mines, subsidiary operations went into re-organization, and the stock price has plunged. New management was brought in last year by the hedge fund Casablanca Capital LP. This new management has continued to sell assets, including their coal mining operations, and reduce debt with an exchange offer and debt buybacks.
It is impossible for investors to value a company without understanding pricing for the commodities sold. After selling or closing other operations, CLF is now focused mostly on iron ore pellet sales that are used to make steel. The company itself does not produce steel. The pricing of these pellets varies from market to market and also varies with different buyers.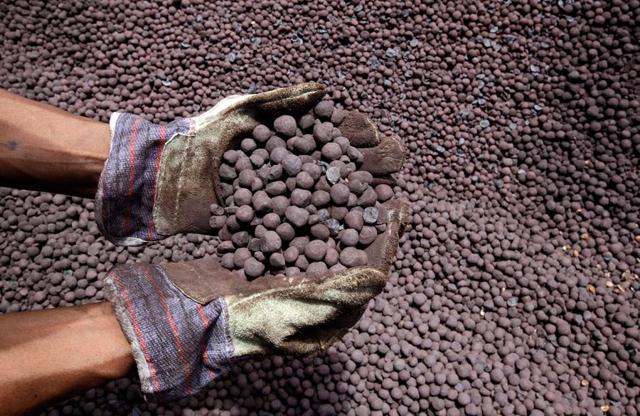 Click to enlarge
As stated in the 10-K:
Generally, we have multi-year supply agreements with our customers. Sales volume under these agreements largely is dependent on customer requirements, and in many cases, we are the sole supplier of iron ore to the customer. Historically, each agreement has contained a base price that is adjusted annually using one or more adjustment factors. Factors that could result in a price adjustment include spot pricing, measures of general industrial inflation and steel prices. Additionally, certain of our supply agreements have a provision that limits the amount of price increase or decrease in any given year....... U.S. Iron Ore production is sold through long-term contracts that are structured with various formula-based pricing mechanisms that reference seaborne pricing, inflation factors and steel prices and mitigate the impact of any one factor's price volatility on our business. "
The company seems to be trying to control extreme price swings for domestic sells that are associated with seaborne iron ore pricing by using a number of variables that smooth out potential price spikes. The specific coefficients for the Platts 62% IODEX Fe (ICE: IOR) used in the various pricing models are not disclosed in public documents.

Click to enlarge
Cash commodity price for Iron Ore, 62% Fe CFR Tianjin China. Units: $ per metric ton. Source: The Steel Index via WSJ Market Data Center.
Pricing in the Asian market is more spot oriented. As per the 10-K:
Pricing for our Asia Pacific Iron Ore Chinese customers consists of shorter-term pricing mechanisms of various durations up to 45 days based on the average of daily spot prices that are generally associated with the time of unloading of each shipment. Pricing with our Japanese and Korean customers is generally consistent with the inputs used with our Chinese customers, but the pricing inputs are fixed before shipment.
The pricing at "unloading of each shipment" would seem to add a risk factor in selling to China. If the prices plunge during the time it takes to ship, then the transaction could result in a loss. At least with Korea and Japan, you know the price before shipping.

Click to enlarge
CLF estimates in 2016 that for a $50 increase in the price of hot-rolled steel above $450 per short ton, revenue for U.S. iron ore will increase $2.25 per ton and decrease $1.75 per ton for a decrease of $50 per ton below $450. For example, assuming Platt IODEX of $30 and $500 hot-rolled steel, U.S. iron ore revenue would be an estimated $73.25-75.25. If hot-rolled steel instead decreases to $400 per ton and the same Platt IODEX of $30, iron ore revenue is estimated to decrease to $69.25-71.25

Click to enlarge
Cash commodity price for Steel, Hot-Rolled Coil US, FOB Midwest Mill. Units: $ per short ton. Source: The Steel Index via WSJ Market Data Center.
The latest Platts 62% Fe iron ore number is about 55.50 and the latest hot-rolled steel number is $421. This latest data would indicate about $74-76 revenue per U.S. ton and $40-42 revenue per Asia Pacific ton. There are other variable that also need to be factored into the prices, but it gives investors "ballpark" figures.
So far this pricing seems fairly simple. It is NOT. The actual final pricing is complex. The pricing contracts use base rates and various weighted variables that differ from customer to customer. These variables are forecasted estimates that get adjusted when final annual data is determined. These adjustments are sometimes not minor. First quarter 2015 revenue was adjusted downward $21.9m after final figures became available. Therefore, it is important for investors to remember that 1st Q results may not accurately reflect revenue and earnings. The quality of the reported figures improves as the year progresses. Refunds or additional payments are made by CLF and customers. One of the variables is the price of rolled-steel. So effectively, CLF assumes part of its customer's risk of steel price declining, but it also benefits from increasing prices.
On March 14, the company announced the restarting of Northshore Mine, "The Company is taking such action based on its domestic customers' demand for iron ore pellets and consistent with its previously announced production plans for the year." While this is a positive, it does not mean that they are increasing guidance for production and sales for 2016.
CLF gave guidance for 2016 of production of 16m tons of iron ore in the U.S. with sales of 17.5m tons of iron ore pellets. For the Asia Pacific market, production and sales of 11.5m tons are expected. Domestic cash costs of goods sold were expected to be $60-65/ton and Asia Pacific at $30-35/ton. The Asia Pacific figures were based on an Australian dollar exchange rate of $0.69. For every $0.01 increase in the exchange rate, it would add about $6m to the costs of goods sold. Currently, the exchange rate is $0.75, which would add $36m to the annual cost of goods sold. A stronger Australian dollar by itself is a negative for CLF.
First quarter results may disappoint some investors due to the stronger Australian dollar in the quarter, but some investors are hoping for an announcement regarding a new customer for their newly developed DR-grade pellets. There is chatter that the potential new customer is Nucor Corp. (NYSE: NUE). In addition, earlier in the year results could be adjusted to reflect changes in pricing as noted above.
Conclusion
Instead of buying CLF common stock investors should also consider buying their high yielding bonds and purchasing out of the money 2018 call options. The combination would be somewhat similar to owning a high yield convertible bond. These are risky investments but warrant consideration by investors' improvement in the steel industry.
Disclosure: I/we have no positions in any stocks mentioned, and no plans to initiate any positions within the next 72 hours.
I wrote this article myself, and it expresses my own opinions. I am not receiving compensation for it (other than from Seeking Alpha). I have no business relationship with any company whose stock is mentioned in this article.