Even though Caterpillar (NYSE:CAT) revised down its guidance for 2016 and still faces harsh macroeconomic conditions - including weak commodities markets, China's economic woes, and stronger U.S. dollar - the company's stock bounced back by close to 12% over the past month. Based on CAT's recovery, have the circumstances changed so dramatically in its favor? To answer this question let's take a look at the three C's: Commodities, China and Currencies.
Commodities
The major mining commodities haven't been doing well in the past couple of years, but the sentiment has slightly shifted over the past few weeks: Prices of oil, copper, precious metals and iron ore have all rallied, which also helped pull up shares of Caterpillar. The chart below shows the relation between CAT and oil prices over the past year. As you can see, Caterpillar's stock is stronger correlated with the price of oil - the linear correlation over the period of the percent changes is 0.49, which is a mid-strong and positive correlation.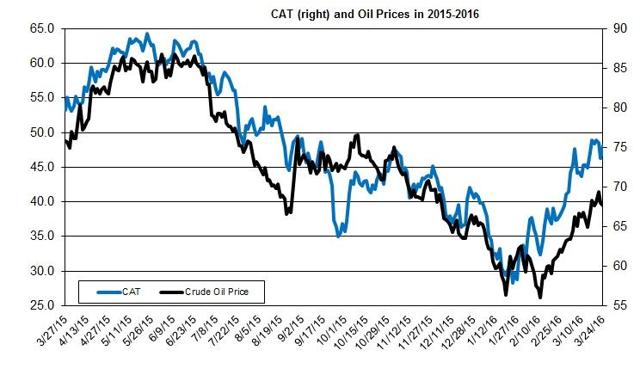 Source: EIA and Google finance
For oil, the recovery seems to be related to devaluations of the U.S. dollar (more on that below), shift in market sentiment and slow fall in U.S. oil production. While production is starting to come down, output is still elevated. And with Iran still aiming to ramp up its production, it will be hard to see the fall in total global production in the near term. Therefore, while oil is up for the year, prices could resume their descent in the coming months. For other commodities such as copper, which Caterpillar's revenue indirectly depend on - as it relates to its customers, could also change course and start falling again. Especially as the U.S. dollar starts moving back up again.
Currencies
The U.S. dollar depreciated against major currencies over the last two months as the market doesn't believe the Fed will raise rates more than once this year - even though the last dot plot chart suggested two rate hikes. But as major central banks take more steps towards devaluing their currencies, the relative value of the U.S. dollar is likely to appreciate: A few weeks back, the BOJ reduced its cash rate to negative territory and earlier this month the ECB announced of more stimulus that includes reducing cash and deposit rate again and augmenting QE program by a third. All awhile the FOMC could still raise rates at least once this year. The market sentiment could slowly change if the upcoming non-farm payroll report shows better than expected results that will raise the chances of rate hike in June. Last year the unfavorable changes in currencies - mostly against the Euro - reduced total sales by $1.7 billion compared to 2014. So as the U.S. dollar starts to pick up again, it's likely to adversely impact CAT's revenue and pressure down commodities prices. But I would like to put an asterisk on this assessment: While revenue are adversely affected by a stronger U.S. dollar, the operating profit benefited from the stronger dollar: In 2015, operating profit rose by $276 million compared to the previous year. The company's explanation is:
"Although the strong U.S. dollar had a negative impact to our sales, our sizable manufacturing presence outside of the United States resulted in a favorable impact to costs and operating profit."
Thus, CAT may actually experience a positive impact on its revenue from the weaker dollar in Q1 and a negative effect on its operating profits. But for investors the impact of a stronger U.S. dollar on CAT will likely to be a net negative primarily because of its relation to commodities.
China
Finally, China recently released its 5 year plan: While it wasn't as good as some had anticipated it was good enough to suggest that China isn't likely to face an economic slowdown this year. With a growth rate target of 6.5-7% over the next five years, the country aims to maintain high growth that will be partly obtained through fiscal stimulus - by targeting a higher budget deficit than last year of 3% -- and expansionary monetary policy. China has also been slowly devaluing the RMB against the U.S. dollar. But the largest consumer of metals (e.g. iron ore and copper) still faces problems that could impede CAT's progress including huge debt load, growing competition from other Asian countries, and challenges in transitioning the economy from investment oriented to consumer oriented (just to name a few).
In conclusion…
Caterpillar's recovery may not last long considering the company is still on course to show lower revenue and face harsh macroeconomic conditions. The recent rally is mostly related to the rise of commodities prices and the weaker dollar. But as the Fed moves towards tightening its monetary policy, and other central banks aim to keep devaluing their currencies; Caterpillar is likely to suffer from this shift. For more see: Why Caterpillar isn't pulling up?
Disclosure: I/we have no positions in any stocks mentioned, and no plans to initiate any positions within the next 72 hours.
I wrote this article myself, and it expresses my own opinions. I am not receiving compensation for it (other than from Seeking Alpha). I have no business relationship with any company whose stock is mentioned in this article.