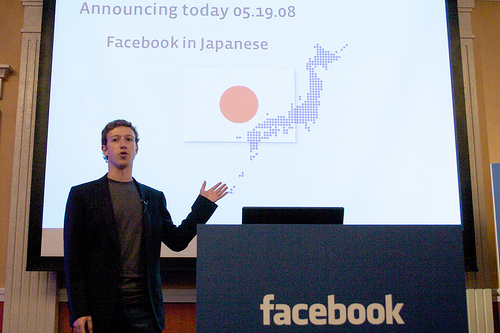 I've written several articles on Facebook (NASDAQ:FB), all of which have been seasonal or risk management strategies (see them here, here, and here). I have not yet written a "long case" or "short case" article until today. Luckily, at least one of my articles has made a difference: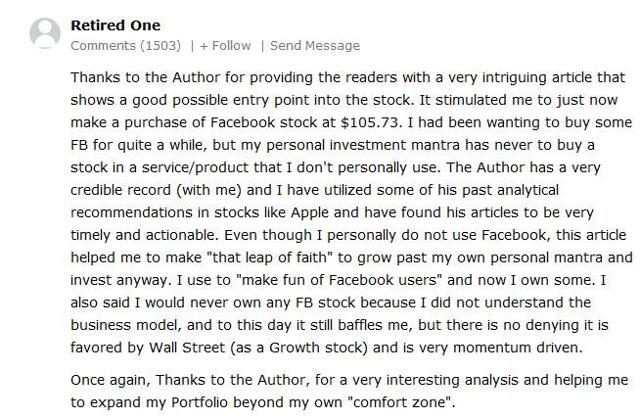 Click to enlarge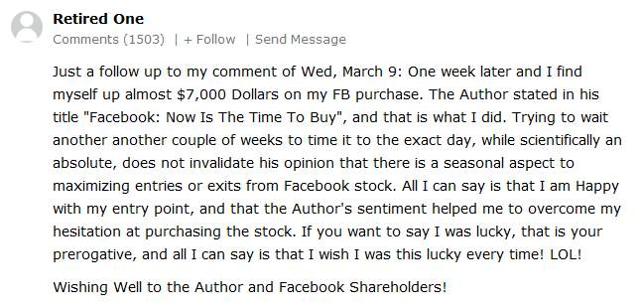 Click to enlarge
I hope that this article also can make a difference. I don't want to see anyone go short on FB without an adequate reason. Recently, a trending article on Seeking Alpha has - in my opinion - presented a weak case to short FB - I wish to give you a dissenting view.
In Seattle Contributor's (SC) recent article on Facebook, the case was made that FB is overvalued and that investors should sell or even short the stock. Although I read the article in full, I was not convinced that FB is "overvalued." Assuming "overvalued" means "overpriced," SC's article posits that the fundamentals of Facebook as a company do not back the valuation of the stock.
SC's main arguments come down to two statements:
$332B (Facebook's valuation) is a big number.
Growth is slowing.
In this article, I will explain why neither of the above imply that FB is overpriced.
Mistake 1: True Growth
SC's article primarily focuses on the slowing growth in the user base. User base growth necessarily must slow because it is a logarithmic function capped by a practical maximum number of users. The fact is that a couple of years ago, you can essentially state without error that everyone with an internet connection who wants to use Facebook is already using Facebook - this is well known.
To focus on the slowing and ultimate capped growth in users tells us nothing about the future of Facebook except that they've dominated the social media market. Other measurements of growth are conveniently ignored. If I were to look at the growth of Facebook, I would check the most important fundamentals for the company, which we will do in our next section.
Mistake 2: Confusing Users for Clients
Facebook does not make much money from its users. The vast majority of its revenue comes from advertisers. The user base is more or less set at the current levels, but the number of companies moving into digital marketing is a growing demographic.
Facebook is always the best place to begin advertising. I said it when I was a marketer, and I'll say it again, "If your ad doesn't work on Facebook, it won't work anywhere." In my experience, Facebook beats any other advertising medium on ROI for the advertiser - to me, this alone is a perfect explanation as to why FB continues to rise while Twitter (NYSE:TWTR) continues to fall.
The measurement for growth should not be the user base but rather statistics related to cash flows, which come from advertisers. If I were to perform a growth analysis on Facebook, I would look at the following statistics and their trends:
Free cash flows
Invested capital
Sales
Common equity
Common shares outstanding
Cash return on invested capital
Let's look at these one by one: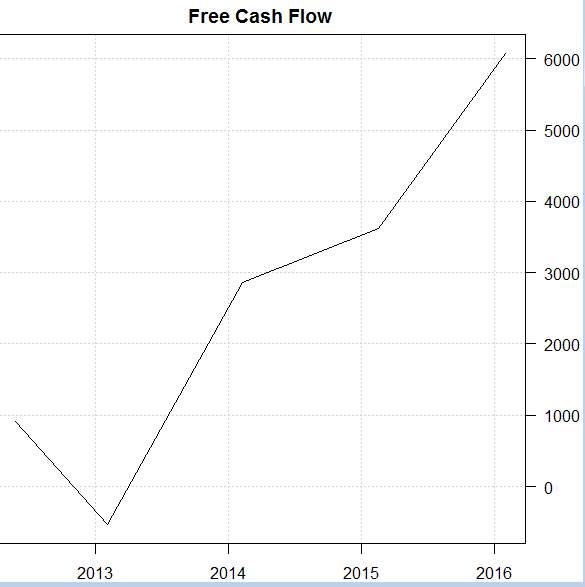 Free cash flow is on the rise and does not appear to be slowing. We should take this as evidence that Facebook is improving its ability to draw money from advertisers.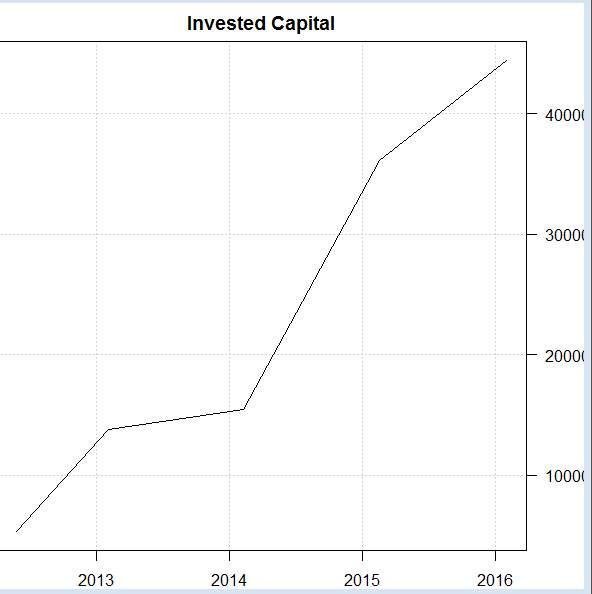 That "big" $332B valuation includes $45B of invested capital. That's for a company that is basically nothing more than information stored on servers. Facebook is not a small company by any means, and the capital invested is on the rise - it's still in its growth phase, according to this statistic.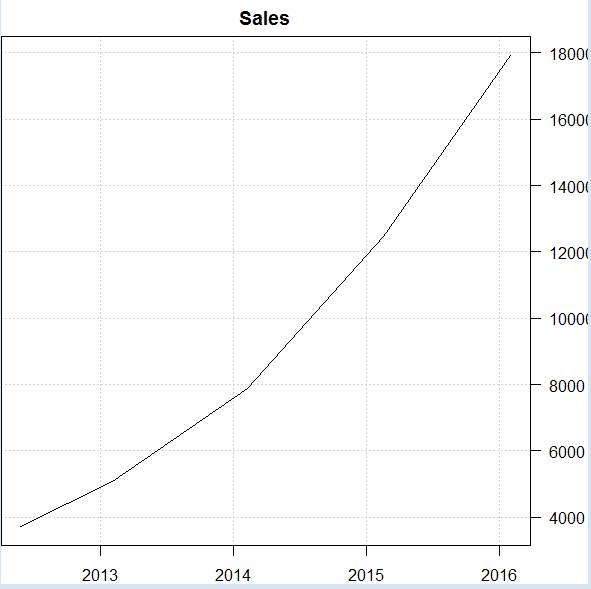 Sales revenue is still growing. The line looks almost exponential. Sales are certainly not slowing.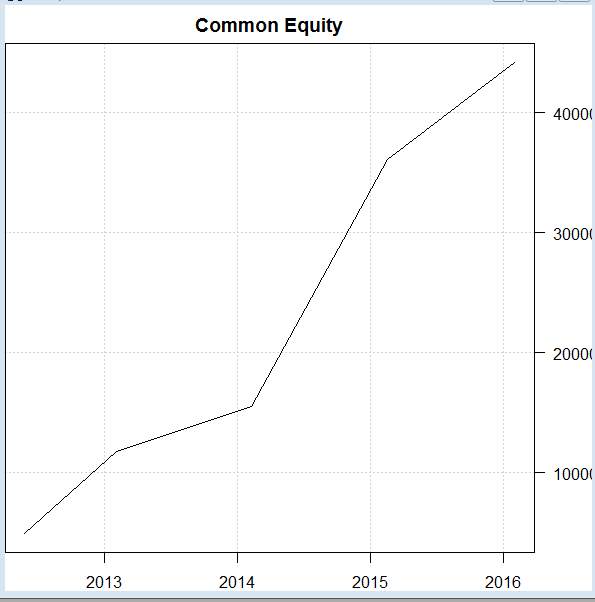 Common equity is on the rise, making the company increasingly safer for its investors in the event of significant losses.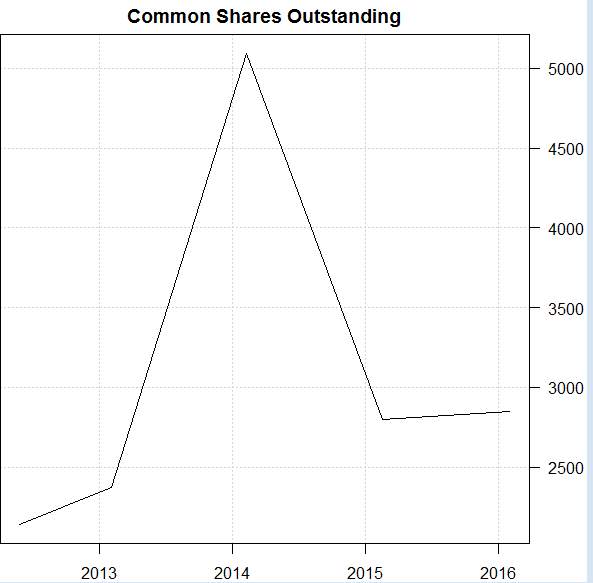 Common shares outstanding have not decreased significantly over the past year, implying that the rise in FB's price is unrelated to any buybacks. That is, the rise in stock price is likely tied to true fundamentals rather than artificial inflation at the hands of the company. The fact that shares are increasing at the same time the stock price increases implies that FB's share price growth should be faster than what we've seen over the past year.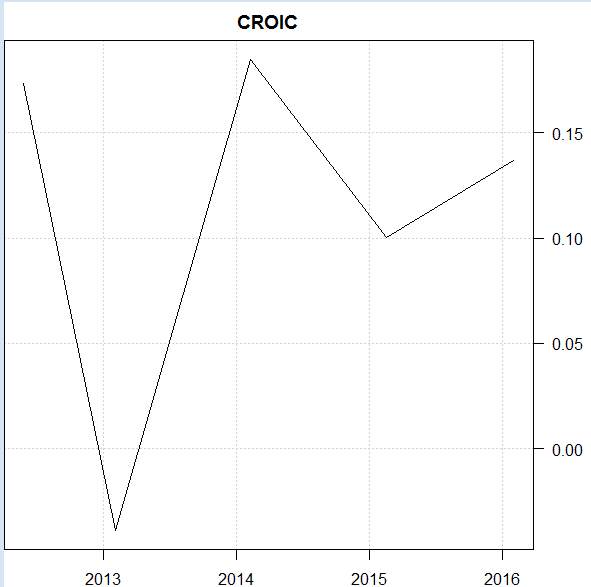 CROIC is again on the rise, approaching its all-time high.
Overall, Facebook is growing from all important fundamental aspects. We don't see any "slowing growth," either - at least where it matters. FB is still a "growth stock."
Mistake 3: Equating "Slowing Growth" With "Falling Prices"
A company that slows in growth doesn't necessarily fall. Most of the big players in each industry start as a growth stock and matures as a value stock. I believe this is what is happening with Apple (NASDAQ:AAPL).
Slowing growth is not a short opportunity. It is rarely a sell opportunity. Buying a growth stock with slowing growth is an opportunity to buy a future value stock at a discount.
Mistake 4: Facebook's Monopoly
A company with a monopoly can see slowing growth without feeling any pain. It can even see negative growth without much impact. A monopoly can keep a company afloat through a recession.
Facebook has a monopoly. They monopolize two things: social media and digital advertising. Because they monopolize the former, they can monopolize the latter.
Shorting a company with a monopoly is a bad idea. Selling a monopoly growth stock just because growth slows is a bad idea. You only short a monopoly growth stock when it begins to lose its monopoly.
Conclusion
Facebook is not slowing in growth. Facebook is still hastily growing. Facebook is not a short.
Learn More about Earnings
My Exploiting Earnings premium subscription is now live here on Seeking Alpha. In this newsletter, we will be employing both fundamental and pattern analyses to predict price movements of specific companies after specific earnings. I also will be offering specific strategies for playing those earnings reports.
Our last newsletter looked at the upcoming earnings for ConAgra Foods (NYSE:CAG).
Request an Article
Because my articles occasionally get 500+ comments, if you have a request for an analysis on a specific stock, ETF, or commodity, please use @damon in the comments section below to leave your request.
Disclosure: I/we have no positions in any stocks mentioned, and no plans to initiate any positions within the next 72 hours.
I wrote this article myself, and it expresses my own opinions. I am not receiving compensation for it (other than from Seeking Alpha). I have no business relationship with any company whose stock is mentioned in this article.