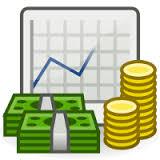 The S&P 500 has turned in three consecutive quarterly earnings decline figures since Q2 2015. Q1 2016 will likely be the worst yet with March 24, 2016 FactSet estimates calling for a -8.7% blended earnings decline and a -1.1% revenues decline. It is hard to imagine that the US is not in a GDP Growth recession with those kind of numbers. The Q1 2016 US GDP Growth chart from the Atlanta Fed shows a very worrisome trend.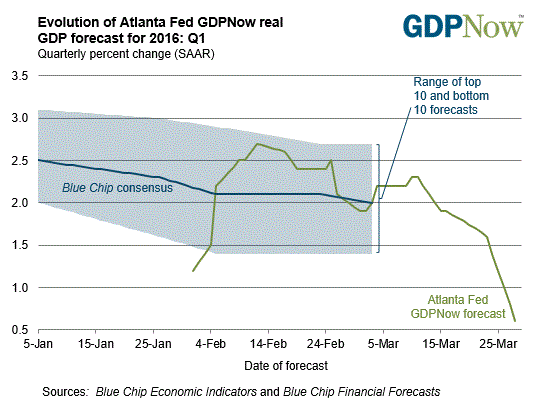 The drop off in the Atlanta Fed's forecast for Q1 2016 to +0.6% has been dramatic. It is even more worrisome when you consider that the Atlanta Fed has been the most accurate predictor of GDP Growth within the Federal Reserve system in recent years.
One explanation of the GDP Growth not forecast as negative yet could be that the US GDP Growth estimate is in terms of "real" GDP Growth. This is an inflation adjusted measure that reflects the GDP in terms of Base Year prices. In other words, it may be higher than the nominal GDP when there has been significant deflation. In this case there has been deflation in commodities prices, although the Core PCE Index (less food and energy) came in at +1.68% year over year in the February report. Overall there was not deflation as the headline number was still +0.96%. Hence a five consecutive quarter revenue decline in the blended S&P 500 quarterly result should translate into negative GDP growth. This presumes that the S&P 500 revenue results reflect the overall US economic results.
Now we need to look more specifically at the components of GDP Growth. In 2015 69% of the figure was from Personal Consumption Expenditures. We already know this was positive during the part of Q1 2016 that has been reported so far by roughly +1%. The February 2016 Durable Goods data of -2.8% indicate that this component of consumption may be in danger of going negative in Q1 2016. The one year chart below shows that Durable Goods may have found a near term top; and Durable Goods could be headed downward in the near term.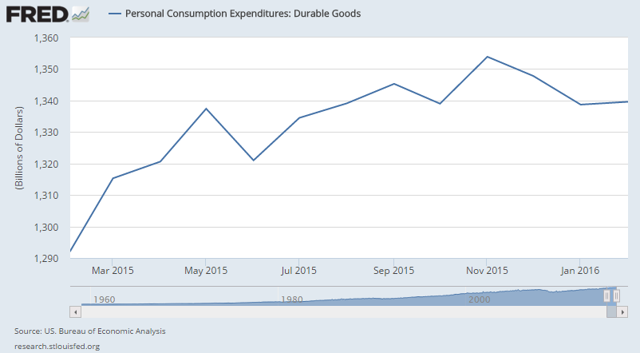 Click to enlarge
The January Durable Goods number was a much better +4.2% year over year.
The Non-Durable Goods have been looking weak too; and they seem to be trending downward (see the one year chart below).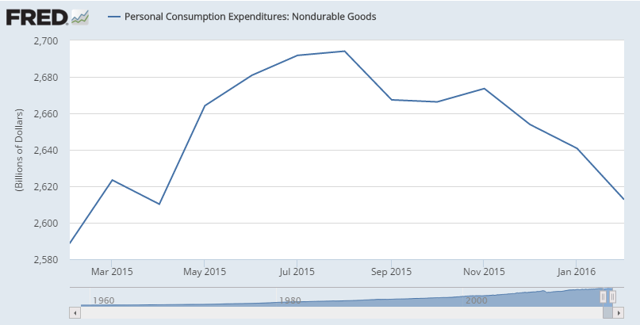 Click to enlarge
More than that the five year chart of Non-Durable Goods shows a strong Double Top technical formation. This makes it easy to believe that "technically" the US may see its Non-Durable Goods component of GDP drop dramatically in the very near future.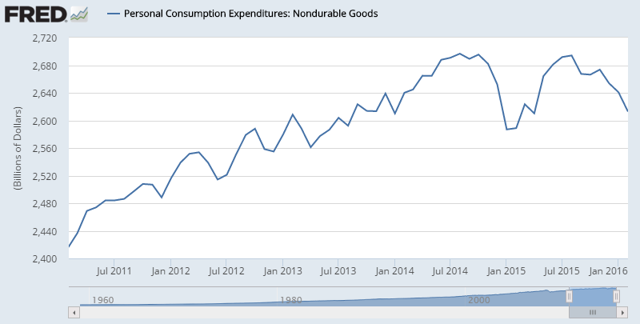 Click to enlarge
The Services component of Personal Consumption Expenditures has been trending strongly upward for the last five years. The Core Services component of PCE was up +3.8% in January 2016 and +1.6% in February 2016. The February 2016 data indicate that this area may be weakening.
Business Investment is the next component of GDP. It was about 17% of the GDP in 2015. Mostly it consists of purchases companies make in order to be able to produce consumer goods. Simple replacement purchases don't count toward GDP Growth. To be counted purchases have to add to the overall total.
Much of Fixed Investment is things such as business equipment, software, capital goods, and manufacturing. Commercial real estate construction that adds to the overall total of commercial real estate is a small component. Private domestic fixed investment fell -0.41% in Q4 2016. This kind of situation often leads to no or negative productivity gains. This does not help GDP growth.
New residential real estate construction is counted. New Residential Real Estate Construction seem to be up in 2016 so far. February 2016 Housing Starts were +30.9% above the Housing Starts in February 2015. Resales are not counted. Change in Private Inventory is also included. Private Inventories fell nearly -0.5% in Q4 2015. They had fallen -0.71% in Q3 2015. With mostly disappointing Christmas season retail sales, inventories are still high; and the likelihood of a further fall in Q1 2016 is high.
Government Spending was about 17% of total GDP in 2015. The governments' budget (federal, state, and local) for FY2016 is approximately $300B larger. I am not sure exactly how much of this increase will fall into Q1 2016; but logically the increase might amount to $75B per quarter.
Net Exports of Goods and Services was about 3% of total GDP in 2015. The chart below of the balance of International Trade gives a good idea of what may have happened in March 2016. Petroleum prices were up on the month.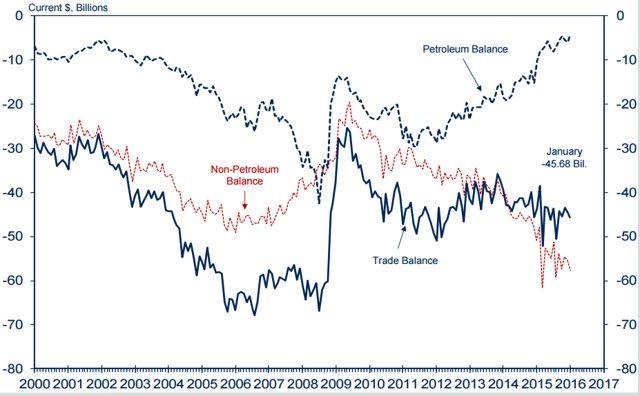 Click to enlarge
As readers can see the Petroleum Balance had been getting smaller as prices went down. Prices went up in March. In addition US petroleum production has been falling lately. That means the US will have to import more oil as US production continues to fall in 2016. Therefore petroleum should act to enlarge the negative balance of trade for the US in March. Meanwhile the US has been increasing its imports versus exports in non-petroleum goods (see chart above). If this trend continued in March 2016 (or just stayed flat), then the US trade deficit probably will be large in March 2016; and that should subtract significantly from the US GDP Growth for Q1 2016.
After all of the above I still haven't been able to quantify everything. I suspect no one will be able to without "harder" numbers to work with. Still looking at the various data points was instructive. Both Durable Goods and Non-Durable Goods are showing some weakness. This could worsen in March 2016. The US Trade Deficit seems sure to widen considerably in March 2016.
Running counter to those bad points, new residential real estate construction seems to be growing. Government Spending is also expected to be larger in FY2016. All told the bottom does not at this time look like it's about to fall out. However, several of the metrics have charts, which look technically very ugly. If we get a GDP decline in Q1 2016, the charts say that we could easily see a larger GDP decline in Q2 2016. With the -8.7% earnings decline forecast for the S&P 500 for Q1 2016 as of March 24, 2016, it is easy to believe we will see a GDP decline in Q1 2016. Several charts seem to indicate that this would be followed by another decline in Q2 2016. Two consecutive negative GDP Growth quarters would be a textbook definition "recession". The balls are still up in the air. However, investors will want to watch this situation closely. The announcement of a "textbook definition recession" tends to send US markets lower based on market psychology alone. Watch the SPDR S&P 500 ETF (NYSEARCA:SPY) closely. It should be a good overall indicator for a substantial down side movement.
NOTE: Some of the fundamental fiscal data above is from Yahoo Finance.
Good Luck Trading/Investing.
Disclosure: I/we have no positions in any stocks mentioned, but may initiate a short position in SPY over the next 72 hours.
I wrote this article myself, and it expresses my own opinions. I am not receiving compensation for it (other than from Seeking Alpha). I have no business relationship with any company whose stock is mentioned in this article.