With the stock market going measurably higher over the last couple weeks, I've been looking through my dividend watch list and my dividend portfolio for names I can trim.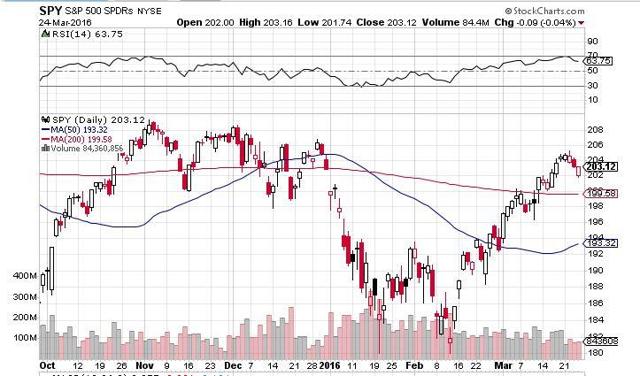 Click to enlarge Courtesy of Sharp Charts.
Back when the S&P 500 was lower, I was a bit more enthusiastic about buying. Today I want to look at another stock that I think should be trimmed, McDonald's (NYSE:MCD).
Let me start with a little disclosure. I sold off my holdings of McDonald's in early 2015 when the company was hit hard, quarter after quarter, by drops in informal outside dining. McDonald's had changed its CEO after a couple years of underperforming comparables. The new CEO, Steve Easterbrook, spoke of a "turnaround," but at the time that was yet to be proven, so I just got out.
Since then, shares have gone up some $30 per share and the dividend was raised by 4 cents. I missed out on both of those. However, as Wayne Gretzky once said, it's not about where the puck has gone, it's where the puck is going, and I believe investors would be wise to take some chips off the table. This article explains why.
The turnaround
The "turnaround" McDonald's has been engaged in has largely been a success. Some of this was due to new management's actions, and some of the turnaround. Spending in quick service restaurants across the globe is expected to increase 2% per year for the next five years, as opposed to several quarters of declines through 2013 and 2014. That will put wind in McDonald's sails. In the fourth quarter, McDonald's increased sales 5% by constant currency (-4% in Dollar terms), operating income increased 16% year-on-year in constant currency terms, and EPS grew 26% by constant currency (16% in Dollar terms).
This 'turnaround' involved improving same store sales in some key markets, many of which had negative sales momentum because consumers were either not eating out of the house as much or were choosing places other than McDonald's.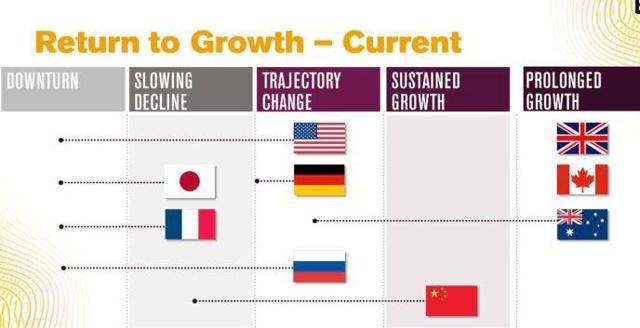 Click to enlarge
Improvement in most of the big markets, including a return to same-store sales growth in Germany, Russia, China and the United States. Graphic courtesy of McDonald's Investor Relations.
So what happened? Partially, these better results are here because 'informal eating' outside the house has finally begun to recover. However, management under Easterbrook has also done some wise things, first of which was introducing all-day breakfast. Management accelerated franchising, with franchise stores going from 81% of stores 93%. Also, McDonald's has finally started addressing some of the concerns about food integrity. Antibiotics were removed from the chicken supply. That's a start, although in this category I believe that McDonald's has more work to do before consumers really get on board. Finally, McDonald's began focusing on customers "feeling good" about their food, and are working on quality issues, such as cooking buns a little longer.
This all makes a difference. In 2016, management expects sales growth of 3%-5%, operating income growth of 5%-7% and return on invested capital in the mid-teens. So, McDonald's has turned itself around, but that doesn't mean the stock is a buy right now.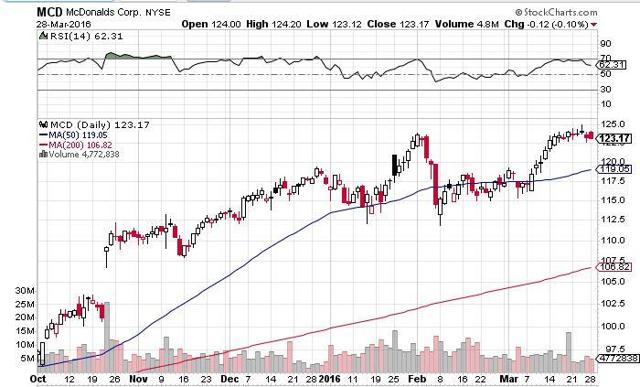 Click to enlarge
Courtesy of Sharp Charts.
McDonald's is up some 28.5% since just October 1 of 2015. That says a lot. In fact, throughout 2013 and 2014 McDonald's stock was resilient despite a downturn in fundamentals. Once it became obvious that the turnaround was working, the stock leapt higher.
Right now McDonald's trades at a frothy 24 times trailing earnings. That's very high, especially when one considers where it's traded: According to data from FAST Graphs, McDonald's has averaged about 18 times earnings for the last ten years. That means a premium of about 33%. The dividend is at 2.9%, and steady dividend growth has kept that yield decent despite the upturn in share price.
McDonald's has indeed done well turning itself around, but does this warrant such a substantial premium? I don't believe so. At 24 times earnings I expect higher top line growth, bottom line growth and dividend growth than what McDonald's is offering, even after a successful 'turnaround.'
Conclusion
If you've been long McDonald's for the last leg up, then congratulations. Chances are you have some nice capital gains plus years of consecutive dividend hikes. McDonald's has, once again, demonstrated that it is not wise to bet against this company in the long run. I get that, and I fully intend on watching this company closely in the future. However, at these prices, hard as it may be, I recommend taking at least a little off the table.
Disclosure: I/we have no positions in any stocks mentioned, and no plans to initiate any positions within the next 72 hours.
I wrote this article myself, and it expresses my own opinions. I am not receiving compensation for it (other than from Seeking Alpha). I have no business relationship with any company whose stock is mentioned in this article.