Founded in 1928 Genuine Parts Company (NYSE:GPC) is a leading distributor to four primary markets: - Automotive (52% of sales), Industrial (30% of sales), Office Products (13% of sales), and Electrical (5% of sales).
Investment highlights:
Leading distributor in diversified end markets
Proven track record of steady growth
Solid balance sheet with meaningful free cash flow generation
Opportunity for market share growth in fragmented industries
Large customer base built upon long-standing relationships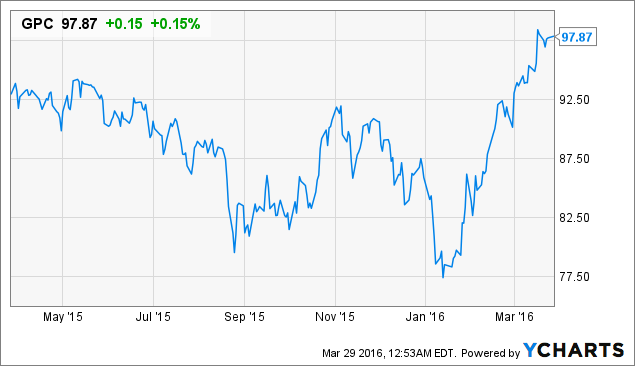 GPC has enjoyed a strong year to date share price performance but still looks reasonably priced at 19.6x forward PE ratio given the EPS growth profile the company is expecting and the stable nature of the business.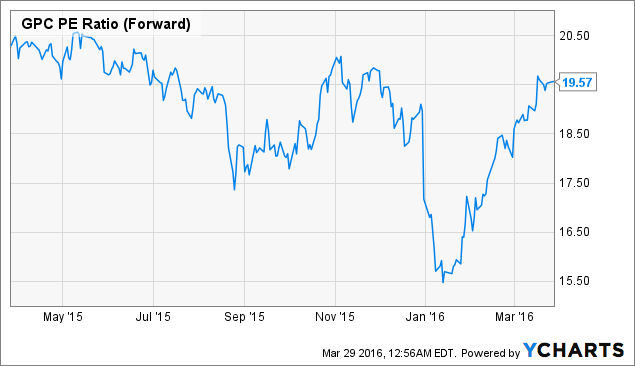 GPC PE Ratio (Forward) data by YCharts
With a dividend yield of 2.5% and a payout ratio of only 50% GPC is a great opportunity for yield oriented investors. In fact, the company has increased their dividend for an impressive 60 consecutive years, as seen in their most recent IR presentation.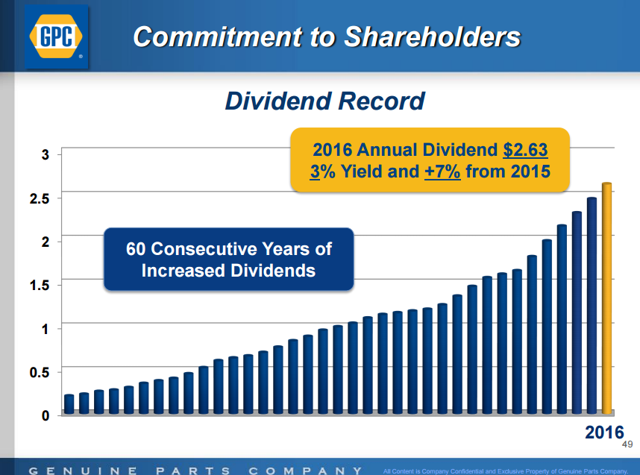 Click to enlarge
But what will continue to drive dividend increases going forward? How will the company have another 60 years of consecutive increases?
There are several key drivers of product demand, which include auto parts for older vehicles, and marketshare growth for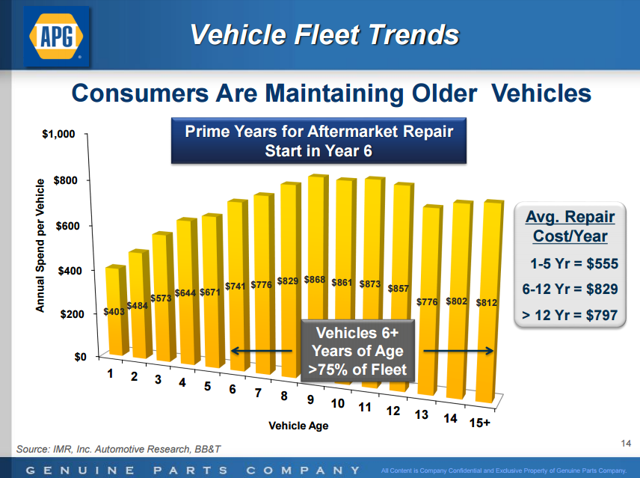 Click to enlarge
As you see in the above chart, older vehicles require more money per year on repairs than newer vehicles - approximately $800 per year for 6+ year old cars. In the next chart you will notice that the average age of vehicles on the road is going up, which suggest increasing demand for GPC auto parts going forward.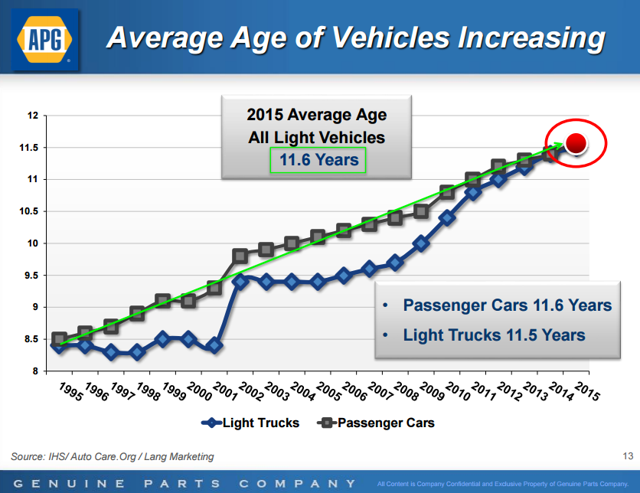 Click to enlarge
In addition to the above favourable trends, GPC also outlined the benefits of their strong balance sheet which include:
A large cash position of $212 million (December 31, 2015)
Prudent working capital management
Solid after-tax return on invested capital (NASDAQ:ROIC) - 16.3% ROIC for 12-Mos ending December 31, 2015
High after-tax return on assets (ROAA) - 8.7% for at December 31, 2015
Management is comfortable with capital structure - 16.5% total debt to total capitalization at December 31, 2015
In conclusion, the combination of high earnings growth, a reasonable PE ratio, 50% payout ratio, strong demand drivers in the auto sector (their largest division), and a strong balance sheet, GPC represents a great dividend yield opportunity.
Disclosure: I/we have no positions in any stocks mentioned, and no plans to initiate any positions within the next 72 hours.
I wrote this article myself, and it expresses my own opinions. I am not receiving compensation for it (other than from Seeking Alpha). I have no business relationship with any company whose stock is mentioned in this article.