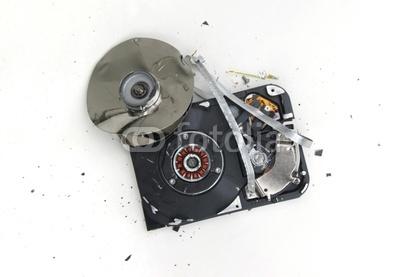 Seagate (NASDAQ:STX) has drawn a considerable investor base from those seeking current income for retirement. With a dividend yield of 7.5%, the stock can look very attractive to many. However looks can be deceiving. Seagate's financial performance is deteriorating at a rapid pace. What might look like a "safe" dividend today could be anything but in the next 6-12 months. Let's review some of the common misconceptions bulls point to as reasons to own the stock.
Misconception 1 - The dividend is affordable and safe
The current dividend costs the company ~$750M per year. The best way to determine whether Seagate can afford this payout is to calculate the company's free cash flow. This measure calculates how much cash the company generates from its business after making necessary investments in capital expenditures each year. During the past 12 months, Seagate generated $1.1B in FCF. So clearly $750M is less than $1.1B, so Seagate generates enough cash today from its ongoing operations to cover the current dividend with cash left over it can use to either buyback stock, repay debt, make acquisitions or just park on the balance sheet for use at a future time. However investors should not take comfort in the current payout ratio of 68%. Seagate's FCF is not at all steady. In fact, since margins peaked in 2012, FCF is down a staggering 58%.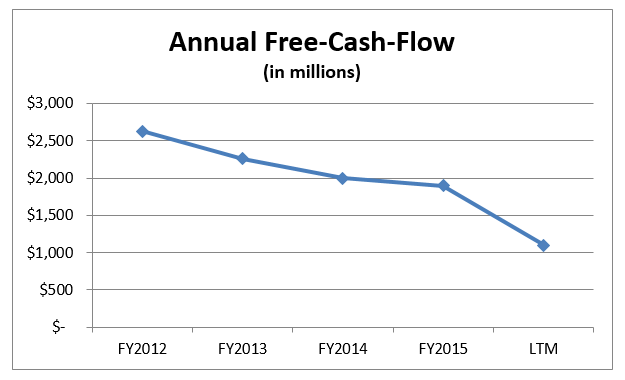 The rate of decline this fiscal year alone is staggering - from $1.9B in FY2015 to $1.1B currently. This is principally the result of lower margins and significantly lower revenues.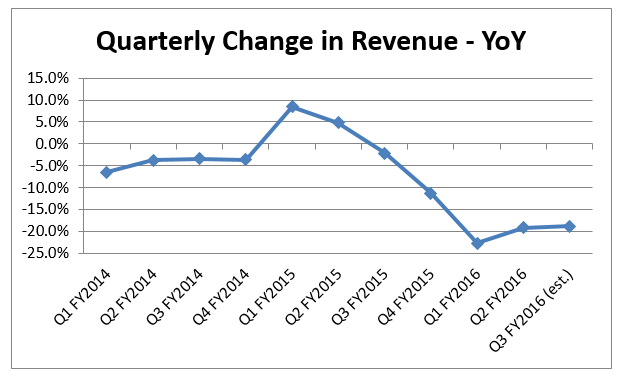 Here you can see the rapid decline in Seagate's business over the past several quarters. Competitor Western Digital (NASDAQ:WDC) also is experiencing significant top-line burn, though recent performance has bested Seagate by several percentage points. The rapid decline in sales is being led by the consumer (Client Compute) segment.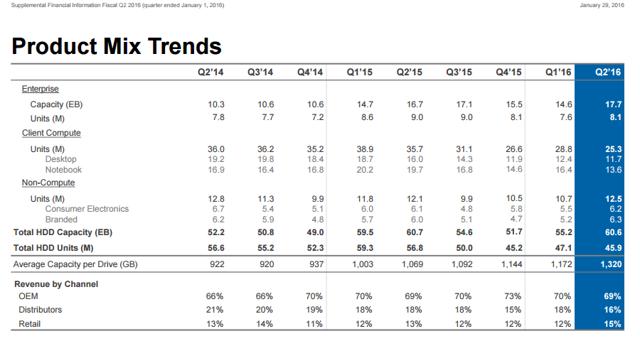 Click to enlarge
As you can see from this data pulled from Seagate's quarterly earnings supplement, client units sold fell by more than 10 million year-over-year in the December quarter. Ouch. That is worrisome. This alone equates to ~$575M in lost revenue for the quarter (assuming a $55 average drive price) and $130M in gross margin (assume 23% gross margin). Extrapolate that for an entire year and the loss of the PC business to SSD and mobile only users seriously calls into question the size of the current dividend. It would be a mistake for investors to just assume that the declines end here - I expect sales losses for HDDs to continue as NAND flash continues to decline in price and as fewer consumers purchase PCs.
The current dividend payout ratio (dividend/free-cash-flow) is 68%, so on a last 12-month basis yes the dividend is safe. But one cannot use that ratio to evaluate the safety of the dividend going forward. After all, the company's own guidance for the March quarter calls for another 19% drop in revenues. That will only increase the payout ratio further. This should continue until such time as it reaches 100%. At that point Seagate likely bites the bullet and cuts the dividend, by at least half I expect. It will then have to focus on reducing its debt burden, which will be too large for the significantly smaller Seagate.
Misconception 2 - Seagate's enterprise business will save the company
Enterprise total capacity sold is increasing but the actual number of drive sales is not. We know that Seagate had trouble with its nearline storage product in Q1 FY2016, which somewhat abated in Q2. The company should have a fully competitive product lineup very soon. However that likely would not have been enough to grow the total number of drives sold. The fact remains that flash is coming for enterprise as well. If you listen to the earnings calls for companies like EMC (EMC), Hewlett-Packard Enterprise (NYSE:HPE), Pure Storage (NYSE:PSTG) and NetApp (NASDAQ:NTAP), you would know that sales of all-flash storage arrays are growing exponentially. Traditional storage arrays are on the decline and will likely continue to see declining sales for the foreseeable future.
Misconception 3 - Seagate's non-HDD businesses will save the company
Seagate does have a billion-dollar business that does not involve manufacturing HDDs. It sells enterprise storage systems (the acquisition of Dot-Hill last fall), flash drives, flash controller technology and other miscellaneous. Seagate projects this category will grow at ~10% this year. So $1B in sales could hit $1.1B. That's a solid growth rate, but I fail to see how it will offset the declines in the HDD business anytime soon and stabilize operations. The non-HDD business is only 9% of total revenues. That is just not enough to stabilize the business anytime soon when the other 91% of sales are dropping mid- to high-teens. Investors banking on Seagate's new super fast enterprise SSD to save the company will be sorely disappointed. The competition in flash drives is intense. And Seagate does not have its own in-house flash supply, so it needs to buy it from someone else, who then marks up the price to make a profit. That means Seagate will have a margin disadvantage versus Samsung (OTC:SSNLF), Micron (NASDAQ:MU), Intel (NASDAQ:INTC), SanDisk (SNDK), Toshiba, etc. on every unit they sell. Also, sales of any one product at Seagate is not likely to move the needle a great deal, HDD, flash or otherwise.
Misconception 4- Seagate deserves its current trading multiple
Seagate is trading at 12.2x current year's EPS, the highest that ratio has been in the past three years.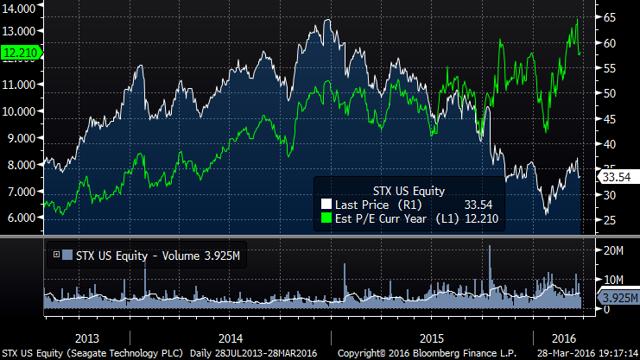 Click to enlarge
A 12x earnings multiple is about as high as an investor should feel comfortable owning any technology hardware company as they can be highly cyclical or in Seagate's case vulnerable to new disruptive technologies. The street is currently expecting $2.75/share in earnings in FY2016 (ending June 30) on revenues of $11.34B, which would be down 33.2% and 17.5%, respectively. As of today, street estimates for FY2017 assume revenues stabilize and earnings climb by 35% to $3.71/share. I'm highly skeptical of revenues stabilizing given the secular headwinds facing HDDs. But margins could improve as the company fully integrates its former Samsung operations in China after the MOFCOM decision last fall. While profitability could improve for a short time, the topline pressure will continue. With the uncertainty surrounding Seagate's future earnings potential, it seems a more appropriate trading multiple would be 8x. As you can see, the multiple was as low as ~6.5x in 2013. An 8x multiple would put the stock at $22, or 34% lower than today. It would take four years of dividends to recoup those losses, assuming Seagate can still afford to make the current payout for the next four years, which I do not think it will.
Conclusions
No one can say for certain how much longer HDDs will continue to enjoy widespread adoption in the electronic storage industry. But flash is certainly coming for its lunch money. PC sales weakness appears to be perpetual now versus cyclical in the past. When evaluating the "safety" of the dividend, no investor should look at today's results in isolation when the current topline burn is nearly 20%. The most efficient company in the world could not maintain profitability with that kind of revenue loss. While the current dividend is certainly attractive for income investors, I'd recommend looking elsewhere for yield. Seagate's stock could easily get re-rated to a much lower multiple, which would wipe out multiple years of dividends. The dividend is likely the only thing keeping the stock at this current level. When the cash flow continues to fall, the market will realize a dividend cut is on the table. You do not want to be holding shares when this happens. Sell today and look for yield elsewhere.
Disclosure: I/we have no positions in any stocks mentioned, and no plans to initiate any positions within the next 72 hours.
I wrote this article myself, and it expresses my own opinions. I am not receiving compensation for it (other than from Seeking Alpha). I have no business relationship with any company whose stock is mentioned in this article.