The past one year has been very difficult for Kinder Morgan (NYSE:KMI) on the market due to the weakness in gas and oil prices, with the company losing close to 60% of its market capitalization. However, with the recent recovery in oil prices, Kinder Morgan seems to be making a comeback. In fact, so far this year, Kinder Morgan is up over 22%, with most of the gains coming post January 20 when the resurgence in oil prices began.
More importantly, despite the slide in crude oil prices, it can be seen that Kinder Morgan has been able to put in a resilient performance as far as the distributed cash flow is concerned. For instance, in the last reported quarter, Kinder Morgan was able to post $1.23 billion in distributable cash flow as against $1.28 billion in the year-ago period.
Of course, the company was forced to cut the dividend by 75%, but this move has made it self-sufficient to invest in its growth. Going forward, it is likely that Kinder Morgan will be able to sustain its impressive performance on the market as there are a number of strengths that could drive the company. Let's take a look.
Improving natural gas demand will be a tailwind
Kinder Morgan has the largest network of natural gas pipelines in North America. In fact, natural gas pipelines account for 57% of Kinder Morgan's business as the company moves 38% of the U.S. natural gas consumption. This is shown in the chart below: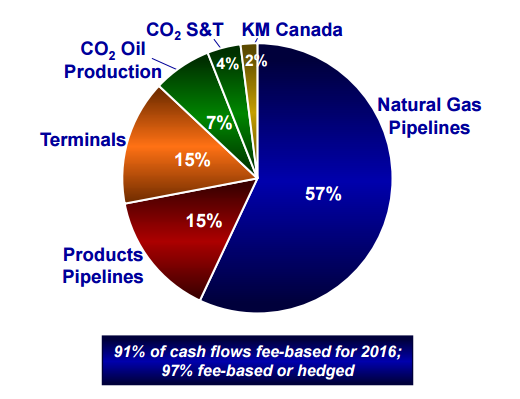 Source: Kinder Morgan
As a result, it is important to take a look at the prospects of the natural gas market going forward as this will be key to Kinder Morgan's financial performance. Now, as shown in the chart above, 91% of Kinder Morgan's cash flow this year will be fee-based, and of this 91%, 74% will be take-or-pay cash flow. This means that Kinder Morgan's fees this year will depend a lot on natural gas demand, and this is good news for investors.
This is because both demand and supply of natural gas in the U.S. is anticipated to increase forward. For instance, in 2016 and 2017, natural gas consumption will increase to 76.8 Bcf/day and 7.3 Bcf/day, respectively. In comparison, the consumption stood at 75.3 Bcf/day in 2015. The increase in gas consumption in the U.S. is being driven by higher consumption by power plants as coal is being replaced as a source of electricity generation.
For instance, this year, the use of natural gas in power generation will increase by 3%, while industrial consumption will go up by 2.2%. Moreover, looking ahead, an increase in coal to gas switching will continue to drive demand for natural gas. This is because coal plants are being increasingly retired across the U.S., which will lead to an increase in natural gas demand.
As reported by AOGR, in 2015:
"Approximately 4,600 megawatts of U.S. coal-fired generation capacity were retired in the first four months of 2015, and another 7,700 mw are scheduled to close in the final eight months as utilities work to comply with the U.S. Environmental Protection Agency's new mercury and air toxics standards (MATS), which took effect in April."
This year, it is estimated that coal-based electricity generation worth 7,300 MW will be shut down. All in all, between 2012 and 2022, approximately 46,000 MW of coal-based power generation in the U.S. will be shut down. Thus, due to an increase in coal to gas switch, Kinder Morgan will see an increase in transportation demand, thereby keeping its fee-based revenue in robust shape.
As shown in the chart given below, both demand and supply of natural gas in the U.S. are expected to grow at impressive rates going forward, which will give a boost to Kinder Morgan: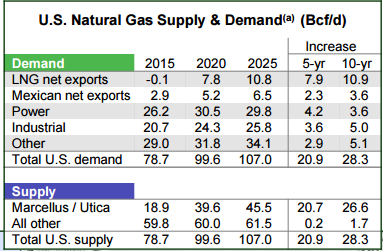 Source: Kinder Morgan
More positives to consider
Thus, as demand for natural gas rises going forward, the inventory levels will start coming down and lead to better pricing on the back of a fall in marketed production. This will have a positive impact on Kinder Morgan's EBITDA performance which has been affected to some extent by the decline in gas prices. More specifically, Kinder Morgan's distributable cash flow changes by $0.6 million for a change of $0.10/MMBtu in natural gas price, which is not very huge.
Now, it is expected that natural gas prices will increase to $2.25/MMBtu this year and then increase to $3.02/MMBtu in 2017. This is considerably higher than the current gas price of $1.85/MMBtu. Thus, as the prospects of the natural gas market improve, Kinder Morgan will be able to improve its distributable cash flow.
Moreover, Kinder Morgan has a strong client base that won't be derailed by the massive drop in gas prices. As shown in the chart below, only 5% of Kinder Morgan's revenue comes from customers who have a credit rating of B- or lower: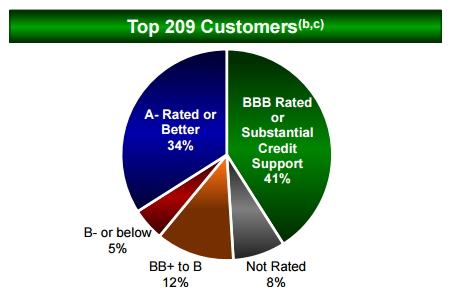 Source: Kinder Morgan
Thus, the possibility that Kinder Morgan's clients will go bankrupt due to low gas prices is not much of a concern. More specifically, only about $250 million of the company's revenue might be under risk from bankruptcies as compared to overall revenue of $14.4 billion in 2015, which is approximately 1.7%. What's more, Kinder Morgan has decided that it will resell its capacity to other customers in case such bankruptcies of customers take place.
Conclusion
Kinder Morgan's rally is sustainable. An improvement in the fundamentals of the natural gas market and the company's robust customer base are tailwinds that will lead to more upside in the long run. Therefore, remaining invested in Kinder Morgan shares for the long run will be a good idea since it will deliver more upside.
Disclosure: I/we have no positions in any stocks mentioned, and no plans to initiate any positions within the next 72 hours.
I wrote this article myself, and it expresses my own opinions. I am not receiving compensation for it (other than from Seeking Alpha). I have no business relationship with any company whose stock is mentioned in this article.