On March 17, 2016, AutoCanada (OTC:AOCIF), one of the largest automotive groups in Canada, which operates 54 dealerships in 8 provinces, announced its fourth quarter earnings report. As highly anticipated by many investors, the result was disappointing. Basic EPS for 2015 dropped approximately 60% from December 2014 attributed to the 43% revenue concentration in Alberta, closely aligning with a 77% plunge in its stock price since its peak in June 2014. Also, the continuation of debt and equity financing to keep the company afloat and aggressive acquisition of new dealerships across the nation stretched every credit metric on the balance sheet, causing both creditors and investors to believe more pain may come in the foreseeable future.

Click to enlarge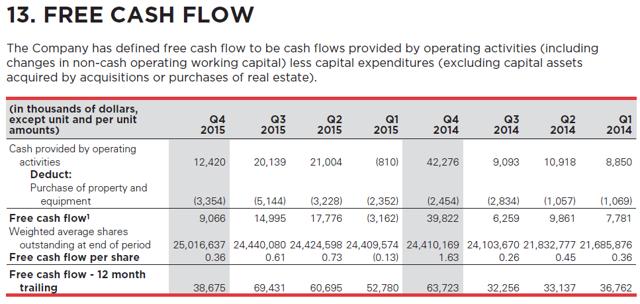 Click to enlarge
Notwithstanding the preceding, as a contrarian investor, I think the company has the drive and capability to weather this macro-driven headwind successfully and overcome the financial pain sooner than widely anticipated. This company, which has a proven track record of satisfying long-term shareholders with sound business operations and proactive growth implementation, is well positioned to surprise many investors who are mostly pessimistic at the current economic juncture. At least to bargain hunters, this is a real opportunity to invest before the oil price and consumer confidence bounces back.
Macroeconomic headwinds can be subdued earlier than expected due to strong oil price recovery and upbeat consumer confidence in Canada
- Over the last two years, the pattern of AutoCanada stock price aligns closely with the price of falling crude oil due to heavy exposure to Alberta's economy. The price of WTI picked up recently from the low $30 to early $40 mark influenced by extensive talks among OPEC members (and non-OPEC members like Russia) regarding freezing oil production. A majority of Canadian companies, such as Suncor (NYSE:SU) and WestJet (OTC:WJAFF) whose operations are domiciled in Alberta and have been heavily impacted by plummeting oil prices over the past year, have partially recovered their stock price from a recent low.
AutoCanada, despite a sharp increase in its equity value alongside fellow Albertan companies, has reversed its course and plunged back to almost the pre-March level after quickly losing its momentum. In my opinion, if the price of crude oil continuously recovers from the current level (i.e. $40/barrel) within the next several months, AutoCanada investors can take advantage of this big tailwind.
- Also, as announced on March 18, 2016, Canadian retail sales in January rose 2.1% beating 19 economists' estimations (i.e. -0.1% to 1.4%). One of the notable parts regarding this report is that without robust sales in the automobile sector, the retail sales would have only risen 1.2%. Also, manufacturing sales in January also surprised many Canadians as the actual number beat the survey by 1.8%, which was driven by 9.6% and 4% rising sales in motor vehicle and motor vehicle parts, respectively.
Most Canadians would understand that the Canadian economy, especially in Alberta, is relatively fragile proven by the sluggish GDP growth rate and high unemployment rate compared to the United States. Nonetheless, if consumer confidence remains firm at the current level, it can be another powerful macroeconomic impetus to boost AutoCanada's profit metrics.
Operating metrics are still healthy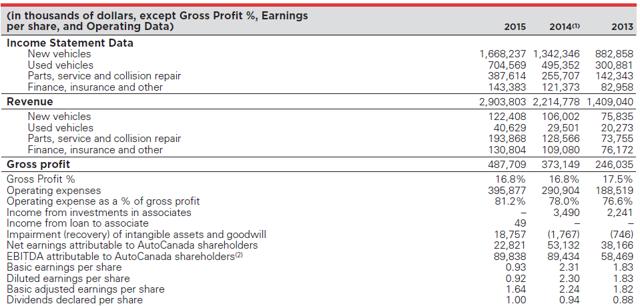 Click to enlarge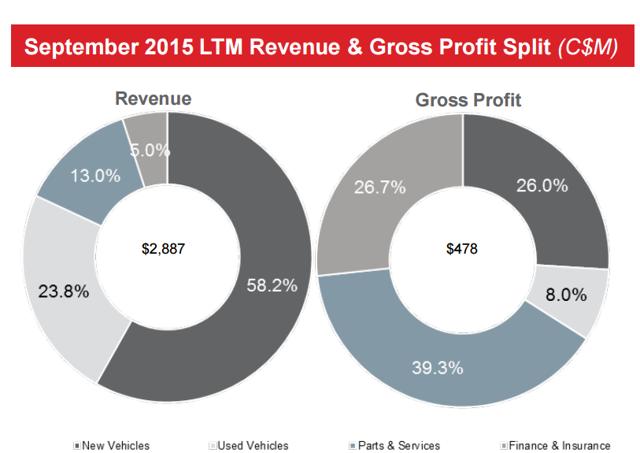 Click to enlarge

Click to enlarge
- As you can see from the screenshot above, year-over-year revenue and gross profit are remarkably persistent, although these results are mainly achieved by the completion of 6 dealership acquisitions which was partially offset by the sluggish same-store gross profit rate in 2015 (decreased by -11.7% from 2014). These data represent, as of 2009, an approximate compounded annual growth rate of 23% and 37% of total revenue and EBITDA, respectively. As such, it is highly expected that AutoCanada's diversified revenue model will generate stable revenue.
In addition, high gross margin revenue streams like parts and services and used vehicles, will successfully mitigate slowing new vehicle sales and perform well during this economic downturn. Furthermore, except the softening western part of Canada, same-store gross profit in three out of five territories (though B.C. remains almost flat in the 4th quarter 2015) are growing rapidly exhibiting that sales in the automotive sector are notably robust.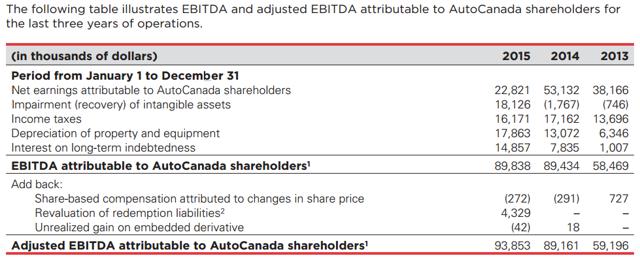 Click to enlarge
- One of the main reasons for AutoCanada's deteriorated net earnings in 2015 is the significant impairment loss of intangible assets. These intangible assets (e.g. goodwill), which typically arise when acquiring new dealerships and then adding the residual value over the cost of each dealership into AutoCanada's balance sheet, are tested for impairment on an annual basis.
As a result of the impairment test, the sum of net impairment loss of intangible assets and goodwill in 2015 is over $18 million comprising roughly 20% of EBITDA attributable to AutoCanada shareholders. Nonetheless, since this is non-cash expense (but non-tax deductible expenses increased the effective tax rate by 5.87%), this amount will add back to the cash flow statement alongside the depreciation and amortization which also exerted a significant influence on the yearly earnings.
The bottom line is that if you add back all these non-cash expenses plus interest and tax expenses, the EBITDA attributable to AutoCanada shareholders is actually higher than 2014. Also, looking at the basic adjusted earnings per share, the metric fell only 27% year over year compared to a 60% drop in the annual basic earnings per share indicated in the income statement. As such, purely from an operating standpoint, AutoCanada earnings are still stable and healthy.
Management is dedicated and willing to streamline the operational efficiency and leadership and expand its presence across the country
- AutoCanada recently announced a major management reformation, which includes the founder and executive chairman, Pat Priestner, stepping down. Having survived a very challenging year in Alberta and Saskatchewan, Mr. Priestner who built an empire from a chain of five stores to over 50 dealerships across the nation, is stepping down as non-executive chairman and actively recruiting the industry's top talents, such as Steven Landry, former Chrysler Canada Inc. president, as the new CEO. This strategic transition will add tremendous value to the company in the midst of a turbulent time in western Canada by solidifying the relationship between automotive manufacturers and dealerships, specializing roles for senior executives, and streamlining cost-cutting solutions across dealerships.

Click to enlarge
- Speaking of cost reduction in operations, both total variable and fixed expenses have risen compared to 2014. As such, according to the MD&A for the year ending December 31, 2015, management has expressed its intention to reduce employee costs, which comprise greater than 50% of total operating expenses, and keep high-performing staff in the operation. Also, centralized marketing and IT departments will handle any relevant matters for all dealerships to achieve integrated cost synergies. Although I anticipate that fixed expenses will become larger going forward since more dealership acquisitions are anticipated, it is feasible for management to reach less than 80% of gross profit as total operating expenses.

Click to enlarge
- In accordance with the 4th Annual Institutional Investor Conference, 2,000 out of 3,500 dealerships are family-owned enterprises and within the next five years, 70% of these 'mom-and-pop' dealership owners are expected to retire. As the largest and only publicly-listed automotive dealership group in Canada, representing eight original equipment manufacturers (OEM) and 19 brands, AutoCanada is ideally positioned to consolidate this fragmented industry. Currently, OEM requires deep capital requirements from independent dealerships to ensure that OEM's strategic vision and business operation can be accurately reflected by the dealerships. As such, independent owners face limitations in keeping with such expensive requests. A company like AutoCanada, which has acquired over 40 dealerships since the company's IPO in May 2006, is the perfect candidate to achieve such highly anticipated integration.
Debts are still manageable
- At the beginning of this research report, I briefly mentioned regarding the net debt level and equity financing activities and how they became alarming for creditors and shareholders. Two notable trends that investors should be aware of at this moment are 1) soaring new debt and 2) ballooned total shares outstanding. The company announced on December 14, 2015, to reduce its revolving credit facility and replenish its capital. A 75 million equity offering was completed equivalent to 2.95 million additional common shares in the market.
This effort, however, is to offset the size of the revolving credit facility which has already increased from $200 million to $250 million that was predominately capitalized to finance six new dealership acquisitions in 2015. Based on this pattern, it is to perceive that the company is not only increasing the size of the debt to acquire new dealerships but also does so in expense of diluting the value of equity. As a result, according to Bloomberg, the interest on long-term indebtedness has soared from $1 million to $14.9 million from 2013 to 2015 comprised 16.5% of EBITDA attributable to AutoCanada shareholders in 2015.
- Currently, AutoCanada has approximately $834 million in total debt ($548 million revolving floor plan facilities + $286 non-current debt and lease obligations) on its balance sheet. As a consequence, the annual finance cost for revolving floor plan facilities and non-current debt is $13.2 million and $14.9 million, respectively. In reference to the foregoing, I've created the following chart to see if shareholders should really be alarmed by the company's capital procurement: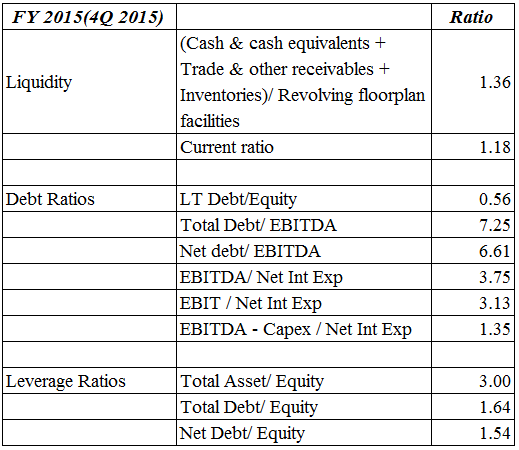 - Although this may not be the most financially healthy enterprise in Canada, I personally, in reference to the presented chart above, do not see anywhere that investors or debtors should be alarmed about imminent financial distress. Every short-term liquidity and debt ratio, particularly current ratio and EBIT/Net Int Exp, is projecting a somewhat financially healthy status without much capital assistance in the short run.
Also, the company has shown a remarkable effort to trim down both short-term and long-term debts during the last quarter; meanwhile EBITDA, as mentioned earlier, has been consistently trending upward. As such, I believe that the management has the financial capacity and strength to control its leverage status and liquidity requirements going forward. Nonetheless, shareholders must be cautious for short-term dilution of equity value, as management has chosen equity financing as a preferable option lately to recapitalize its short-term financial needs.
Attractive dividend yield and profit metrics

Click to enlarge
- AutoCanada declared four dividend payments in 2015, in a total of $1 per share. This amount is very generous to any investors as the current dividend yield for AutoCanada is 5.56% as of March 18, 2016. However, given the fact that free cash flow for the firm for Fiscal Year 2015 is negative, I do not foresee that this generosity will continue or be maintained for a continuous period unless the operating metric improves significantly or they use additional debt or equity capital to finance the dividend payments.
- Another significant strength for the company is profitability. Aside from rapid growth in revenue and EBITDA, the Adjusted Return on Equity in 2015 was 8.611%, which is still staggering for a company in which over 40% of revenue exposure is in Alberta. Although it is true for every profit metric for AutoCanada has been adversely impacted by such macroeconomic headwind, the following profitability ratios, which are extrapolated from Bloomberg, demonstrate the capability and potential that this company and its management team possess which will eventually be a pertinent force to place the company back on the road to success.
| | |
| --- | --- |
| 5-year Avg Adj ROE | 18.08% |
| 5-year Avg Sustainable Growth Rate | 12.91% |
| 5-year Avg Return on Assets | 6.65% |
| 5-year Avg Return on Capital | 9.80% |
| 5-year Avg Return on Invested Capital | 9.20% |
| 5-year Operating Income Growth | 23.16% |
| 5-year Cash From Operations | 8.96% |
| 5-year Cash Flow to Firm | 11.78% |
- As for the peer evaluation, AutoCanada, unfortunately, has no direct competition in Canada as it is the only automotive dealerships enterprise that is listed on the Canadian public exchange. However, there are a handful of US major competitors that may share similar characteristics and the size of capital with AutoCanada. The following chart, extrapolated from Bloomberg, gives you a quick snapshot of how AutoCanada is performing against its foreign peers:
| | | |
| --- | --- | --- |
| Multiple Analysis | US Average* | AutoCanada Inc. |
| Revenue 1-yr Growth | 13.75% | 31.11% |
| EBITDA Growth | -40.10% | 9.14% |
| Dividend Yield | 2.28% | 5.74% |
| EV/EBITDA | 11.79 | 11.31 |
| P/E | 12.83 | 11.28 |
| ROE | 19.76% | 9.17% |
| Total Debt/ Total Assets | 56.91% | 55.25% |
| Net Debt/ Equity | 253% | 154% |
| 5-yr annualized total return | 17% | 36% |
| Institutional Holdings | 99% | 67% |
*US Average: Sonic Automotive Inc. (NYSE:SAH), Group 1 Automotive Inc. (NYSE:GPI), Lithia Motors Inc. (NYSE:LAD), Penske Automotive Group Inc. (NYSE:PAG), Asbury Automotive Group (NYSE:ABG), America's Car-Mart Inc. (NASDAQ:CRMT), Copart Inc. (NASDAQ:CPRT), CarMax Group (NYSE:KMX), AutoNation Inc. (NYSE:AN).
Conclusion
As a contrarian investor, I welcome such a reputable company with strong fundamentals but being overlooked by investors due to a temporary setback. Regardless of what position the company is in, the management's ambition to continuously strive for success and expand its footprint across the country by consolidating independent dealerships and working with the best automotive brands in the world simply demonstrates how resilient and hungry the company is.
Although it is extremely unfortunate for the company to experience more than a 70% share price drop over the span of a year and a half, the company has gone above and beyond to reverse its course by cutting operational costs, streamlining human resources including senior executives, and solidifying the relationship between OEM and dealerships.
However, given the adverse market conditions and slowing down of free cash flow, the company must be vigilant and refrain from excessive capital borrowing from creditors and equity shareholders to perform aggressive dealership acquisition or spend inadequately on capital expenditures.
I would also advise investors that it may take longer for the company to recover and gain full momentum in performance as once they were in 2013 and 2014. However, I believe that this company is positioned attractively for every value seeker for the long haul.
Disclosure: I/we have no positions in any stocks mentioned, and no plans to initiate any positions within the next 72 hours.
I wrote this article myself, and it expresses my own opinions. I am not receiving compensation for it (other than from Seeking Alpha). I have no business relationship with any company whose stock is mentioned in this article.