Insys Therapeutics (NASDQGM:INSY), headquartered in Chandler, Arizona develops cancer support drugs based on opioids. Since the authorization of their first product (SUBSYS) in 2012, the company has been acknowledging an important increase of 1,335% of their revenue between 2012 and 2014. Although the company relies on one operational product, they are currently testing 7 new prototypes. On the 23rd of March 2016, the company suffered a fall of more than 14% of their share price due to a release on negotiations with the FDA concerning the scheduling of one of their drugs called Syndros (phase 3 of testing). This announcement combined with the shadow of Hillary Clinton's past announcement months ago on drug prices is driving the market price of Insys Therapeutics lower. I believe that the stock is currently a good buy opportunity given the opportunities and financial results of the firm in the past years.
Financial Analysis:
Since the company has begun commercializing their product (SUBSYS), the financial performances of the company has been reaching comfortable heights. In the past, Insys Therapeutics was able to beat 7 out of 8 net income estimates with a Q4 (2015) net income of $27.203 million against $21.9 million estimated (source: Bloomberg). In addition since 2014,Subsys is one of the most prescribed Fentanyl based pain release prescription drug with 48% of the market share of this type of drug. This supremacy over the market is clearly shown by the improvement of revenues of Insys therapeutics. Between 2014 and 2015 the company has generated a growth of EBITA of 59% against a lower growth of revenue of 49% from 2014 to 2015 (source: Capital IQ). This implies that the company has efficiently managed its operating expenses and indirectly created more value out of its operations. In order to confirm that value has been created by the company one of the most efficient indicator remains ROIC/WACC. This ratio measures the Return on Invest Capital on the Cost of Capital. According to my pro forma the ROIC/WACC for Insys Therapeutics in year 2015 is 2.609 (ROIC of 71.5% and WACC of 27.4%). If we base ourselves on this indicator the company does create value.
Since 2013, the company has been able to use efficiently these new sources of revenue on two essential aspects for a healthcare: lowering their debt and improving their research & development segment. From its beginnings up to 2012, like many starting healthcare companies Insys Therapeutics has been relying on debt to finance their Researches and other corporate expenses. With these newly available resources the business was able to pay-off all their accumulated debts (Exhibit 1). This strategy did not only have major impacts on the Weighted Average cost of capital and cost of debt (kd) but also ultimately on the capital structure of the entity. To finance the 3 years of growth the firm has been using their retained earnings, Additional Paid in Capital and current liabilities ultimately driving them towards a nearly full Equity Capital structure (Exhibit 2). In addition to paying-off their debt Insys Therapeutics has increased their research & development expenses by 550% from 2013 to 2015. With increasing technologies and competition it is essential for healthcare companies to inject important resources in their Research and Development segment. Insys is mainly allocating these resources to promising phase 2 drugs with a special focus on Cannabidiol (29% of resource allocation) which is expected to carry a high growth expectation at maturity. The CFO of Insys Therapeutics has confirmed that the company started a repurchase program of $50 million in 2015. The company has already purchased a value of $27 and acts under the assumption that their share price is undervalued.
Switch from Subsys to Syndros:
After following the latest earning calls (see earning calls) of the firm, it is evident that the firm is currently investing important amounts of money on the success of their upcoming drug: Syndros. Several analysts highlighted the fact that Insys started switching expenses related to the marketing & sales of Subsys towards the release of Syndros. Although the firm has reduced the expenses related to Subsys, Darryl Baker (CFO of the company) has insisted on the fact that the company will maintain investments of $100 million on their star product. This important cash investment on the issuance of Syndros had a huge impact when the FDA announced a modification on the release date of the product.
The polemics on Insys's Products and marketing:
Insys Therapeutics, like many drug manufacturers has several polemics regarding its practices and product overall. One of the most known polemic surrounding the company's practices is the promotion and prescription of Subsys by highly paid doctors. These doctors were accused of being paid by Insys to promote the product and prescribe it to clients that did not truly require this painkiller. Although this marketing strategy is widely used by drug producer in order to sell their products to professionals, Insy's was believed to use this strategy on doctors with unclear track records. In light of this accusation, the company announced on the 12th of December 2013 that a Subpoena had been issued by the HHS (Official announcement here) in order to verify the marketing and sales practices over Subsys.
Valuation:
Following the news of the 23rd of March 2016, I have decided to run a valuation (exhibit 4) based on a discounted cash flow model using several key assumptions. My first assumptions was that the growth estimate would follow the United-States GDP growth of 3% to maintain a conservative position. Given the fact that Insys Therapeutics only operates in the United-States, I have applied the standard tax rate of 40% with a risk premium of 6%. In order to set the risk variable of the company I decided to apply the 2 year beta 0.95 for the company, which is slightly higher than the Industry in order to take in account the higher volatility of the firm. In Exhibit 4 you can find all the outputs generated by the pro forma which clearly indicates that according to my assumptions the company is undervalued. In addition I have reached the conclusion that the 1-year target price would be around $23.03 which implies a return of 27.94%. After running the Monte-Carlo simulation it is estimated that the probability of a price increase is 100%.
Conclusion:
I recommend to buy Insys Therapeutics as it is currently slightly undervalued following the announcement of the 23rd of March 2016. In addition the company has successfully managed to enhance all their financial results and are investing important amounts in their future research & development projects. Furthermore, if Syndros is as successful as Subsys we can expect impressive returns on invest capitals. In addition, as implied by the Sensitivity Analysis of my pro forma the share price is highly dependent on Revenue. This dependency can prove to be an asset for Insys Therapeutics given their constant growth of revenue in the last years.
Exhibit 1 (Source: Bloomberg):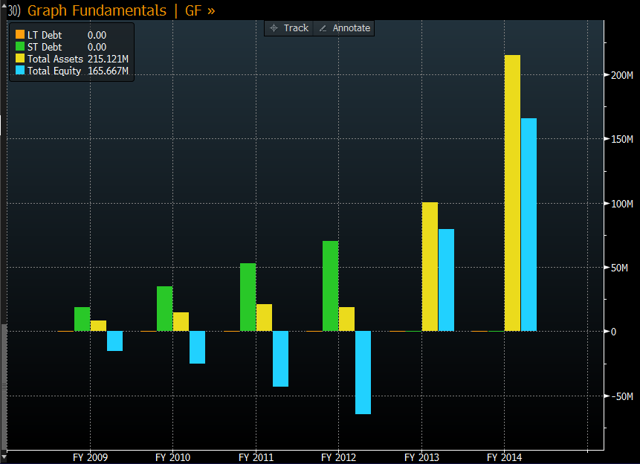 Exhibit 2 (source: Capital IQ):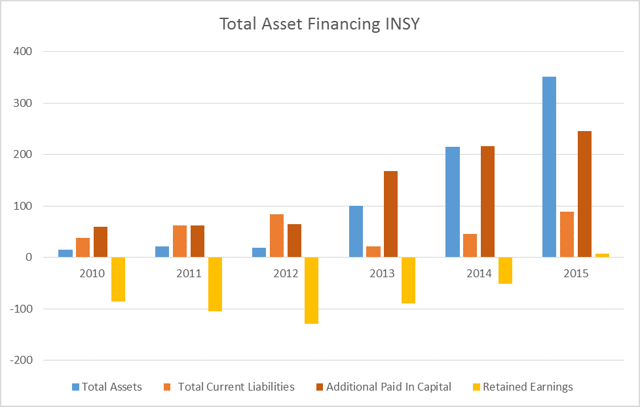 Exhibit 3 (Source: 10-K 2015):

Exhibit 4 (Source: Pro forma):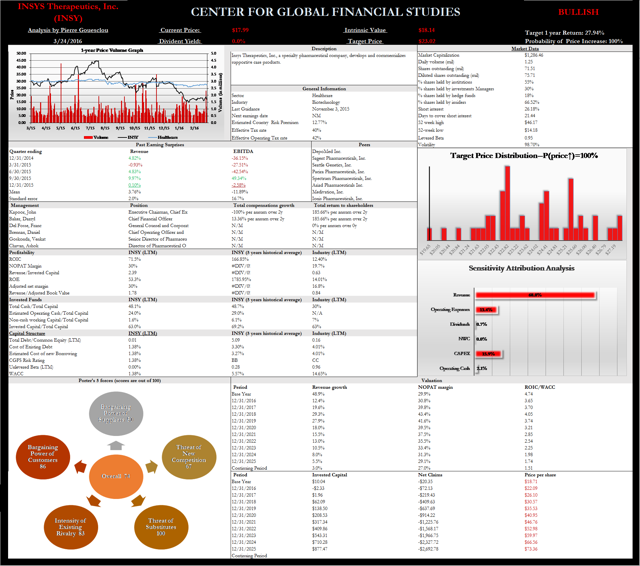 Disclosure: I/we have no positions in any stocks mentioned, but may initiate a long position in INSY over the next 72 hours.
I wrote this article myself, and it expresses my own opinions. I am not receiving compensation for it. I have no business relationship with any company whose stock is mentioned in this article.