Introduction
One thing people don't associate Japan's struggling economy with is the decline in the country's population. And this fact has been applied elsewhere but in a different context. So, have you heard the phrase, "China will get old before it gets rich?" That means China will have a declining workforce and a growing retiring population, which in turn means more government spending on pensions with fewer people paying taxes.
And Japan is at that stage. The next thing about Japan is its cheap borrowing costs (its bond market going negative) and making a connection with its declining population.
But the caveat to the continuous fall of the Japanese bond yields is down to these following factors in play such as:
1. GDP per capita
2. The level of debt
3. Competitive advantages in key industries
4. Exports
5. Savings.
Next, the government should embrace it and should focus on targeting industries that would give Japan a competitive advantage.
For example, as Japan's general population declines, its elderly population is on the rise, and that presents the country with the ability to create products and services for its "grey" market.
On the flip side, Japan is seeing its old industries decline due to competition abroad.
Japan goes negative
Earlier in the year, Japan cut its interest rates to below zero at -0.1% for the first time in its history (its interest rates ranged from 0.6% to 0% during the last twenty years). Also, 10-year JGB has gone negative to stand at -0.09% with core inflation rate at 0.8% (still below the BOJ target of 2%).
So, why has Japan government borrowing gone negative?
Since 2010, Japan has lost 1 million people. Let's illustrate this in conjunction with its bond yields using different maturities:
Chart 1: Falling bonds yield down to stagnating population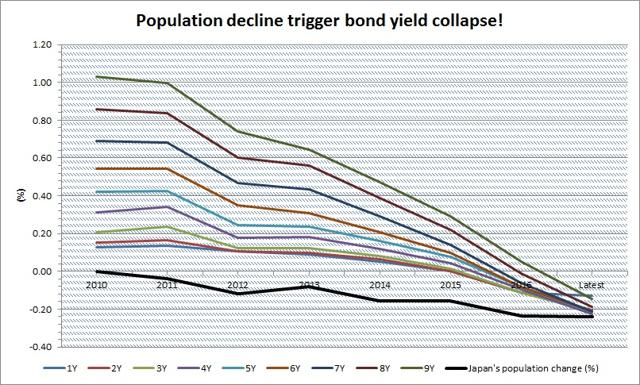 Click to enlarge
Source: MOF.go.jp.
In sheer coincidence, Japanese bonds yields are playing catch up to the country's population decline with signs it could go further into negative territory. On the next chart, it is expected that its population will decline faster in the future: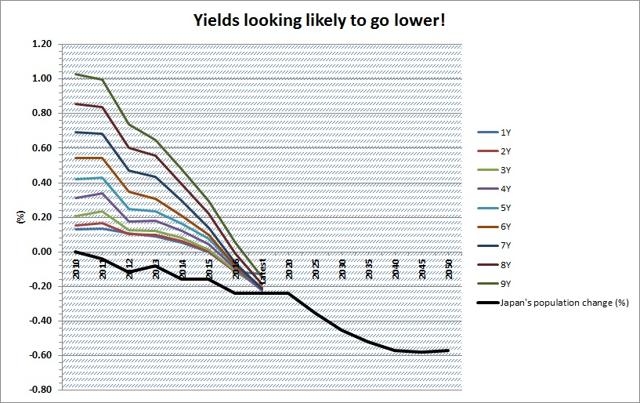 Click to enlarge
Source: MOF.go.jp.
In the next 30 years, Japan's population would double its pace of decline. No one knows if JGBs will march deeper into negative territory, or when the Japanese government will reach its debt ceiling, which should send bond yields higher.
The government obsession with 2% inflation in Japan has meant joining the "QE" party, and they are the most aggressive in its bond purchases, but with little effect.
Japan is going about the wrong of targeting 2% inflation using monetary policies, and there're other ways of doing so. And to find the right way we need to identify the factors that are holding its economy back.
Here are these factors:
A. Falling population
As you know, Japan is expected to see a dramatic decline in the country's population.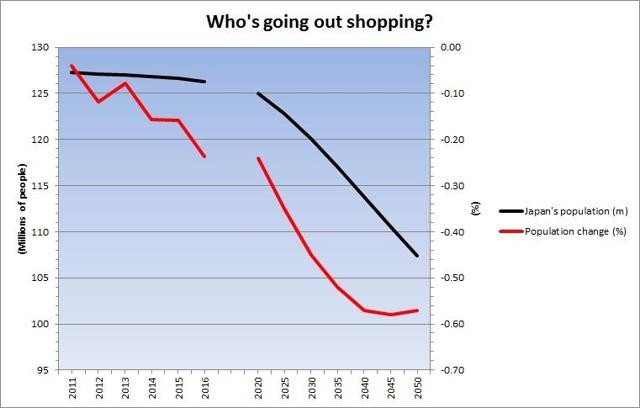 Click to enlarge
Source: Worldometers.org.
The drop from 127 million to 103 million by 2050 means its next generation would find it hard to match the spending power of its parents' generation collectively, due to its smaller workforce.
With that it gives the country a new slogan saying: "Who will work for Japan?"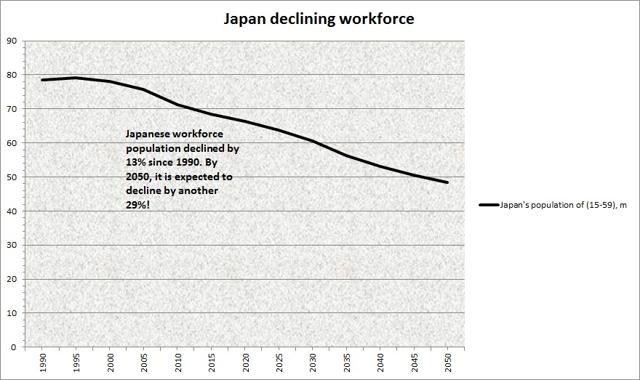 Click to enlarge
Source: Factfish.com.
In fact, the 15-59 years population bracket has already lost 13% since 1900 compared to an increase of 3.6% in the general population. And in the next 35 years, that same age segment is projected to fall by another 29%, taking the cumulative decline to 38.3%! That means the 15-59 years population will see a fall from 78 million in the early 1990s to 48 million by 2050! Meanwhile, the cumulative decline in the Japanese general population is 12.1%.
B. Wages
So, your country's population is in decline, then why not pay your existing workforce more money to make up for the differences.
Given that the country has experienced the greatest economic challenge for two decades, it's no surprise that Japanese wages measured in yen terms have stagnated during 1990 and declined since 1996: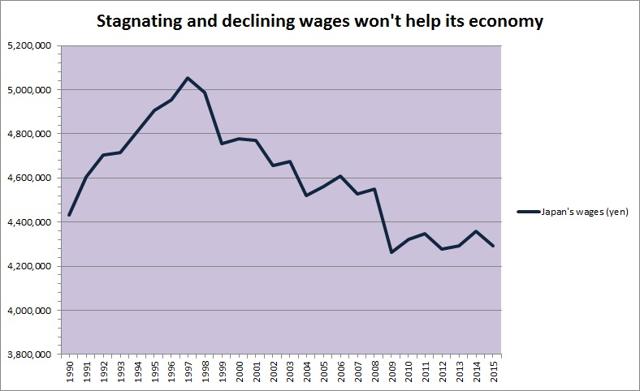 Click to enlarge
Source: Tradingeconomics.com.
That 13% drop in wages means private consumption in Japan has been declining, and the government has stepped in to support the economy by increasing its spending from ¥61.165 trillion ($422.4 billion) in 1990 to ¥103,300 trillion ($853 billion), an increase of $430 billion which is an equivalent of 10% of GDP. The doubling in government spending has helped stop its economy from collapsing.
Sometimes a declining domestic economy needs outside help such as exports and tourism. However, being caught in a balance sheet recession, Japan has lost some of its technological edge along with fierce competition from South Korea and China.
The illustration of the fall in Japanese exports is alarming: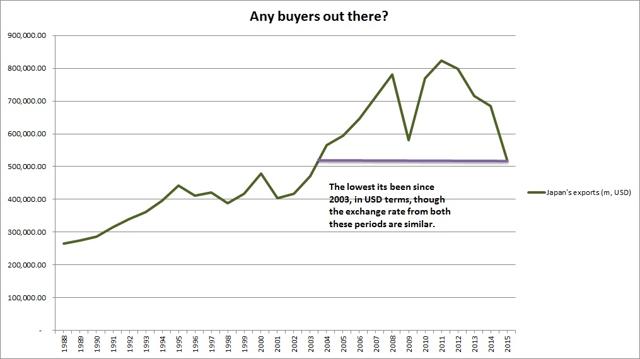 Click to enlarge
Source: Quandl.com.
C. Savings
Typically, when an economy doesn't spend, it saves, but this logic has not applied to Japan. Households are both reducing spending and failing to save.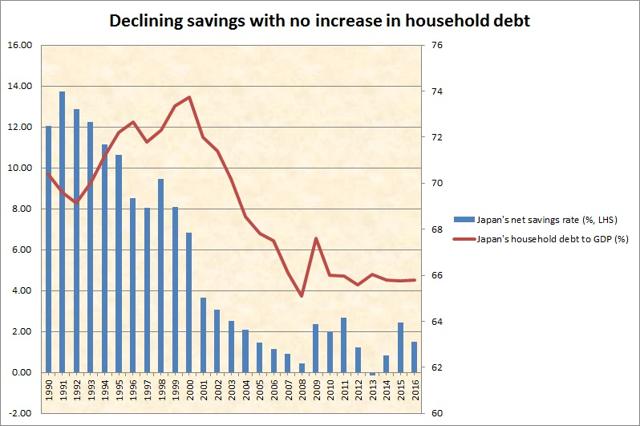 Click to enlarge
Source: Stats.oecd.org.
In fact, both the household debt and the savings rate have declined simultaneously, especially the savings rate.
That deterioration in net savings has not helped the country regarding total Japanese households' savings as incremental savings, a level not seen 50 years ago.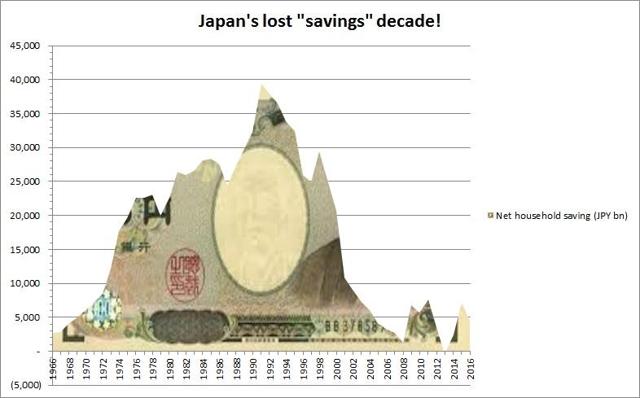 Click to enlarge
Source: Stats.oecd.org.
The amount of savings equates to between $30bn and $50bn per year in the last few years. At its peak, they were saving close to $300bn. On aggregate, net Japanese household saving totaled $7.3 trillion (using an exchange rate of 118 Yen to 1 USD) since 1966.
P.S. If you convert the incremental amount into U.S. Dollar at the end of each financial year using the exchange rate at the time, then net household saving is $5.74 trillion.
Important: Currently, the Japanese government is deficit spending an extra $50 billion to $70 billion per year since 2008 and if incremental household savings don't match government deficit spending, then cuts in its budget will need to be made.
Also, it adds financial risk that Japanese households may not have enough assets to back deficit spending. But if you are thinking about Japanese corporations having the savings to back the state then prepare to be disappointed because McKinsey Global Institute has put a figure of 101% of debt to GDP on Japanese corporations. Whereas, the Economist says Japanese companies hold $2.1 trillion in cash or 44% of GDP.
Why Japan targeting 2% inflation rate is stupid and should focus on these instead
Japan should start targeting wage growth because the future of Japan's declining population means the economy will get smaller and smaller.
The government should embrace it because it's not like Japan has a high unemployment rate (currently it's at 3.2%, the lowest in the G7 nations). However, the country must target cost-cutting and identify sectors, in which they could take advantage of and thrive. Here are some of the things Japan can do to revive its economy:
First, being a non-resource country, the Japanese government should target sectors like renewable energy to lower energy costs for households. By targeting 100% renewable energy and minimizing non-renewable energy, the country can boost its households' purchasing power in the long-term while enduring short-term pain.
The idea is to reduce its energy import bills.
Secondly, it should target industries and sectors that will give them a competitive advantage.
For example, Hitachi made the shift from selling predominantly electronic goods to developing infrastructure systems like high-speed train networks and emphasizing on renewable energy that is needed for fast growing economies. Although they still sell TVs, its electronic divisions play a smaller part of the overall revenue generation.
Thirdly, the population should not be allowed to decline too rapidly, therefore giving incentives for families to have more children could be the answer.
Fourth, being an older country has its perks because it means endless possibilities of innovation and services for the elderly population. Take this, for example, the exoskeleton suit that Japan developed to help older people move around without taking up human resources.
That exoskeleton product could have market elsewhere in Europe and the U.S, where its "grey" population is becoming a problem.
The problem it faces is competition
For the last two decades, Japan's balance sheet recession has diverted its attention away from being competitive. It was a leader in many industries in consumer electronics, robotics, the manufacturing of copper and iron ore, shipbuilding, textiles, petrochemicals, automobiles, processed foods and aerospace.
Now, Japanese corporations face competition from China, concerning manufacturing steel and textiles, along with petrochemicals and shipbuilding. South Korea is competitive in consumer electronics and automobiles, also processed foods. Germany has made some great strides in the automobile sector though the recent efficiency scandal has dented its reputation.
But, the biggest setback of all is the digital revolution from companies like Microsoft (NASDAQ:MSFT), Google (GOOG, GOOGL) and Apple (NASDAQ:AAPL) that caught Japan Inc. by surprise. Now, all that cameras, data storages, DVDs, recorders, TVs (though people still buy them) and more have experienced declining sales.
The loss of its competitiveness has explained why Japanese wages haven't risen, instead it's in steady decline (see the "wage" chart).
Conclusion
Negative JGB yields are entirely due to Japan's declining population, but, also, it once had a high GDP per capita in the world which made it uncompetitive. The ensuing "balance sheet" recession has the country cutback on investment to reduce its debts causing the country to lose some of its competitive positions. It means the Japanese government had to step in and stimulate its economy causing deficit spending to rise and with it the accumulation of its national debt rising to 240% of GDP.
So, naturally, to reduce interest costs, bond yields needed to fall.
But Japan needs to innovate by creating new sectors and industries targeting its "grey population." That means it can also revive its exports market by creating products and services needed for a growing elderly population worldwide.
Disclosure: I/we have no positions in any stocks mentioned, and no plans to initiate any positions within the next 72 hours.
I wrote this article myself, and it expresses my own opinions. I am not receiving compensation for it (other than from Seeking Alpha). I have no business relationship with any company whose stock is mentioned in this article.