In late January, after their last earnings report, I wrote a bullish case for Helmerich & Payne (NYSE:HP) that just happened to (I made no predictions) be near the most recent bottom of oil prices. Since that publication oil has rebounded over 7% and Helmerich & Payne shares have increased by over 17%.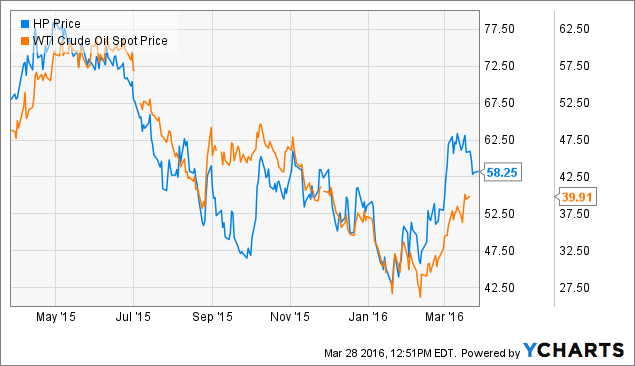 Despite the recent run up, investors still need to have Helmerich & Payne on their radars as this oilfield services company has the opportunity to have solid long-term performance. I am planning to add to my current position at opportunistic prices and through dividend reinvestment moving forward.
The current environment
Helmerich & Payne is a contract driller in the oil and natural gas market. As such, the company is highly correlated to the price of oil, as you can see from the above chart. HP is in the middle of a down cycle as exploration and production companies have greatly cut their budgets and have been slow to continue the expansion of the last nearly ten years.
Analysts are expecting revenues for the company to fall by roughly half for the current fiscal year ending in September over the prior year, and the stock has fallen nearly 15% over the last year without including dividends.
The negative sentiment on the industry and volatility in oil prices has allowed investors at certain points over the last few months to actually purchase shares at below book value.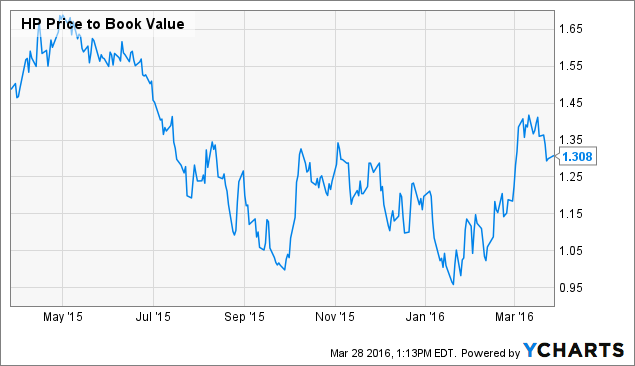 HP Price to Book Value data by YCharts
I believe buying at or below book value is a steal for this company. As you can see below they have a standard and transparent balance sheet. There is no large account for goodwill or intangibles that would be subject to possible impairment moving forward.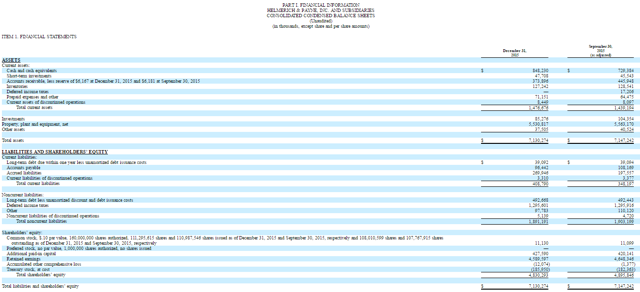 Click to enlarge
(Source: 02/05/2016 10-Q filing)
As seen above shares are currently priced around 30% above book value per share.
Digging further on the balance sheet
One of the biggest reasons I am bullish Helmerich & Payne is their strong balance sheet. They did not lever up with the rest of the industry over the last few years and current debt to equity stands at 0.11. Below you can see Helmerich & Payne's debt utilization compared to competitors Nabors Industries (NYSE:NBR) and Patterson-UTI Energy (NASDAQ:PTEN).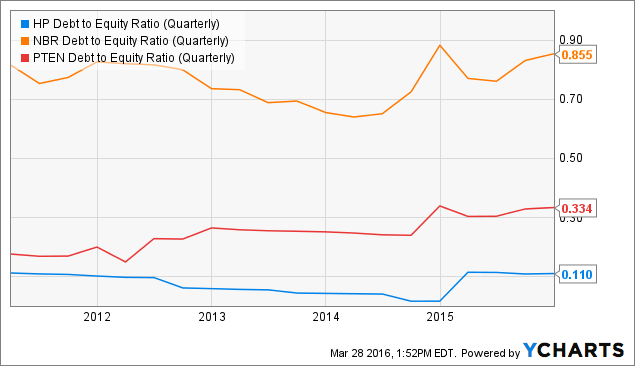 HP Debt to Equity Ratio (Quarterly) data by YCharts
Also, you can see that cash and cash equivalents are nearly double debt. Overall, I am in no way concerned for the liquidity or survival of Helmerich & Payne.
Cash generation despite oil price
Despite the oil price woes, Helmerich & Payne has still managed to churn out positive and growing free cash flow.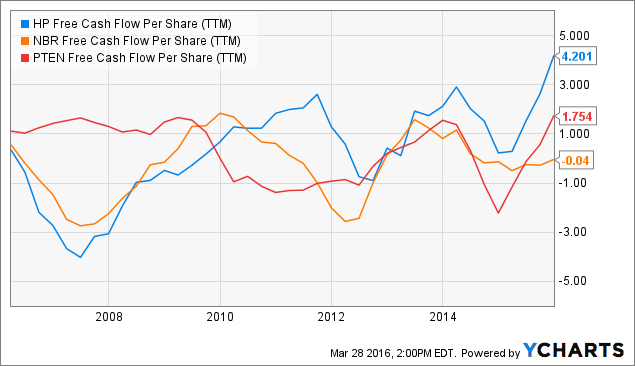 HP Free Cash Flow Per Share (NYSE:TTM) data by YCharts
Starting from around the same level of $1.00 per share of FCF ten years ago, Helmerich & Payne has vastly outperformed peers.
There will be pressure on free cash flow generation in future quarters as CEO John Lindsay said on the last conference call that the company will continue to invest in their rig fleet to maintain competitive advantages and grow market share. This is along with management expectations of revenue days falling 20% in the current quarter and daily margins to decrease slightly as well.
Despite the current headwinds I believe management has proved capable of spinning off cash in excess of capital investment needs and should be able to do so in the future.
Dividend opportunity
Helmerich & Payne pays a quarterly dividend of $0.688, or $2.75 annually, yielding 4.73% as of recent closing prices. The company offers a significant yield premium above peers and the energy ETF.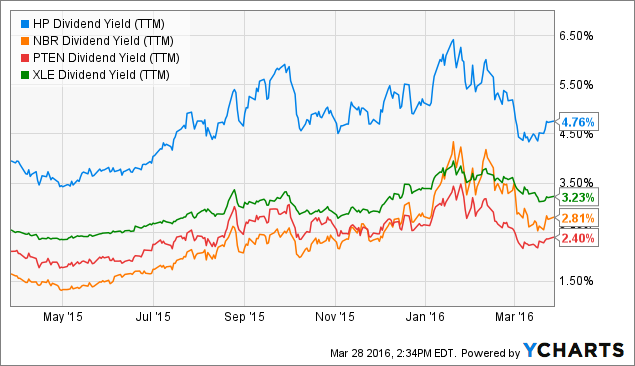 HP Dividend Yield (TTM) data by YCharts
Helmerich & Payne has also increased their dividend for the last 43 years. This streak will be put to the test soon as the company needs to raise their dividend for the current quarter to keep that streak alive.
John Lindsay stated during the last conference call that the company planned to keep their dividend dollar amount unchanged for the near future. Therefore, at current prices you can lock in a 4.7% yield or potentially get an even higher yield if the company raises their next dividend.
My take
I plan to continue adding to my position over the next few months. Oil has rebounded recently but I believe it will continue to remain volatile and that will allow us to buy Helmerich & Payne shares at great prices. Along with standard dividend reinvesting I will add to my position any time the price falls near book value.
Helmerich & Payne has a solid balance sheet, strong operations, and a high dividend yield letting us reinvest or take current income. Their rig fleet is advanced and uses primarily AC drive FlexRigs which will be in high demand whenever oil prices rebound. I think Helmerich & Payne is in a strong position to grow market share because of their balance sheet and operations that will allow continued investment as the industry as a whole continues to cut back.
Overall, even at current prices I believe shares are set to outperform and have a margin of safety that isn't present elsewhere in the energy sector.
Disclosure: I am/we are long HP.
I wrote this article myself, and it expresses my own opinions. I am not receiving compensation for it (other than from Seeking Alpha). I have no business relationship with any company whose stock is mentioned in this article.