In October, I explained I missed the run-up in SAP's (NYSE:SAP) share price and I was wondering if it made sense to chase the company's run and buy the stock anyway. I decided not to, but kept an eye on SAP to make sure I would be able to pick up some stock during potential weak moments. Unfortunately that hasn't happened yet, so maybe I should re-think my options but I first wanted to check up on SAP's health.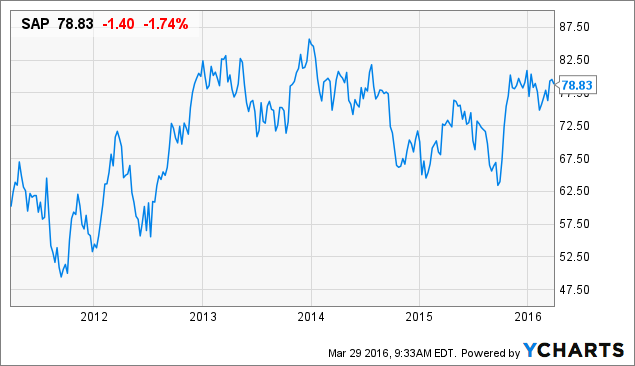 A lot of free cash flow, but not as much as I was expecting
In the previous article, I was quite pleased with what I saw, but it's obviously always wise to double-check the preliminary numbers with the financial results of the entire financial year.
SAP's 2015 was excellent, and I would even dare to use the description 'impressive'. The total revenue increased by 18% to 20.8B EUR ($23.4B) and this strong growth was caused by a very strong performance in the company's 'cloud and software' division which saw its revenue increase by a stunning 20%, indicating SAP is heading in the right direction with its cloud services! The service revenue also increased by 10% but this only contributed 10% of the total revenue increase.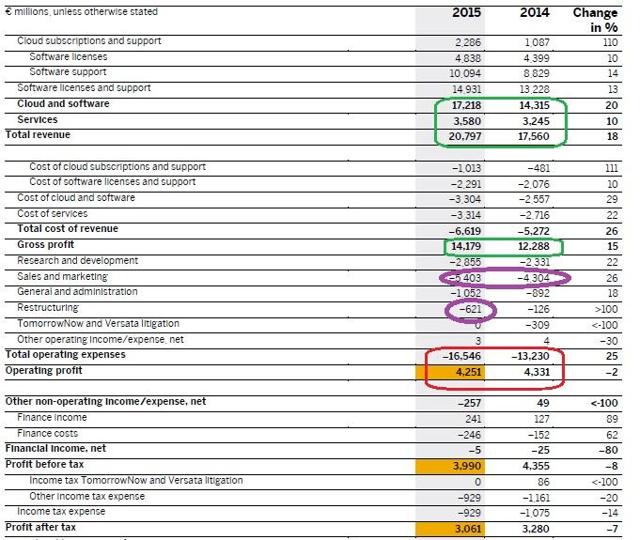 Source: financial statements
Of course, the expenses associated with the cloud-model also increased, but it's important to emphasize the margins remained quite stable and the operating expenses didn't increase at a faster rate than the revenue. The total operating profit was however a bit lower in 2015 compared to 2014. That wasn't 'bad' as the operating profit fell by just 2% and a lot seems to have been caused by non-recurring events and investments in SAP's future.The restructuring expenses increased by a factor of 5 to almost US$700M but the company also spent more cash on sales and marketing (+26%) and R&D (+22%). So, yes, a lower operating profit isn't really great to see, but even if you'd just exclude the restructuring expenses and ignore the fact the higher marketing expenses will result in an increased revenue from this year on, the operating profit would have increased by 9.6% so you shouldn't really judge a book by its cover and try to find out what really caused a disappointing result. Due to a higher interest expense (due to the acquisition of Concur last year), the after-tax result fell by 7% to $3.4B.
That's nice, but in my previous article I was predominantly focusing on SAP's cash flow, and I said I was expecting the company to generate a full year free cash flow of 3.5B EUR (or approximately $3.9B). And this is where my head-scratching moment started.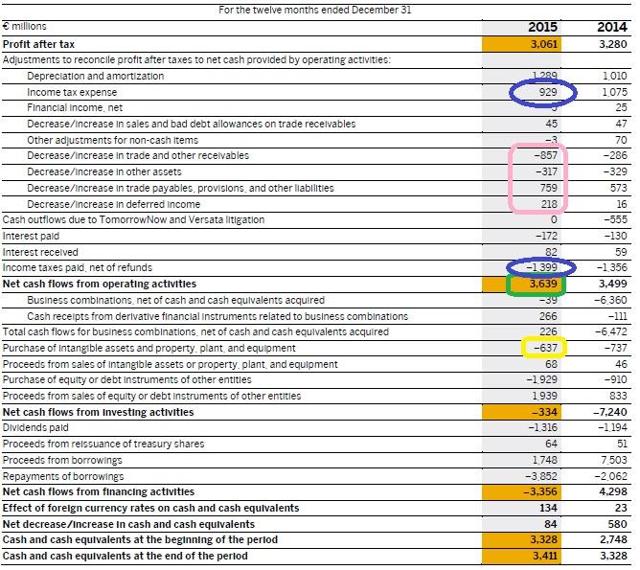 Source: financial statements
According to the cash flow statements, SAP generated an operating cash flow of 3.64B EUR ($4.1B) and spent 640M EUR ($720M) on capital expenditures, resulting in a free cash flow of just 3B EUR. That's lower than expected, and even after adjusting this result for changes in the company's working capital position, the adjusted free cash flow was still just 3.2B EUR ($3.6B). What went wrong? Did I do something wrong? Were my assumptions too optimistic.
It took me a few minutes before I realized why my expectations were almost 10% higher than the effective result. Even though the tax bill for FY 2015 was just 929M EUR ($1.04B), SAP reported a net cash outflow to pay taxes of 1.4B EUR ($1.57B). That's partly due to the higher tax bill of FY 2014 (which was paid during FY 2015) as well as SAP reducing the deferred tax liabilities. If I would apply the 'real' tax on the free cash flows, the adjusted free cash flow would be 3.68B EUR ($4.12B), or approximately 5% higher than my expectations. Problem solved!
The guidance for FY 2016 looks quite promising!
SAP seems to be very optimistic about its cloud-focused business division as it expects another (non-IFRS) revenue increase of approximately 30% compared to 2015 in the cloud subscriptions and support area. The total cloud and software revenue will increase by 6-8% (which should be 1.2B EUR ($1.35B) according to my expectations) whilst the operating profit will also increase to 6.4-6.7B EUR. The mid-point of this guidance would be an increase of 3% compared to the previous financial year.

Source: presentation
As the capital expenditures won't increase as fast, I would expect the total free cash flow to increase from 3.68B EUR in FY 2015 to at least 3.8B EUR ($4.36B) based on what we know now.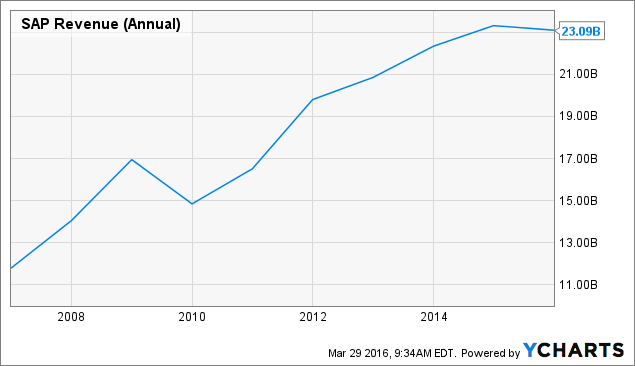 SAP Revenue (Annual) data by YCharts
Interestingly enough, SAP also feels sufficiently confident to also already provide a guidance for 2017, where it expects its revenue to increase to in excess of 23B EUR ($26B) with an operating profit of almost 7B EUR ($7.85B). This would put the company on track to generate an operating profit of 8-9B EUR ($10B) by 2020 and have a very strong impact on the company's cash flow numbers, paving the way for a further dividend increase after having increased the FY 2015 dividend by 5%.
Investment thesis
2015 was a very strong year for SAP, and I like the way the company is delivering on its ambitious growth plans for 2020. The company sounds very optimistic for 2016 and 2017, so it's not unlikely the weakness in the company's share price might never happen.
Instead, I might be better off by writing a put option on SAP, and I'm still hesitating between writing an in the money put and an out of the money put option. But perhaps it would be a better idea to write two options, and then I'd probably prefer to write a P70 and a P80, both expiring in September of this year. I should be able to receive an option premium of $1.7 and $5 which would result in an average acquisition cost of just over $71 should I be assigned to purchase the 200 underlying shares.
SAP is on its way to become a monster and it looks like nothing will stop it.
Disclosure: I/we have no positions in any stocks mentioned, but may initiate a long position in SAP over the next 72 hours.
I wrote this article myself, and it expresses my own opinions. I am not receiving compensation for it (other than from Seeking Alpha). I have no business relationship with any company whose stock is mentioned in this article.