Alibaba Group (NYSE:BABA) is a well-known international group of companies whose main focus is providing services for sellers and buyers of various goods. It has especially always been popular in Russia for its business model because of its B2B platform. In Diagram 1, you can see how the company's website looked like in 2005, before Yahoo acquired a 43% stake. I got acquainted with this platform somewhere in that time: some friends of mine tried to start a trading business and told me about a platform, which allowed them to easily communicate with Chinese suppliers. In Diagram 2, you can see the current organization structure of Alibaba Group Holdings. Alibaba.com is a diamond in the crown, while Taobao is the golden rim. Other companies, such as AliSoft, AliCloud, and other subsidiaries, play the role of supporting companies, whose purpose is to drive innovation in the Group.
Many people argue about Alibaba' s place in global trade. Some people say that it is a Chinese start-up, whose influence outside of China is limited. Others think that Alibaba is now an international company and point to its IPO on NYSE to support the thesis. As you know, I have always relied on data in my judgments. Look at Diagram 3, which shows the latest revenue structure of the company. Despite the prevailing domestic source of revenue, the company's international sales already account for 9% of total sales. In relative terms this is small, but during the last year they have almost doubled. In addition, promoting AliExpress and improving the mobile app are key growth factors for booming international expansion in the future. As a result, I see Alibaba becoming a real international behemoth.
The company's main competitors are not only JD.com (NASDAQ:JD), the closest Chinese rival, but also giants like Wal-Mart (NYSE:WMT), Amazon (NASDAQ:AMZN), and eBay (NASDAQ:EBAY). Alibaba with its Napoleonic plans is a huge threat for these companies. With revenues of ~$14.5B and a five-year sales CAGR of ~87%, it has already left behind eBay (~$8.6B) and is on the way to beating AMZN ($107B) and WMT ($482B) in years to come. Moreover, its current net profit of $10.6B (what a great net profit margin!) is far greater than eBay's (~$2B) or Amazon's (~$0.6B) and quite close to Wal-Mart's figures ($14.7B). Hence, I come to a conclusion that during the last five years, Alibaba has made a great leap that is going to help the company leave its US counterparts behind in the next decade.
Diagram 1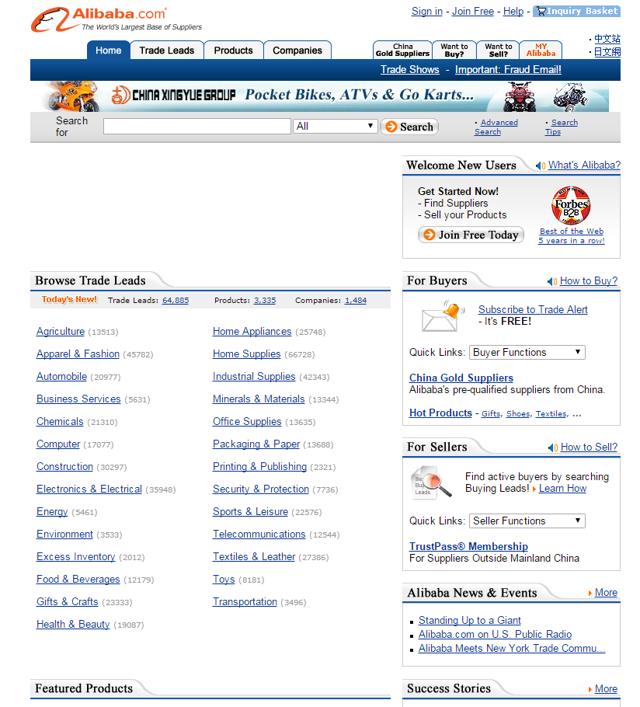 Click to enlarge
Source: web.archive.org
Diagram 2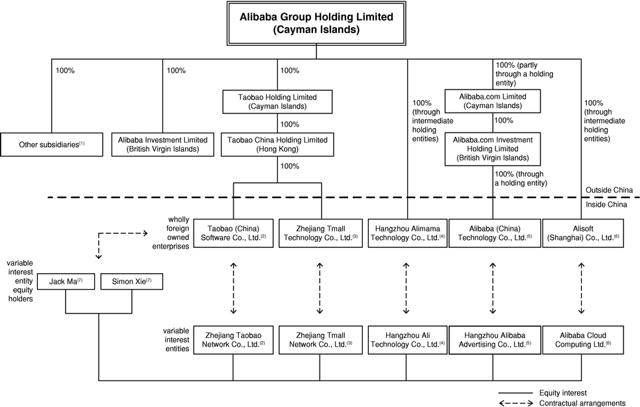 Click to enlarge
Source: company's 20-F
Diagram 3

Click to enlarge
Source: company's 20-F
As I said before, Alibaba has a good business model, which provides fat net profit margins. Now let us look at growth and operating efficiency metrics more closely. As you can see in Diagram 4, the three-year average revenue growth is at 56%, while the three-year average net profit growth is even higher - around 79% per year. The main reason for such growth is high operating and net profit margins, which have also dramatically improved during the last five years (see Diagram 5). The current trend is accelerating, so there good reasons to assume that the margins will improve even further in years to come. Because of the high operating and net profit margins, the company's ROA and ROE are fantastic levels: 21.7% and 39.2%, respectively.
Diagram 4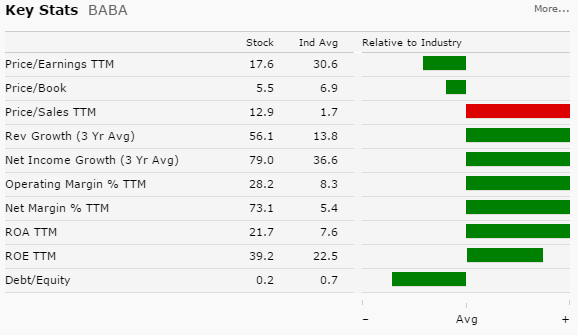 Source: data - Morningstar.com
Diagram 5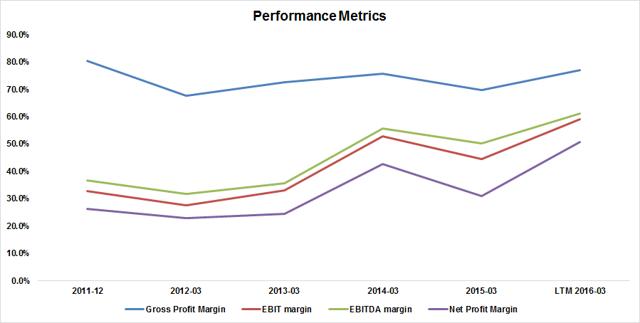 Click to enlarge
Source: data - Morningstar.com, infographics by author
Speaking about the sustainability, the company has more than RMB 120B of cash and short-term investments, which are more than sufficient to maintain a good level of liquidity. Moreover, all liquidity ratios are at above-normal levels, while the debt-to-equity ratio is decreasing and presently is at 0.25x, according to the latest filings (see Diagram 6). The company shows an interest coverage ratio of 42x. Hence, I find the company to be incredibly resilient to external financial factors.
Diagram 6

Click to enlarge
Source: data - Morningstar.com
My final reason why I think investing in Alibaba is worth doing now is the company's current valuation. According to the chart in Diagram 7, during the last two years, the company's stock price has decreased by more than 23%, while the NYSE index has decreased by only ~9% (China concerns seems to have played the biggest role in the stock's decline). Moreover, its closest competitors have lost a lot less in market capitalization in relative terms. For example, Amazon has increased by more than 74% over the same time period, while showing a net profit margin close to zero (I wrote more about Amazon here). According to this information, buying Alibaba at current valuation levels looks like a great idea.
Now I am going to test my optimism about the company by performing my traditional set of analyzes: DCF model, zero-growth model, and a comparable companies' analysis.
Diagram 7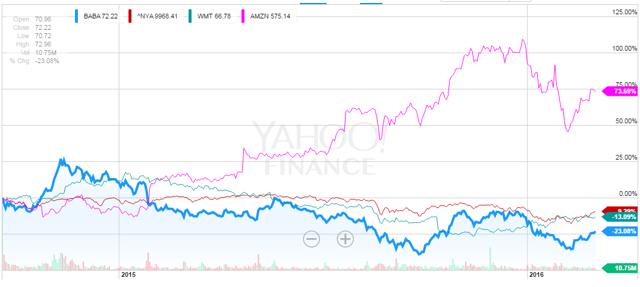 Click to enlarge
Source: Yahoo Finance
DCF analysis
My DCF model is presented in Diagram 8. In Diagram 9, you can see how different metrics of Alibaba are expected to change during this period. I have made several assumptions, which can be easily seen in the "Assumptions" tab of my Excel file. Note that I am not too optimistic about the company's future revenue growth rates (the projected seven-year CAGR is set to be 38.6%). However, I think that the company will achieve a sales figure of RMB 1T by 2023. Also, I want to give some explanation about the revenue figures shown in my model.
According to the company's report, I made a conclusion that they classify the AliPay (I know that now it is called Ant Financial Services, but I will call it AliPay because it sounds better and more convenient to read, in my opinion) revenue as other income. However, AliPay is 100% the money coming from the company's operating activities. Hence, I decreased other income and increased revenue by the amount of these AliPay sales. According to these corrections, LTM revenue is ~ RMB 135.5B instead of the reported figure of ~RMB 94.3B (44% more!). I will also consider this adjustment when doing my comparative analysis.
I also want to note that I projected EBIT, EBITDA and net profit margins to stay at the same relative level (as a % of revenues) or decrease after 2016 in my Base scenario because growing operations will put a dent in the company's efficiency (see Diagram 10).
Finally, my seven-year terminal EV/EBITDA multiple (~13x) is projected to be a little bit higher than the current EV/EBITDA multiple (12.2x), which is quite a conservative assumption.
My model shows that, after subtracting the market value of debt, minority interest, and adding back cash and investments with the discounted OWC balance, the market value of equity is around $797.5B in the Base scenario. It is a great number, twice more than Google (NASDAQ:GOOGL) (NASDAQ:GOOG) has. However, look at financial results of the company and you will understand why this valuation is real. Consequently, the fair value per share is $305 per share. It is more than 329% higher than the current price ($72.2 per share).
Diagram 8.

Click to enlarge
Source: data - Morningstar.com, DCF model by author
Diagram 9.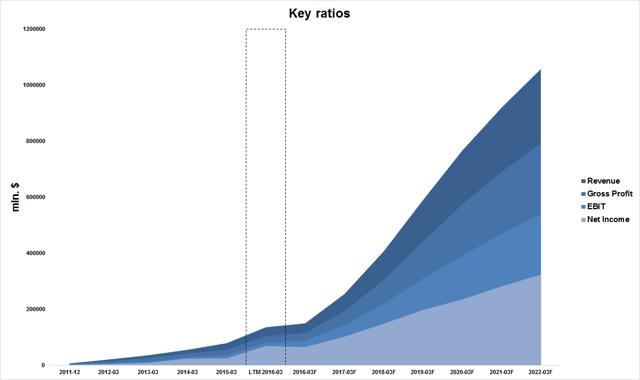 Click to enlarge
Source: data - Morningstar.com, model by author
Diagram 10.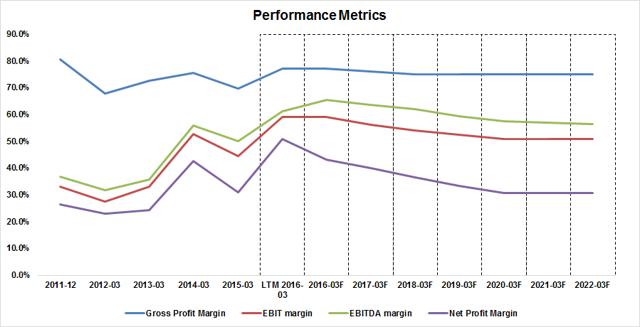 Click to enlarge
Source: data by Morningstar.com + author's corrections, infographics by author
Sensitivity Analysis
The sensitivity analysis is presented in Diagram 11. According to the Base scenario and the assumptions for the EV/EBITDA multiple and WACC, the price range is estimated to be between $282-$342 per share. This price range represents a 290%-373% upside opportunity for the stock in the coming years.
Diagram 11.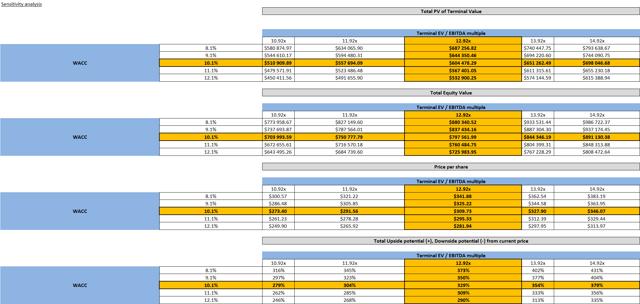 Click to enlarge
Source: data - Morningstar.com, model by author
Zero-growth Analysis
The Zero-growth analysis has been described in one of my articles. You can read more about it here.
According to this analysis, the current stock price shows no margin of safety. The valuation gives a fair market value of equity of $109B, which transforms into a fair price of $42.3 per share. This price level is 41% lower than the current level. If we used only net income in the numerator, the result would be a share price of $40.7. It is more than 44% lower than the current price level. Financial benefits arising from non-cash charges, such as depreciation and amortization, mean a lot here, but, on average, the fair value of equity is 43% lower than the current level. Hence, the zero-growth analysis shows that the stock is valued properly in the event there is no growth in the company.
On the other hand, the company is definitely going to show growth in the future because of expanding operations, growing margins, increasing global mobile views, and RMB devaluation. In fact, the zero-growth model does not apply with a growth company like Alibaba because market participants definitely factor growth into the stock's market price.
Comparative Analysis
My comparative analysis is based on two key ratios: P/E, and P/S (see Diagram 12). I used adjusted figures for P/S (see explanation before). According to the current P/E ratio, the company looks undervalued by 50%, on average. Add a 70%+ net profit margin, and you will understand that the company looks even cheaper than what it is now. The P/S ratio shows that the company is greatly overvalued. However, Alibaba is a growth stock, so the current P/S ratio is useless in this case. Nevertheless, it shows that the company's future valuation vastly depends on growth figures it will show in the future. The P/BV ratio shows inconclusive results.
The current EV/EBITDA multiple is at 12.2x, which is considerably lower than the Online Retail industry's average of 35x (according to Damodaran). Hence, there is a potential for a further multiple expansion - up to 20x (however, I personally think that almost all online retail companies are overvalued, and the fair multiple is likely in the high teens). According to this information, the company looks significantly undervalued.
Diagram 12.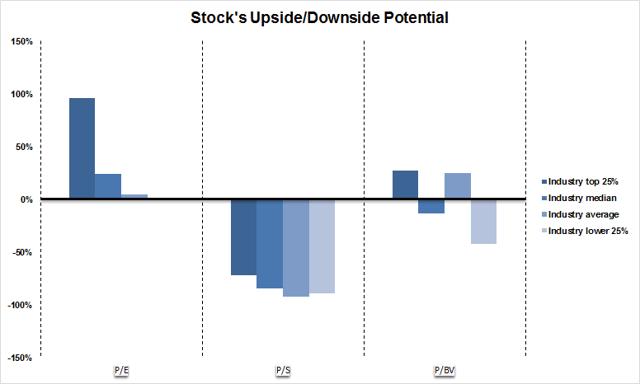 Click to enlarge
Source: data - Morningstar.com, infographics by author
Opinion
A great growth potential, excellent efficiency, and low valuation - all these factors make Alibaba look as one of the most attractive growth stock on the American market at the current moment. I set a STRONG BUY recommendation for this stock and set the target price range to be at $282 - $342 per share. This price range is translated into a 270%-340% upside opportunity over the next several years.
Thanks for reading! Appreciate your comments!
Disclosure: I/we have no positions in any stocks mentioned, and no plans to initiate any positions within the next 72 hours.
I wrote this article myself, and it expresses my own opinions. I am not receiving compensation for it (other than from Seeking Alpha). I have no business relationship with any company whose stock is mentioned in this article.