Action: Initiate Position
For those not familiar with Mobileye (NYSE:MBLY), the company's technology is utilized for camera-based Advanced Driver Assistance Systems, or ADAS. The company basically is attempting to take advantage of government policies including the U.S. and Europe, among others targeting driver safety. Driver assistance and ultimately autonomous vehicles are key areas where the expectation is for original equipment manufacturers, OEMs to gradually include these systems and technologies within their new vehicle production units.
Over time and considering demand for vehicles, the opportunities for suppliers of these systems and technologies is enormous. But there are disputes between whether certain technologies are truly better than others, and questions regarding how much of a moat Mobileye has based on this lucrative opportunity.
To this point, Mobileye's stock price has traded with extreme volatility during 2016. The company's price recently set all-time lows in early February, but has since rebounded to the mid-$30s. To date the stock is up 42 percent from these lows, yet is still down 18 percent YTD. The price as of March 28, 2016 is still fairly low when compared with the stock price history since Mobileye went public in August 2014.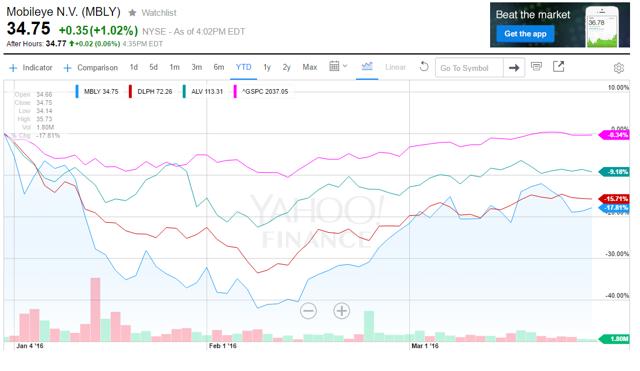 Click to enlarge
Source: Yahoo! Finance
For the year, the company witnessed revenue growth of nearly 70 percent and non-GAAP diluted EPS growth of over 110 percent. Analyst estimates include non-GAAP diluted EPS which does not include stock-based compensation. On a GAAP basis, the company was not profitable during 2014 so there is no comparable, but improvement was strong as the company delivered a 28 percent profit margin.
The core driver for Mobileye's top-line growth was the company's number of EyeQ chips sold, combined with an improved average selling price, ASP per unit. EyeQ chip units increases similar to revenue by 67 percent and ASPs improved by a percent. This phenomenal growth is what has got everyone talking about whether or not Mobileye can sustain these type of growth rates in the near-term.
This discussion quickly transitions to the technical side where discussions regarding radar, lidar, camera hardware and software integration, costs per unit, among others quickly become the focus. There are no silver-bullet answers to eliminate risks to taking a position in Mobileye. Other companies including Bosch, Autoliv, Inc. (NYSE:ALV), among others are competitors, but companies like NVIDIA Corporation (NASDAQ:NVDA) are included in these discussions as well.
This makes for a difficult situation for investors, especially if there is not a strong sense of how the technology works. But even if a basic understanding is evident, other new competitors may still enter the market with new approaches and/or technologies.
An important point in Mobileye's favor is the long-established development of the company's EyeQ technology and the strong relationships with OEMs in the automotive industry. This industry, even with regulations, is not going to change overnight. Additionally, the competition is similarly as Mobileye has, going to need to establish a product that meets OEM requirements to win awards.
So with all of these items swirling around, an important topic to address is valuation. This topic is not for the value investor or traditional investment perspective. Mobileye currently is overvalued by most every traditional measure. The company's enterprise value has been above $10 billion since going public, today it is near $8 billion with 2015 revenue less than $250 million. Measures including EV/sales and EV/EBITDA are at 40 and 114 respectively make the company's non-GAAP P/E ratio of 73 and P/B at 16 look reasonable.
But the fact is that Mobileye has a GAAP profit margin near 30 percent, an EBITDA ratio near 35 percent, a non-GAAP profit margin near 50 percent, non-GAAP ROA and ROE near 20 percent, with nearly $100 million generated in free cash flow during 2015. Investors may not like the idea of using non-GAAP measures, but Mobileye's growth for both has been substantial. Over time, they will never converge as stock-based compensation will always exist, but eventually non-GAAP may be less relevant.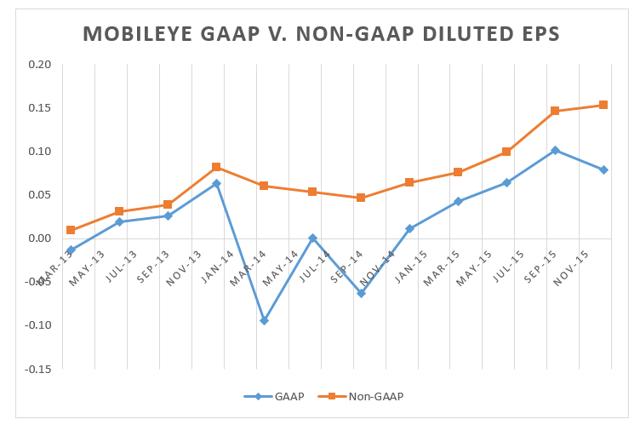 Click to enlarge
Source: Company financials and personal database
The company's management is focused on growing their technology with the automotive industry at the right pace. Additionally, Mobileye has defended the company's strategy and technology against a variety of competitive claims ranging from large companies like NIVIDA to random individuals touting their artificial intelligence and deep learning capabilities to develop technologies.
Mobileye's strongest argument is based on the structure of supplier and OEM relationships based on the award process. Regardless, risks abound and clarity regarding how new technologies such as the Road Experience Management, or REM supporting autonomous driving that Mobileye is working on will lead to further robust growth, is not something we will get a handle on the next quarter let alone this year.
The Short-Term Lean Growth Portfolio will look to open an initial position this week, as this portfolio has been created to consider companies with higher risk/reward opportunities. If Mobileye is able to exceed analyst projections for its unit sales to OEMs as it did during 2015, increased appreciation will likely follow. However, volatility will be a constant as challenges to the company's technology products will remain, possibly until Mobileye hits the $1 billion revenue level, which has a target date of 2019.
Disclosure: I/we have no positions in any stocks mentioned, but may initiate a long position in MBLY over the next 72 hours.
I wrote this article myself, and it expresses my own opinions. I am not receiving compensation for it (other than from Seeking Alpha). I have no business relationship with any company whose stock is mentioned in this article.