Click to enlarge
Prospect Capital Corporation (NASDAQ:PSEC) is one of the most hotly discussed business development companies here on Seeking Alpha. The name has its fair share of critics that don't like the business development company at all for obvious and understandable reasons, among them its shareholder-unfriendly management compensation structure and below-average Net Asset Value performance. On the other hand, Prospect Capital also has its fair share of die-hard supporters that, for instance, point to its high insider ownership and the company's net investment income, which has stabilized in the last few quarters.
At some point in 2016, Prospect Capital crashed ~25 percent when oil prices went into a tailspin and dragged business development companies down with them. The reason: Mr. Market expected steep losses with respect to energy-related debt holdings of BDCs. At some point Prospect Capital changed hands for as little as 50 cents on the dollar (in terms of Net Asset Value), but the business development company has now rebounded strongly.
As a matter of fact, Prospect Capital has now recouped all the losses it sustained during the stock market meltdown in the first six weeks of the year. That's right: Prospect Capital is actually up ~3 percent for the year. That's not too bad, really, especially for all those investors who took a big risk and doubled down on the business development company when everybody else ran for shelter last month.
Also, Prospect Capital's officers aggressively added to their stock holdings in February when the BDC's stock was in the toilet. Prospect Capital's Chief Executive Officer John Barry gobbled up millions of shares in the $6s... not a bad point in time to double down on the oversold BDC stock. Barry, at least for now, looks to have been right: Panic never pays.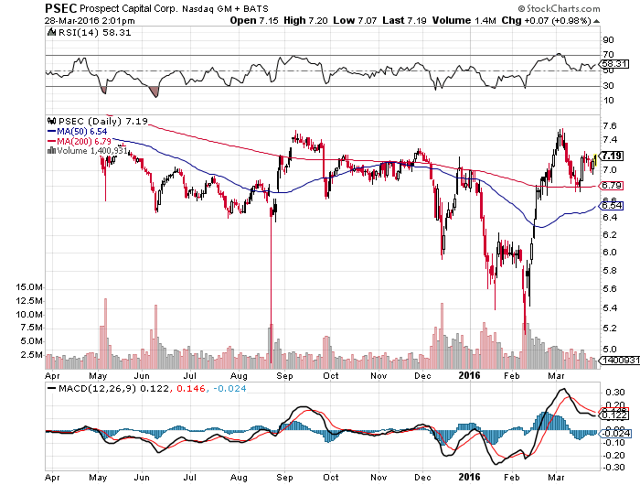 Click to enlarge
PSEC Can Fly Higher
Prospect Capital was heavily oversold in February, but has gradually clawed its way back since. One reason why Prospect Capital has started to do better lately relates to the BDC's respectable Q2-16 results that included robust net investment income of $0.28/share that covered Prospect Capital's dividend. Better-than-expected NII also triggered a reassessment of Prospect Capital's dividend proposition and contributed to a shift in investor sentiment.
Another reason why Prospect Capital is more in demand today than one or two months ago is because oil prices have recovered. In February investors could not sell PSEC fast enough when oil prices slumped, but now that oil prices are sitting at $40/barrel, concerns over energy-related loan losses are no longer weighing on its shares.
So, how far can Prospect Capital go?
PSEC is neither oversold nor overbought at this point in time, and the stock is cheap, selling for 75 cents on the dollar, and a ~14 percent yield, so there is a case to be made for continued upside. Investor sentiment has clearly improved in the last six weeks, and there is no reason why Prospect Capital's stock can't fly higher from here.
While I don't think that Prospect Capital will be able to trade up to accounting book value, the current NAV discount is too large, in my opinion. I can see Prospect Capital trading up to $8 (at which point PSEC would sell for a ~17 percent NAV discount that more appropriately reflects the uncertainty regarding its proposed spin-offs and concerns over potential debt defaults) until some profit taking takes place. From a valuation point of view, Prospect Capital can surely fly higher.
Your Takeaway
Prospect Capital has recovered all of its losses in 2016, and everyone who bought the stock in February is now laughing all the way to the bank, looking at some nice capital gains, plus a super high dividend yield of ~16% or more. With the shift in investor sentiment toward energy companies and high-yield BDCs, Prospect Capital has more gas in the tank. Buy for income and capital appreciation.
Disclosure: I am/we are long PSEC.
I wrote this article myself, and it expresses my own opinions. I am not receiving compensation for it (other than from Seeking Alpha). I have no business relationship with any company whose stock is mentioned in this article.