Welcome to week 24 of my thoughts on a handful of mREITs and the state of the industry. This piece is going to be heavily focused on looking at valuations for MBS. That might seem a little dry, but this is one of my quicker pieces and the charts should make it fairly easy to follow. Understanding the MBS is critical to understanding the mREITs, so it should easily be worth your time to check this out.
The mREITs (and two ETFs)
The table is demonstrated below:
| | |
| --- | --- |
| (NYSE:NLY) | Annaly Capital Management |
| (NASDAQ:AGNC) | American Capital Agency Corp |
| (NYSE:ARR) | ARMOUR Residential REIT |
| (NYSE:CMO) | Capstead Mortgage Corporation |
| (NYSE:CYS) | CYS Investments |
| (NYSE:DX) | Dynex Capital |
| (NYSE:JMI) | Javelin Mortgage Investment |
| (NASDAQ:NYMT) | New York Mortgage Trust |
| (NYSE:ORC) | Orchid Island Capital |
| (NYSE:TWO) | Two Harbors Investment Corp |
| (NYSE:WMC) | Western Asset Mortgage Capital Corp. |
| (NYSE:MFA) | MFA Financial |
| (NYSE:EARN) | Ellington Residential Mortgage REIT |
| (NYSE:AI) | Arlington Asset Investment Corporation |
| (NYSE:ZFC) | ZAIS Financial |
| (NYSE:AMTG) | Apollo Residential Mortgage |
| (NYSE:ANH) | Anworth Mortgage Asset Corporation |
| (NASDAQ:MTGE) | American Capital Mortgage Investment |
| (NYSE:CHMI) | Cherry Hill Mortgage Investment |
| (NYSE:STWD) | Starwood Property Trust |
| (NYSE:BXMT) | Blackstone Mortgage Trust |
| (NYSE:CIM) | Chimera Investment Corporation |
| (NYSE:NRZ) | New Residential Investment Corp. |
| (NYSEARCA:REM) | iShares Mortgage Real Estate Capped ETF |
| (NYSEARCA:MORT) | Market Vectors Mortgage REIT Income ETF |
Prices on MBS
The area that I want to emphasize here is the prices on MBS. The trend during this quarter indicated a significant challenge for the sector. I used four kinds of pools for assessing the prices. They were all 30-year pools of Fannie Mae fixed-rate MBS. The coupon rates were 3.0, 3.5, 4.0, and 4.5. The following chart checks the prices for this pool on several dates and compares the change seen since the last prior measurement.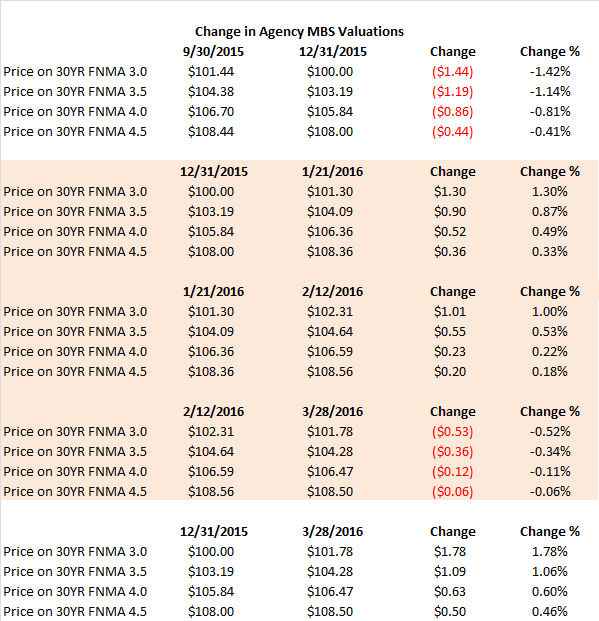 Allow me to refer to the highlighting as "orange," though I've no clue what the proper name would be. The orange cells demonstrate values at several different dates during the quarter. The two white sections show the movements in the fourth quarter and then the movements in the first quarter of 2016. I created the orange section to provide investors a more detailed look at the movements during the different periods.
Sector Attitudes
Discounts to book value for agency mREITs were growing substantially during Q4 of 2015 and period 1. I'm planning to do some work on Annaly Capital Management to expand on precisely how share prices moved relative to the assets. It is important to point out that Annaly Capital Management uses some extensively hedging, which reduces the fluctuation of their book value significantly.
The first thing I want to emphasize about the growing discounts to book value is that it was demonstrating an increasingly bearish view by the market. To really narrow in on the timing it was during period 1 that share prices were becoming insanely weak.
Since then the market demonstrated much higher prices for most equity securities. The broad market ETFs are up substantially and the mREITs have also seen large increases. That's ironic since we were not seeing a huge improvement in the fundamentals for the mREITs.
The Fundamentals
The MBS prices at the end of period 3 are fairly similar to the prices at the end of period 1. They aren't just similar though, they are also slightly higher. This is a problem because it means the mREITs are going to have to pay higher prices for the same assets. This creates a drag on earnings in future periods. Remember that as investors the goal is to receive large dividends that are funded through the net interest income (after other expenses). To create those dividends the mREIT needs to be able to buy assets at reasonable yields.
The problem is compounded by expectations for high levels of prepayments. Those expectations can be demonstrated by looking at the difference in price gains on the 3.0 relative to the 4.5. The 3.0 is up $1.78 and the 4.5 is up $.50. The significantly weaker appreciation in the 4.5 indicates that the MBS traders are projecting much higher prepayments. Without much higher prepayment projections each portfolio manager would simply sell the 3.0 and buy the 4.5.
Higher Short-Term Rates
The mREITs generally won't hedge their entire cost of funds and the increase in short-term rates indicates the cost on repos should be increasing. Due to hedges, a significant portion of this impact should be offset, but investors are still looking at a slight increase in the cost of funds at the same tame as a slight decrease in asset yields. The result is a pinch on the net interest spread that should encourage several mREITs to cut dividends again.
Higher Prices and More Dividend Cuts
What more could investors ask for? They can spend more on shares and then watch the dividend cut come in. I found shares very attractive for some of the mREITs previously, but the weaker discounts combined with an expectation for more cuts are enough problems for me to see more risk than return here.
Could Buy Anything
As usual, since I tag most mREITs in my weekly article, I like to emphasize that I could buy anything in the near future if my analysis indicates that the market has failed in pricing. I have recently looked at values for ARR, ORC, and NLY. In each case, my analysis left me deciding that I was not interested in paying the current prices. In each case the price was materially higher than I would be willing to pay, rather than just slightly above my range.
Disclosure: I/we have no positions in any stocks mentioned, but may initiate a long position in ANY OF THEM over the next 72 hours.
I wrote this article myself, and it expresses my own opinions. I am not receiving compensation for it (other than from Seeking Alpha). I have no business relationship with any company whose stock is mentioned in this article.
Additional disclosure: Information in this article represents the opinion of the analyst. All statements are represented as opinions, rather than facts, and should not be construed as advice to buy or sell a security. Ratings of "outperform" and "underperform" reflect the analyst's estimation of a divergence between the market value for a security and the price that would be appropriate given the potential for risks and returns relative to other securities. The analyst does not know your particular objectives for returns or constraints upon investing. All investors are encouraged to do their own research before making any investment decision. Information is regularly obtained from Yahoo Finance, Google Finance, and SEC Database. If Yahoo, Google, or the SEC database contained faulty or old information it could be incorporated into my analysis.