At the beginning of February, I had advised that investors should consider buying ConocoPhillips (NYSE:COP) on the dip just before the company had released its fourth-quarter earnings. Now, in the past one month, Conoco shares have gained impressive momentum and have appreciated more than 16% on the market, which does not surprise me as oil prices have staged an impressive recovery of late.
The thesis behind my bullishness about Conoco was that the company has dug in deep to do well in a weak oil pricing environment and also due to its focus on the LNG segment. Now, as the market gets better, Conoco's performance will also continue to improve, which is why the stock will be able to sustain its momentum. Let's see why.
Oil prices will continue recovering
Lower non-OPEC production, combined with OPEC's production freeze and an increase in consumption will push the oil market toward better times. In fact, both the WTI and Brent are currently testing $40/barrel levels, having gained over 50% since the end of January. This improvement in oil prices has been brought about by actions taken by key oil producing countries to control production and bring inventory down.
For instance, crude oil production in the U.S., which the world's third-biggest producer of oil, is already on the decline due to a drop in capital spending by shale oil companies. In December 2015, the production of crude oil in the U.S. had dropped for three consecutive months and it is quite likely that this trend will continue in the future. More specifically, December crude oil production in the U.S. averaged 9.26 million barrels per day, which was lower than the year's average of 9.4 million bpd.
Going forward, production is set to decline further. In fact, according to the latest short-term energy outlook report of the EIA:
U.S. crude oil production averaged an estimated 9.4 million barrels per day (b/d) in 2015, and it is forecast to average 8.7 million b/d in 2016 and 8.2 million b/d in 2017. EIA estimates that crude oil production in February averaged 9.1 million b/d, which was 80,000 b/d below the January level.
This indicates that oil production in the U.S. has continued to decline in 2016 as well, with the trend expected to continue into 2017. More importantly, steep oil production cuts are also taking place outside the U.S. In fact, production from areas such as Russia, China, Mexico, the North Sea, and Canada has been dropping at a rate of 220,000 barrels/day this year. In comparison, the International Energy Agency had forecast that oil production in these areas will drop at just 50,000 barrels/day.
Thus, a faster-than-estimated decline in crude oil production in these regions will help the oil market achieve a favorable demand-supply balance faster-than-expected, with Bernstein expecting the balance to be achieved in the second half of 2016. Moreover, stronger oil demand in 2016 as against last year will also play an important role in leading to a better pricing environment. As shown in the chart below, oil demand in 2016 will remain higher than last year: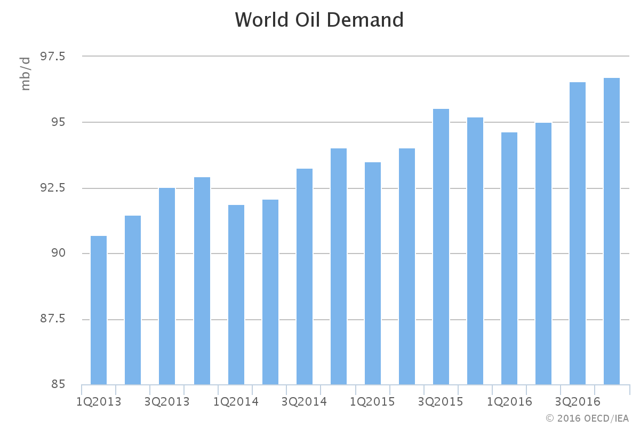 Click to enlarge
Source: IEA
Therefore, on the back of stronger demand and lower supply, the rally in oil prices will continue in the future, which is good news for ConocoPhillips as the company has made enough improvements to make the most of an increase in oil prices. Let's see how.
Why Conoco is set for better times
For each $1 increase in Brent prices, Conoco's net income will improve in the range of $100 million-$120 million, while for each $1 increase in WTI prices, its net income will go up by $35 million-$45 million. Now, as we saw above, crude oil prices have been on the rise of late and the trend will continue going forward due to better demand and lower supply.
As a result, ConocoPhillips will continue to see an improvement in its bottom line performance as the year progresses. More importantly, Conoco has been able to reduce its cost base significantly in the past year as it has shifted production to more productive assets. For instance, the company is slowly ramping down its exploration in the Gulf of Mexico deepwater region. On the other hand, after completing its pilot tests in the Lower 48 region, ConocoPhillips is preparing for a ramp up in production over here going forward.
Additionally, ConocoPhillips is doing away with discretionary programs as it looks to maintain core production intact at lower costs. In fact, the company is doing the smart thing by retaining the value of its acreage for the long run as this will help it do well during the up-cycle. Due to these efforts, Conoco's production will remain flat as against last year's levels, even though costs, both capital and operational, will drop by big margins as shown below:

Source: ConocoPhillips
Conclusion
In light of the above points, ConocoPhillips' turnaround on the stock market will continue. The company has already seen impressive momentum on the back of the recent gains in oil prices, and as the market balances itself, the price of oil will continue to improve. Also, since Conoco has forecast flat production this year despite a massive decline in costs, it will be able to improve its margin profile due to a lower cost base. So, in my opinion, remaining invested in ConocoPhillips is a good idea as more upside cannot be ruled out.
Disclosure: I/we have no positions in any stocks mentioned, and no plans to initiate any positions within the next 72 hours.
I wrote this article myself, and it expresses my own opinions. I am not receiving compensation for it (other than from Seeking Alpha). I have no business relationship with any company whose stock is mentioned in this article.