Toward the beginning of February of this year, I published an article on Seeking Alpha about Legacy Reserves (NASDAQ:LGCY) as well as about its two classes of preferred shares, Legacy Reserves Series A (LGCYP) and Legacy Reserves Series B (LGCYO). In that article, I talked about Legacy's low-cost structure but highlighted that, at the then-current prices of oil and natural gas, the business was slated to lose money during this year, followed by every year after that if the picture doesn't change. For this reason, I said I would avoid the business but I'm beginning to rethink whether or not this is still logical. In what follows, I will dig into the business's numbers and see if, after experiencing a nice move higher in the oil market, shares are a far better prospect than they were previously.
Disclosure
In this article, I am using the most recent data available regarding Legacy's financials. This means that interest expense was calculated from the company's most recent annual report using current debt levels and interest rate data (along with general and administrative data, and differential data), and lease operating expenses are taken from management's last conference call where they expect the midpoint of costs to be about $10.75 per boe (barrel of oil equivalent).
Based on new information that may be provided in the future, these numbers could change to some extent. On top of this, I'm also making the assumption that oil prices average what they are today, which is $39.23 per barrel (up from my previous forecast using $31.54 per barrel), and that natural gas prices come out to $1.836 per Mcf compared to the $2.154 per Mcf I used in the past.
Cash flow is now looking positive
In my last article on the company, I lamented at the fact that it appeared as though the business would be cash flow negative this year, with prices and cost structure at the time pointing to Legacy losing a modest $2.36 million this year before seeing losses balloon to between $31.89 million in 2017 and $56.53 million in 2019. Now, however, the picture looks far different for 2016 than it did then.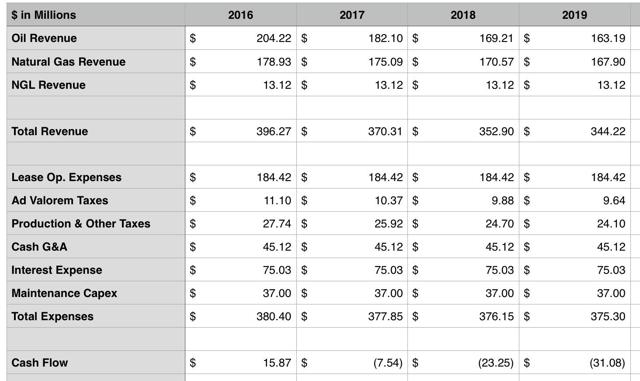 Click to enlarge
In the table above, you can see that, at current prices, investors should expect Legacy to generate cash flow this year of $15.87 million. In a world where energy prices remain unchanged, a loss will still be generated in 2017 but it will be a modest $7.54 million. The highest four-year loss, at current energy prices, should be in 2019 when the business should be at risk of generating a cash outflow of $31.08 million.
Overall, the picture can still look quite bad moving forward but we also need to keep in mind that the oil market has been extremely volatile, as we've already seen so far this year. While I would not be surprised to see short-term downside in the price of crude at some point in time, something I've alluded to previously, I do believe that, long-term, the picture will point to higher energy prices.
For a company like Legacy, this would be extremely beneficial. The underlying reason here is that the business is one of the lowest-cost producers I've analyzed recently, far better than companies like Linn Energy (NASDAQ:LINE) / LinnCo (NASDAQ:LNCO), Breitburn Energy Partners (NASDAQ:BBEP), and Memorial Production Partners (NASDAQ:MEMP). I do own the last two on this short list of E&P operators but it is because of the potential I believe each one has once the oil market begins to climb higher again.
In the case of Legacy, I've noted that, keeping natural gas prices the same, management could see cash flow come in flat in 2019 (when natural gas is just 36.9% hedged and oil isn't hedged at all) if crude prices in the U.S. climb to just $46.42 per barrel. Once all hedging rolls off from Legacy's books, oil has to be going for $54.63 per barrel. While this is still materially higher than where we are today, I do not believe that, in the next few years, oil is likely to be trading at or below this point. Rather, I would be expecting prices meaningfully higher in 2020 and beyond to be quite a bit higher than that.
Instead of buying into Legacy's common shares, which do have potential, the one area I would be really interested in would be the company's preferred units. As of the time of this writing, one class is going for $2.30 per share while the other can be picked up for $2.55. On an annual basis, these shares pay out $2 apiece, which represents a yield of 8% with a distribution preference of $25 each. For now, management has been foregoing these payments due to the tough energy environment but the units are cumulative so, once the company does start paying out distributions again, they must first pay all arreared distributions to these owners. This presents a nice catalyst for long-term investors to consider.
My one fear regarding Legacy, though, is the fact that, like Linn, the business could be in trouble this year. In its annual report, the company disclosed that, depending on energy prices, it could breach one or more covenants on its debts. In the event that this does happen, Legacy would have a certain period of time (likely 30 days) to get back into compliance or to receive a waiver from its credit facility lenders, without which it would go into default, essentially wiping all shareholders out. This is something I believe investors should keep a very close eye on and weigh before buying into Legacy.
Takeaway
At this moment, the picture for Legacy looks much, much better than it did in February. With oil prices trading materially higher than they were before, there seems to be a good probability that the business could be cash flow positive this year and, if it can survive until higher prices come back, it looks as though the shares, especially the preferred ones, could have tremendous potential. Given that energy prices to not fall back down, it looks as though I've been wrong about Legacy but if energy prices do fall back again and/or if covenants are breached, the downside could be scary. For this reason, I advise all investors to proceed with caution and to carefully evaluate Legacy on a risk-reward basis before jumping in.
Disclosure: I am/we are long BBEP, MEMP.
I wrote this article myself, and it expresses my own opinions. I am not receiving compensation for it (other than from Seeking Alpha). I have no business relationship with any company whose stock is mentioned in this article.
Additional disclosure: I may buy into Legacy's shares at this time but, as of right now, I have not decided to do so.
Editor's Note: This article covers one or more stocks trading at less than $1 per share and/or with less than a $100 million market cap. Please be aware of the risks associated with these stocks.